Lifting barriers to human flourishing through policy making and advocacy
April 16, 2021, 1:57 p.m.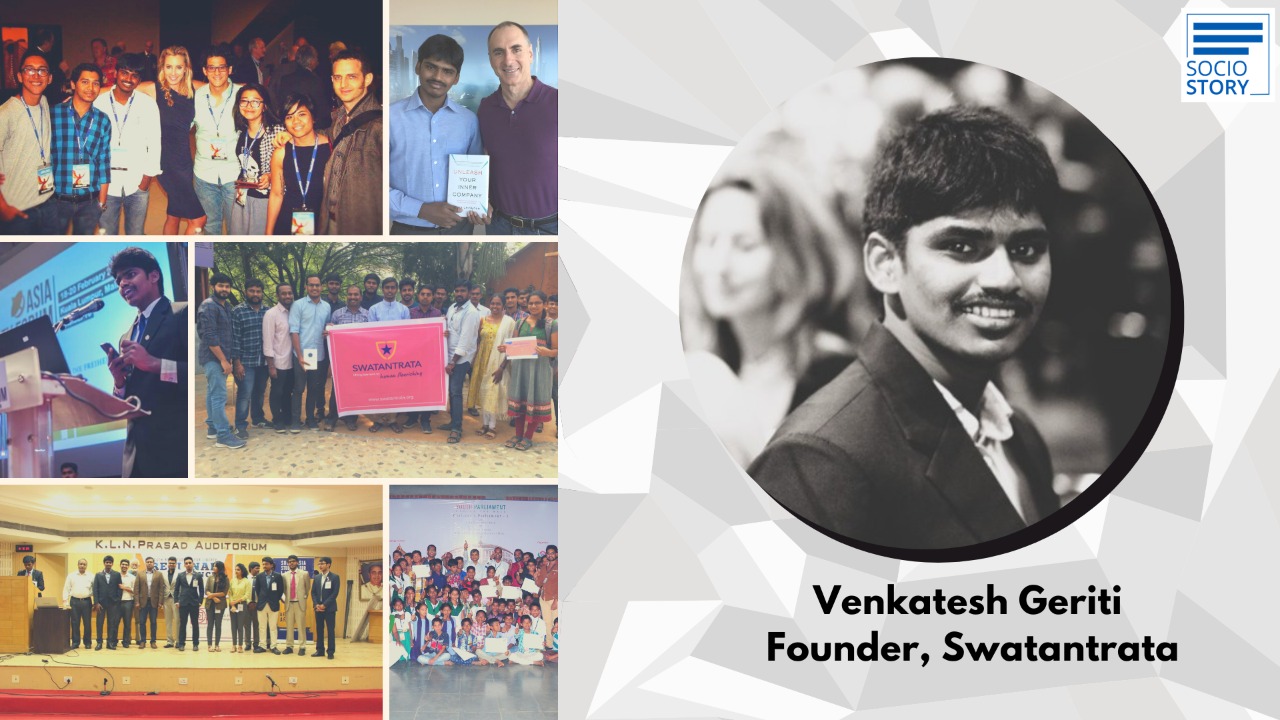 By:Reshma Jain
By envisioning and building a free as well as a prosperous society where every individual has a choice and opportunity to lead life with dignity, Swatantrata center works on lifting barriers to human flourishing by advancing choice and opportunity through policy education, grassroot advocacy, and digital activism.
The roots of the Swatantrata center lies in the legacy of two initiatives called India's Future Foundation (IFF) and the Youth Parliament Program (YPP). IFF was an educational think tank that promoted ideas for economic development and entrepreneurship education while the YPP is a youth initiative to engage young people on public policy, political and governance reforms.
They believe in ideas that are particularly important for understanding and supporting a good society- a pluralistic society in which intellectual and economic progress is the norm, and where individuals flourish in a context of openness, voluntary and peaceful cooperation, and mutual respect. They wish to create awareness of ideas that harmed us in the past and to promote ideas that cause progress especially through policymaking and advocacy.
Swatantrata had organised runs- a diverse kind of advocacy and educational projects that aims at reaching more young people and entrepreneurs and civic leaders. Some of these projects have received tremendous response and support from young people, intellectuals, academic institutions, and media. A few of them include leadership bootcamp, Swatantrata yatra, policy conclaves, and annual conference SwaCon.
"Leadership bootcamp is a 3-day national-level residential bootcamp on policy education and Sustainable Development Goals (SDGs). The Boot Camp organised last year brought together 100+ delegates across the nation and hosted 30+ policy experts from various domains such as public policy, business, academia, non-profits, civil society movements, and media," stated Venkatesh Geriti, one of the founding members of Swatantrata.
Swatantrata Yatra is a grassroots advocacy campaign targeting young people to create awareness on fiscal responsibility and decentralization. The Swatantrata team stepped forward to go an extra mile to connect the people across the country, not just in the ways of meeting and greeting but discovering the passion of social change through policy and advocacy. Swatantrata yatra started with a campaign for responsible spending, free enterprise, and decentralization. The Yatra took place in February and March in 4 states of South India (Karnataka, Tamilnadu, Andhra Pradesh, Telangana).
Venkatesh further said, "SWACON has been the largest virtual liberty conference in India on human flourishing with the theme of 'Reclaiming Liberalism' hosted in 2020 with 35+ libertarian champions across the world covering 5 continents, which involved world-leading think tanks and various leading scholars, policy, and development experts, and entrepreneurs."
Sharing insights on Swatantrata policy conclave, Venkatesh said that the objective of the conclave has been to reinvigorate the reforms to boost inclusive and sustainable growth. Swatantrata Policy Conclave (SPC) brought together expert speakers, thought leaders from multilateral organizations, civil society organizations, and the private sector to discuss a wide range of policy issues.
Youth Parliament Program (YPP), an integral part of the Swatantrata Center from 2019, has created a platform for the youth to speak up and make an impact on social change in the country. YPP initiative was originally founded as an independent initiative to empower youth on various political and policy issues through debates and discussion forums.
"The work of Swatantrata is to deepen democracy and enhance community participation. The organization's work has been a pioneer in mentoring the youngsters and building character and competence in them for nation building. Swatantrata believes in promoting good ideas through educational and outreach activities. The centre along with its volunteers was able to educate more than 50,000 people through both digital and in-person programs," added 28-year-old Venkatesh.
"We strongly believe that equal access to Equality education and employment opportunities hold key to the empowerment of marginalized communities. A person with better education and better economic conditions will help them to boost their conference to fight for their civil and political rights," said Venkatesh by concluding that the center has been working to launch advocacy campaigns on various important and untouched themes like economic opportunities / livelihood, decentralization, civil liberties, fiscal responsibility, and liberal democracy.