Marching ahead towards a 'Glocalised' world with a mission to bring a positive impact
Sept. 24, 2021, 7:33 p.m.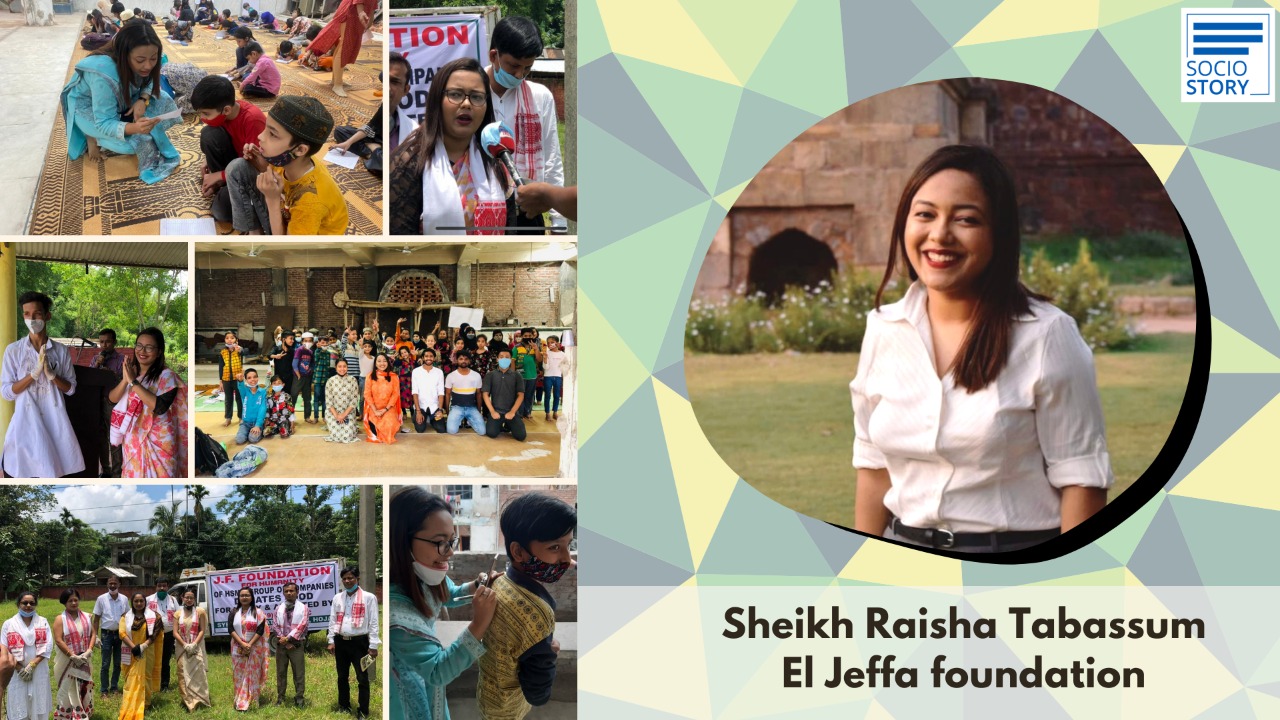 By:Reshma Jain
Amidst the pandemic COVID-19, when the lives of people had come to a halt, and there was a situation of tension everywhere, a group of young energetic students decided to step out of their doors and serve humanity in the most difficult period that mankind has been facing. From distributing food grains, arranging transportation for the migrant labourers and door to door distribution of COVID essential kits among the underprivileged, this group of Samaritans have been doing a good job. They had also volunteered for disaster management amidst COVID-19 in the states of Bihar and Assam where the annual floods had hit.
To align youngsters enthusiastic about social work with SDGs and to make a larger impact, 20-year-old Sheikh Raisha Tabassum started the 'El Jeffa Foundation'. Through the foundation, Raisha plans to create a chain of educators who will teach students on global goals from a very young age as a part of their curriculum. El Jeffa Foundation aims to connect with the local educated youth in various parts of the country to make a global change. They believe in the power of actions in a Glocalised world where Global + Local is the new Right. All we need to do is just revive them.
Within one month of formation of El Jeffa foundation, they expanded across 10 states in India. They currently hold the official membership of the United Nations Major Group for Children and Youth. They have been working on localizing the Sustainable Development Goals (SDGs) by bridging the gap between the privileged and the underprivileged.
Another prime reason to start her own organization, Raisha said, was due to exploitation of labour. Many of the organizations today exploit the free labour of young energetic students for achieving some personal gains. We try to groom volunteers into a better human resource and imbibe the value of CSR (Citizen's Social Responsibility).
A few of the projects by El Jeffa foundation include:
Through the project kitchen garden, we not only cultivate fresh leafy vegetables in the Anganwadis and primary schools but also cultivate the habit of Responsible consumption and Production (SDG 12) to ensure Zero Hunger (SDG2) for the children's good health and well-being (SDG3). The produce would be cooked and served for mid – day meals and the biodegradable waste would be composted in pits to use its manure in the garden which also makes it a zero-waste model.
Children are abandoned. They do not get a chance to step into a school. They are left to fend for themselves on the streets. They suffer from many forms of violence. They do not have access to even primary healthcare. They are subjected to cruel and inhumane treatments every day. They are children – innocent, young and beautiful – who are deprived of their rights.
We will proceed with the understanding and evaluation of the issue of child rights in India and then move on to find why there seems to be a difference among children of different class in terms of availability of these entitled rights and privileges from a policy perspective and present a comprehensive report that would lead to further research and action towards the issue of protection and equality of child rights, she explained.
Chillar- Change for Change
Imagine saving 1 rupee per day and contributing it towards a better society. Likewise, we save 30 Rupees a month and 365 Rupees in a year. And we can run projects with the fund raised to benefit the underprivileged section.
Savitribai Phule Education Programme
With an aim to supplement the educational needs of the children staying in the orphanages and child protection homes, Team El Jeffa aims to conduct remedial classes every week at the respective orphanages. The programme would be carried out by well-educated students of the District who would adopt the "each one – teach one" policy.
Kailash Satyarthi Baal Mitra Programme
Child rights violation is very high in this country with crimes such as trafficking of children, particularly for sexual exploitation, violence against children including sexual violence, child labour, including in hazardous conditions, discrimination against girls in education and inaccess to food, discrimination against children on the basis of caste, tribe, or indigenous background. Team El Jeffa will act as Baal Mitras and inform the target groups about child rights and report the cases of child rights violation to the Police.
Jadav Payeng Environment Programme
In line with the "Swachh Bharat Abhiyan", our Prakriti mitras will dedicate one day of the week to the cleanliness of their town. Plantation drives would be carried out. Their prakriti mitras would thrive to make their school compounds a plastic free zone.
Sharing the impact of projects, Raisha said, "More than 200 students are benefitting from private tuitions by our volunteers in Delhi. The inmates of Hindu Anath Ashram, Jaipur, lacked basic amenities such as a PC, Wi-Fi owing to which they were not able to carry on with their online classes. We provided them along with volunteers to teach them academic and co-curricular activities. Through the SDG programme, numerous International speakers associated with the UN, eminent social workers, educationists, jurists, doctors, etc imparted knowledge on how to localize the SDGs."
Adding that making an impact locally is very important for a global change, 20-year-old Raisha shared that her future aspiration is to run slum schools in each state of India among others.