Master Bhuvan Jai from India becomes youngest to scale Mount Elbrus
Oct. 5, 2021, 12:24 p.m.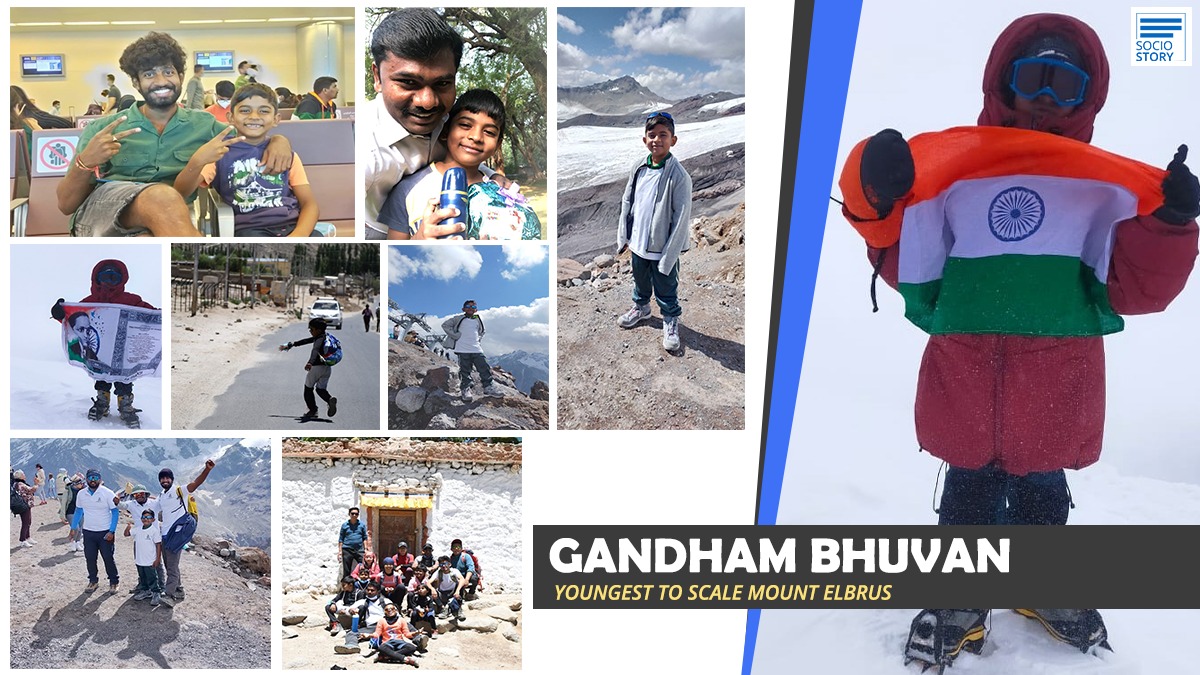 By:Reshma Jain
When Bhuvan Jai landed in the city of Destiny last week from Europe, his joy knew no bounds. His father, an IAS officer, was doubly proud of his son's amazing feat. Andhra Pradesh boy Master Gandham Bhuvan Jai, at the age of 8 years 3 months has become the youngest to scale Mount Elbrus (Highest peak in Europe continent – one of the seven summits) by reaching summit of Mt. Elbrus (5642mtr.) on September 18, 2021.
Mount Elbrus is the highest peak in Europe, and one of the Seven Summits. Since the summit requires strenuous efforts and risky weather conditions calls for safety, it is necessary to have technical preparation, physical conditioning, warm clothing, and good equipment while preparing for the summit.
With an elevation of 5642 metres, Mt Elbrus is a fine ascent that requires mountaineering skills, although altitude and unpredictable weather make for a challenging and adventurous trip. Master Bhuvan Jai is a class three student and hails from Kurnool district of Andhra Pradesh. Master Bhuvan has been enthusiastic in sports also shows keen interest in climbing and mountaineering. Considering his interest and zeal, he is supported by his parents to get trained in climbing, high altitude treks and mountaineering.
His father, a noted IAS officer, Gandham Chandrudu is fondly referred as People's Collector by the people of Ananthapuram while he was the Collector of Ananthapuram district. Seeing Master Bhuvan's keen interest in adventure activities and energy, right from young age, his parents encouraged him by providing the required training under the Sports coach Shankaraiah.
Shankariah, the sports coach of Rural Development Trust (RDT) of Ananthapuram district took personal interest in training Master Bhuvan. He himself is a mountaineer and had scaled Mt Kilimanjaro, Africa's highest peak and one of the summit peaks last year. He trained several other boys and girls in various sports.
Speaking to Socio Story, Chandrudu said, "Master Bhuvan has been very active in sports. Realising his potential, we encouraged him to opt for mountaineering and after initial training, he was trained at Khardungla Pass, Ladakh. Later, technical and altitude training was provided at Adventure Sports academy, Gandikota, Kadapa, Andhra Pradesh."
"It was a challenging experience not only for my son but for the parents too. Being his first summit, we often used to get tensed but we were equally proud. When Master Bhuvan reached the summit of Mount Elbrus on September 18 at 8 AM (Moscow time) and displayed Indian flag on the summit, it was a proud moment for the entire country and the world," added the IAS officer.
Master Bhuvan, a good dancer, credits his achievements to the opportunity provided to him by parents and the country. The 8-year-old talented boy who also skates and swims, said, "My training for the past 6 months has been a greta learning experience. Since my training used to be for 6 hours per day, I used to balance both my academics and training schedule. There are many talented children out there, who, if provided the opportunity, can achieve what they want to. I wish all children get such opportunities so that their talent is exhibited. Irrespective of gender, age, caste, creed or religion, every child must be given opportunity and it's our responsibility to grab it."

Important : If you are making an impact in the world, Please send us your story at : manoj@sociostory.in and we will try to cover you.