Meet 15-year-old Ananya Kamboj who wishes to promote change through sports in India
June 26, 2020, 5:10 p.m.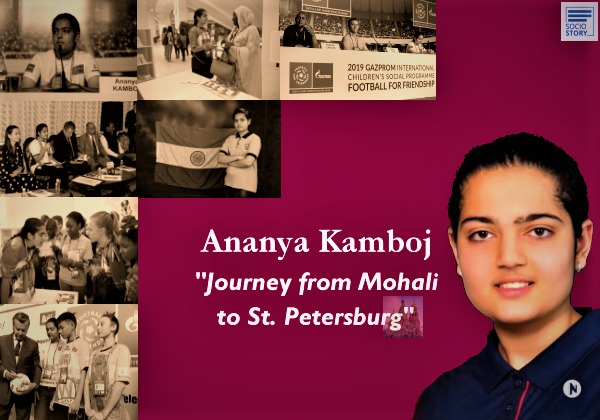 By:Reshma Jain
With myriad dreams twinkling in her eyes, 15-year-old Ananya Kamboj from Mohali, Punjab has now been selected into the WLF Ambassador programme 2020 by World Literacy Foundation (WLF). The WLF Ambassador programme aims to bring together individuals from all over the world to be a local voice and fundraise for literacy in their schools, universities, communities or social groups. Ambassadors will learn about literacy as a human right and will be trained to develop their leadership and advocacy skills.
Before getting into the details of her journey, one point that makes her stand out of the crowd and India proud, is her SPIRIT! "I wish to take the spirit of hope, togetherness, and inspiration to millions of children across India and South Asia and make this world a better place to live in," stated the teen girl who was the first Indian to be selected at the global Football for Friendship (F4F) social programme in 2017. Since then there was no looking back.
For the last three consecutive years, Ananya was selected to represent India as a young journalist at the global Football for Friendship (F4F) programme. F4F is an annual International children's social programme that unites children of different nationalities with different physical abilities. The goal of the project is the development of children's football, fostering tolerance, and respect for different cultures and nationalities among children from different countries. The key values that the participants support and promote are friendship, equality, fairness, health, peace, devotion, victory, traditions, and honour.
An ambassador of football, peace, and youth empowerment, the young talented girl was invited by International Children's Games (ICG), an International Olympic Committee-sanctioned event to speak on peace, friendship, and youth empowerment during the opening ceremony in Ufa, Russia, last year.
Sharing about one of her most memorable event, the Indian ambassador for WLF, said, "In 2018, I was invited to Moscow as a special guest at the world premiere of my book 'My Journey from Mohali to St. Petersburg', an anthology of twenty-one stories. These stories are based on the fundamental human values that I have learnt during the F4F programme which is a wonderful platform to celebrate friendship through the unifying power of football."
"The book presents a holistic picture of good life, which transcends the prevalent narrow understanding of what constitutes success, fulfilment, and happiness in life. It offers a fresh interpretation of sports through human values which collectively enrich the different dimensions of life," she added.
The book was officially released by Viktor Zubkov, Chairman of the Gazprom Board of Directors as part of the sixth season of the Football for Friendship (F4F) international children's social program organized by Gazprom, an official partner of FIFA and the 2018 FIFA World Cup Russia. Last year in Madrid, the Football for Friendship programme was awarded the Guinness World Record certificate for uniting 57 nationalities in a football training session.
Ananya who was awarded the best young journalist award for her effort in spreading the values of the programme through this book, further said, "When most people talk about school curriculum, they think about math, science, social studies, and language courses. Seldom do we hear or read about sports as being part of the curriculum. The problem is that the neglect of teaching sports in schools is having a bad impact on students and causing problems in society. If a person has never learnt any sport, how will he/she be able to discern the difference between victory and defeat? That is basically the essence of sports education."
Ananya was invited by the United Nations twice to share her views on Football for Friendship. She became a goodwill ambassador of BRICS countries and participated in various other projects, including Girl Up, Girls with Impact, Lean In India, SDGs For Children and She's Mercedes.
Ananya's future plan is to do FIFA Master, a sports management course that includes comprehensive understanding of the social, economic and legal dimensions of sport and be prepared to assume the paramount challenge of promoting change through sport in India. "My mission is to support youth to create positive change towards a more inclusive, fair and sustainable communities. I am very fortunate because my father Vikram Kamboj has been my motivation to achieve my goals in life," signs off the young girl.
Important : If you are making an impact in the world, Please send us your story at : manoj@sociostory.in and we will try to cover you.