Meet 16-year-old Kushi who has set a world record in Yoga
June 20, 2020, 10:24 p.m.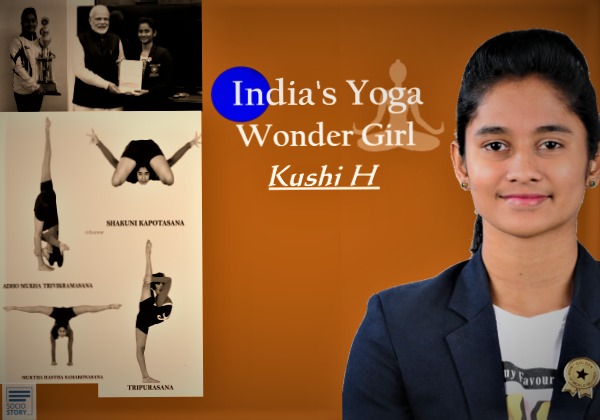 By:Reshma Jain
June 21 marks an important day not only in India but the entire world. It is 'International Day of Yoga' and what better example other than Kushi who has created a 'World Record' under yogic practice for highest number of 'Back plank recline cruncher'. Also called as 'Niralamba Poorna Chakrasana', Kushi had performed this asana for 14 times in one minute. Amazing, isn't it?
I was surprised by her flexibility, moves and achievements which probed me to get into her journey. Kushi started to practice yoga at the age of 10 to get rid of her breathing problem. And today, after six years of rigorous practice, Kushi from Karnataka has become 'India's Yoga Wonder Girl'.
Kushi, an international yoga exponent is studying in grade 11 and she has been practicing yoga from past six years at Mysore Vivekananda Yoga and Research Institute under the guidance of Dr P N Ganesh Kumar.
Kushi, daughter of Hemachandra S and Kumuda H, says, "Yoga has not only helped to overcome my breathing problem but also helped me to score well in my academics and to achieve something in life."
"Yoga is India's tradition. People from abroad come here to learn yoga. Since yoga is our culture, it's our responsibility to take it to another level. We all know that health is wealth so I request everyone to practice yoga for at least an hour a day and keep your health in good condition," said the 16-year old yoga exponent.
She has participated in many State, National and International Yoga competitions held at different countries and bagged several accolades, making India proud.
In the year 2014, she participated in Shanghai First International Yoga Invitation Tournament held at China and bagged a bronze medal. In 2016, she participated in the '6th Asian Yoga Sports Championship' held at Vietnam and won 2 gold and 2 silver medals in different events.
Adding feathers to her cap, she participated in the '7th Asian Yoga Championship-2017' held at Singapore and won 4 gold and 1 silver medal. The list seems to be endless but then her achievements deserve to be highlighted.
In 2018, she participated in World Yoga Championship held at Argentina and bagged a bronze medal. During the same year, she participated in the '8th Asian Yoga Championship' held at Kerala and won 1 gold and 1 silver medal.
This young talented girl also participated in the "9th Asian Yoga Championship" held at South Korea and won 3 gold medals. A true champ, indeed!
An athletics, badminton and throwball lover, Kushi, on managing her time, said, "As far as yoga is concerned, I practice for 3 hours everyday - between 6 and 9 in the evening. I study for an hour during weekdays and I manage to study during weekends. My parents are my backbone and they have been supporting me a lot (from yoga to studies). And my college has been my constant support."
When Kushi met Prime Minister Narendra Modi in 2018, she made an appeal to the PM to place yoga in priority sports category which would help yoga achievers in various ways.
On being asked about her future plans, Kushi who recently received her state's prestigious award (Rajyotsava award), stated, "My aim is to make India proud by promoting yoga, teaching yoga to lakhs of people in a systematic manner and by doing research in the field of yoga. I have planned to do my graduation in yoga and naturopathy and also to win laurels in international yoga competitions. I wish to create many more records in this field and serve people."
"People recognise me and take selfies with me whenever I go out. That's the point when I feel satisfied and this I feel is the best part of achieving something in life," signed off the teen Yoga wonder.
Other interesting facts about Kushi:
1. For her outstanding performance, promotion and propagation in the field of yoga, she received Kannada Rajyotsava award, Karnataka Kalashree award, Best exceptional award, District Youth award from different departments of Govt. of Karnataka
2. The other awards include Yoga Praveen, Yoga Kesari, Yoga Rathna, Mysore Rathna, Sadana Rathna, Yoga Chathure from different institutions.
3. She was the brand ambassador for International Yoga day held at Mysore in the year 2017.
4. She is also a brand ambassador for Swacch Bharat Abhiyan, Mysore City corporation.