Meet 25-year-old Anjani Kumar who battled cancer and is now on a mission to provide medical assistance to the needy
Feb. 4, 2021, 8:20 p.m.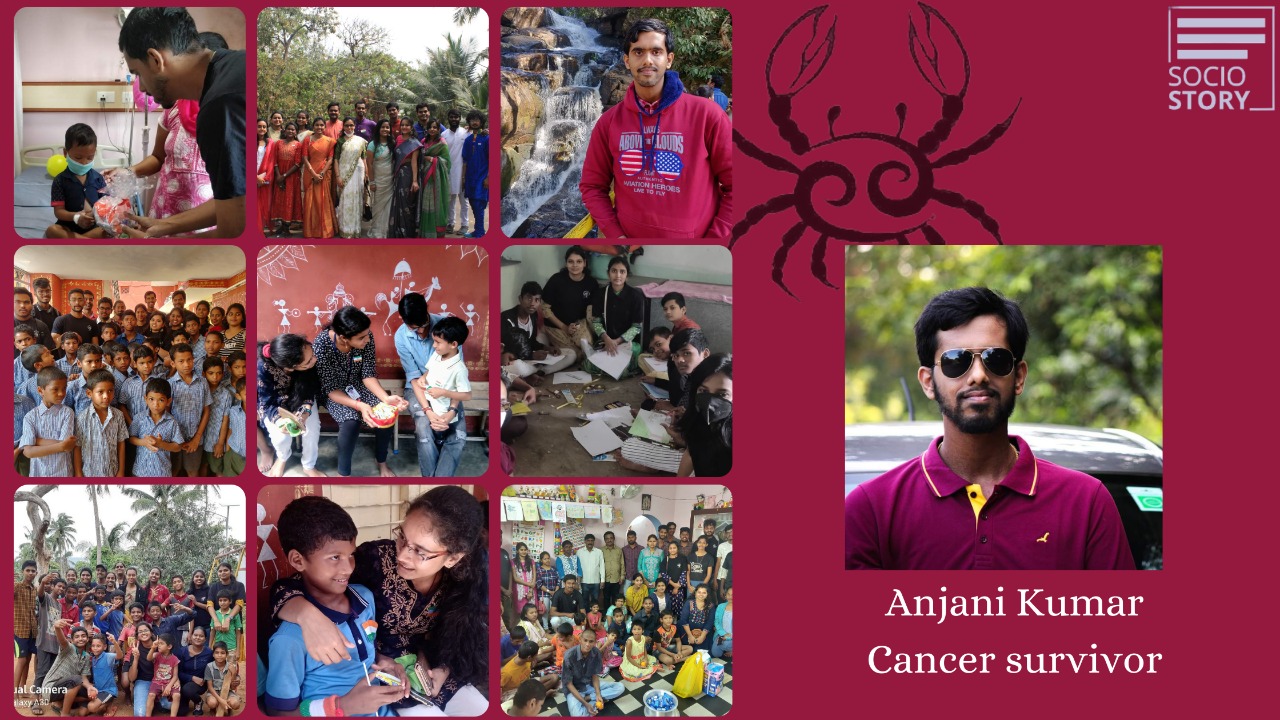 By:Reshma Jain
"You never know how strong you are until being strong is the only choice you have," goes a saying and this holds true for people who have proved it in the literal sense. February 4 is observed as 'World Cancer Day' to raise awareness and education about cancer, thereby to save millions of preventable deaths each year. To mark this day, Socio Story brings to the fore the story of a young cancer survivor who is now serving selflessly.
In the year 2014 when KPD Anjani Kumar joined Andhra University to pursue his B Tech, he found difficulty in opening his mouth completely. Worried by this strange feeling, Anjani's parents consulted top doctors including general physicians and dentists, but their efforts were in vain. On consulting a senior ENT specialist, Kumar was advised to undergo FESS surgery (Functional Endoscopic Sinus Surgery).
In 2015, when Kumar was undergoing the FESS surgery, the surgery had to be stopped midway because the surgeon found some white colour mass behind the nose. They sent a sample for a biopsy report and Kumar's family decided to shift him to Hyderabad for better treatment. The reports stated that Kumar was suffering from Nasopharyngeal Carcinoma (a type of cancer) - 4B stage.
And the moment when you and your family come to know it is 'cancer', all of us understand how one would react to it. It is natural because our minds have been tuned in such a way that the word 'cancer' brings with it fear and anxiety. Kumar who was 19-years-old then had mixed feelings. Although there was a solution for his problem, he had the fear of losing everything in life (career, health, money, friends, etc).
Pain, fear, tears, loneliness, confusion, frustration, loss of friends, financial insecurity, loss of self was what Kumar felt when he underwent radiation and chemotherapy for a few months. While he battled with cancer, his father was also admitted in the hospital due to UTI infection. Due to radiations and lack of saliva secretion, Kiran lost his teeth and the only intake of food was in liquid form.
There were times when Kumar could not drink water and regretted his existence. It was in 2016 when Kumar slipped into depression and attempted suicide. However, destiny had different plans for him and as time passed by, Kumar tried to overcome hurdles with grit and determination.
For five long years, Kumar was unable to eat solid food as his food pipe got narrowed. So, in November 2019, a gastroenterologist suggested an esophageal dilatation. "I have undergone esophageal dilatation 21 times and 18 root canals," shared Kumar by adding that he also underwent cataract surgery in 2017.
Although Kumar felt frustrated, there was one thought that changed his life for good. During the chemotherapy sessions, Kumar came across a 7- year-old orphan who was diagnosed with a tumour behind the eye. "One day we both took chemotherapy in a single room and I spent the whole day with the kid. I learnt that the child hailed from a small village and one of the doctors who was treating us had provided financial assistance for the kid's treatment. Seeing this happy and energetic kid. I felt the need to do something and my inner voice prompted me to serve the needy," reminisced Kumar.
"I decided to help and reach out to the poor and downtrodden and ensure they get access to medical facilities. This led to the formation of an NGO named Daksha foundation," said Kumar.
The mission of Daksha Foundation is to provide financial, educational and medical assistance to the poor and needy students in government schools; to set up first class libraries in government schools/ orphanages and to provide basic necessities like food, water, shelter and clothes to the poor and needy. A few initiatives taken by Daksha foundation which extends its services in Vizag and Kakinada, include food drives, blanket distribution, donating groceries to orphanages and old-age homes and happy kits for hospitalized children.
Presently pursuing M Tech from Andhra University, Visakhapatnam, 25-year-old Kumar, shared, "When I was battling cancer, my classmates mocked me and left me alone. They also spread rumours that I was suffering with AIDS. So, at that point of time all that I needed was emotional support. Apart from my parents, I longed for some support from my friends but I could not get it."
Stating his message, Kiran shared, "Cancer survivors have a great level of confidence. Once they survive, they can achieve greater heights. If people sympathise with cancer survivors, they feel valued and cared for," concluded Kumar who was very active in sports during his childhood.
This year's World Cancer Day's theme 'I Am and I Will' is all about you and your commitment to act. Let us all join hands together and through our positive action, help in reducing the global impact of cancer.
Important : If you are making an impact in the world, Please send us your story at : manoj@sociostory.in and we will try to cover you.