Meet Abhiir Bhalla, a youth environmentalist advocating on sustainable living
June 4, 2022, 11:14 a.m.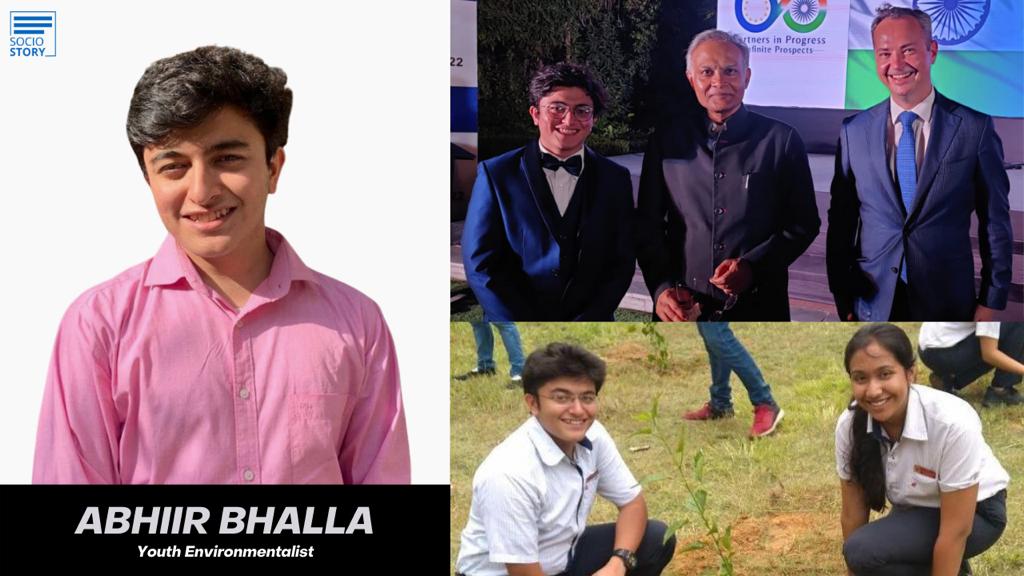 By: Reshma Jain
Abhiir Bhalla's journey began in middle school when his mother and grandmother, coerced him into taking part in activities in school and to join a few clubs and societies. Abhiir became a member of the 'Paryavaran Club' (Environmental Initiatives Club) in his school and began attending weekly meetings.
Simultaneously, in Grade 7, Abhiir realised that he was suffering from recurring allergic bouts, due to Delhi's horrible air pollution. Every year he had to use nebulisers between October and January. Unsurprisingly, this is also when Delhi's air pollution peaks. As it happened, the next meeting of the club happened to be on air pollution – the rest is history.
From then on, Abhiir rose through the ranks and became an active voice, participating in intra- and inter school activities and projects. In high school, he was elected to the Student Council to lead environmental initiatives in his school. Working on audits with the Centre for Science and Environment India for 5 years, he learnt how he could make his school campus more environment-friendly and sustainable. An active youth environmentalist at a global level, Abhiir has been working in the field of environmental conservation for over 8 years. Identified by the BBC World News as amongst the foremost youth environmentalists in 2020, Abhiir is passionate about driving youth climate action. He's been a three-time TEDx Speaker, and is also a Youth Ambassador for Earth Day International and sits on the Board of the Commonwealth Human Ecology Council.
In a conversation with Socio Story, Abhiir said, "The voices of the youth need to be empowered in order to influence policymaking. The very minimum we can do is to accept people who are acting on climate control and inspire others." He further added, "I've been fortunate to be around people who aren't climate deniers as I tend to associate myself with like-minded people. As long as the older generation understands that this is a serious thing, most of the problems are going to get sorted itself. India's population is youth-centred and an active participation from them will lead to a significant change."
Economic development and sustainable development are, again, two sides of the same coin. For example, switching to electric buses may have a very heavy initial investment, but within four or five years, there'll be profit and chances of recovering initial investment cost. People need to broaden their outlook in horizons. Among top countries, India has been doing phenomenally well, in terms of its solar energy commitments. Our commitment to the UN was met a year or two in advance, and then we doubled it.
Abhiir has attended several conferences on climate change, and in some, he even participated as a panelist. In 2016, he underwent a 2-month long 'Care for Air' Student Ambassador training to spread awareness regarding air pollution and affect change. In 2018, World Environment Day was hosted by India and he participated in a 3-day long conference hosted by the United Nations Environment Programme, where he also appeared on a panel with the then-UNEP Director, Erik Solheim.
"While air pollution was my personally driven area of work, I was equally interested in other aspects such as waste segregation, renewable energy and sustainability. Over the years, I have also worked with the World Wildlife Foundation, Kids for Tigers and Sanctuary Asia on wildlife conservation, and was awarded the prestigious Token of Appreciation by the National Tiger Conservation Authority of India," shared the youth environmentalist.
One of his noteworthy projects was 'Swachh Chetna', where he single-handedly brought together private, public and NGO schools to conduct cleanliness, awareness and plantation drives with the Delhi Metro, which signed an MoU with his initiative as their partner.
Leading over 300 volunteers in over 3 years, they cleaned areas around metro stations across the city and carried out awareness campaigns through street plays and flash mobs. They planted over 200 saplings at Metro officers' residential colonies and outside metro stations in a bid towards mitigating air pollution.
Most recently, Abhiir was one among the five international youth environmentalists from around the world, representing India on BBC World News in conversation with Mr. Antonio Guterres, the Secretary-General of the United Nations. BBC further identified him as one of the foremost youth environmentalists, and their posts on their website identified him as 'The Indian Teenager Fighting Global Air Pollution'.
Abhiir, 20-years-old, is currently producing a podcast on Climate Change for the Ramphal Institute, a UK-based think tank which is quite popular in academic and diplomatic circles amongst Commonwealth nations. As part of this partnership, he was invited by the UK Government and the Ramphal Institute to be a panelist on a conversation around 'Air Pollution in the Commonwealth'.
After completing his four-year programme at Ashoka, he is hoping to leverage the experience he has gained as a sustainability freelancer and consultant over the past few years to work in the field of corporate sustainability - either with MNCs or consulting firms - before pursuing his postgraduate studies.
Sharing a few points on sustainability, Abhiir shared that installing solar panels on your routes, switching to electric vehicles are some of the expensive methods by which you can contribute to the environment. Meanwhile, simple and affordable methods like switching to bamboo toothbrushes, which lasts anywhere between 60 to 80 days is a wise idea. It's good for oral hygiene, clean, and biodegradable. Similarly, switching to simple things like composting will go a long way and all you need is a cardboard box or a plastic box, to put some of the biodegradable waste. Developing a rainwater harvesting system, like putting a bucket out and using rainwater to clean your house is always preferable. You can also use it to water your plants! People are too concerned about doing it perfectly that they fail to realise that millions of people doing it imperfectly are going to create an impact. There's no need to be critical but it's all about being smart.