Meet Abhishek Thaware who against all the odds, became India's first teeth archer
Sept. 7, 2020, 2:56 p.m.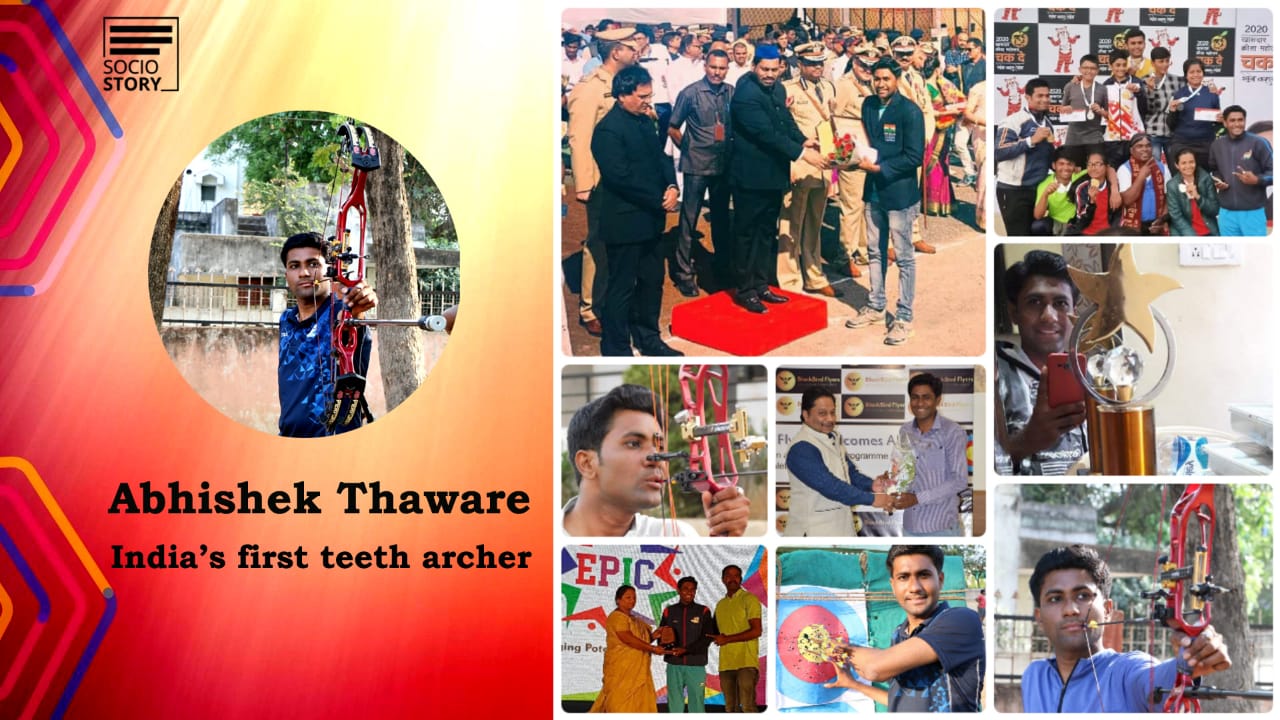 By:Reshma Jain
A good archer is known not by his arrows but by his aim and what better example than Abhishek Thaware who despite the odds, made his country proud. Socio Story brings to you the inspiring story of India's first and only teeth Archer from Nagpur. Abhishek Thaware is the first para archery player to participate in All India University Archery championship (open championship). He is also the first para archery player with team silver medal (compound abled category) in Maharashtra State archery championship. But what makes the story unique is Abhishek hits the bullseye while he pulls the arrow with his teeth! Indeed, an arduous task. Taking you back to Abhishek's journey, you will be surprised to know the hurdles he has overcome to become a champion. Read on!
Life took a tragic turn when Abhishek was just a one-year-old kid. Having developed a fever one night, Abhishek's Father Sunil Thaware took him to a hospital in Nagpur. He was administered an injection and the fever subsided in two days. But the injection caused an infection and unfortunately, Abhishek's right arm was afflicted with polio. However, Abhishek did not allow his disability to deter him from achieving his dreams.
Abhishek's family was his strong support system and despite his disability, his family decided to get him an admission in a normal school. When Abhishek was in eighth standard, he realised his love for sports. He got involved in athletics and started taking part in competitions, both at State and National levels. He also won several medals in long-distance running with his favourites being 1,500 meters and 5,000 meters (normal category).
Fortunately, when Abhishek was in 10th standard, he met Rajendra Khandal who ran a sporting club called Adarsh Vidyamandir. Khandal showed him how to do cross country running and Abhishek, an enthusiastic child, was winning almost every competition in Maharashtra.
For nine years Abhishek was a para athlete. He did not even remember that he needed his right arm. His legs were enough to make him feel complete until destiny had a different plan. On October 26, 2010 when Abhishek was practicing, he suffered a knee injury. This injury was so serious that his leg had to be operated on. After the operation, Abhishek had to stop playing as per the Doctor's advice. But all he knew was running, so he ran a relay at the state level and won a bronze medal too. But after this, his knee never allowed him to run again.
They say everything happens for a reason and in Abhishek's case, the reason was Archery. Facing the unexpected events of life and rolling through ups and downs, Abhishek, a budding sportsman was determined and he wanted to do something for the country. "My dream was to join the defence but my health did not support it. To have India's flag on my chest and India written on my back by representing India is something I'm proud of," stated the teeth archer who has completed his Masters in Social Science.
Abhishek's cousin Sandeep Gawai was an archer and he motivated Abhishek to join him. However, it was a herculean task to play archery. Why? Because Abhishek could hold the bow with his left hand, but the right hand did not have enough strength to pull the arrow. People who don't have one arm use the shoulder to pull the arrow with the help of a clip. But in Abhishek's case, he did not have strength in his shoulder either. Sandeep asked him to try with his teeth and Abhishek succeeded in pulling the arrow with his teeth. However, life was not very smooth even after this feat.
There were financial constraints and coming from a lower- middle class family, Abhishek could not afford a professional bow and arrow for his further practices. He had to wait for two years to start pursuing his dreams just because he did not have money. Finally, in 2014, Abhishek's Mother mortgaged her jewellery and he got a second hand archery set.
In the meantime, he met his coach, Chandrakant llag, a constable with Maharashtra police. Ilag taught archery to kids in Dronacharya Academy at free of cost. After he saw Abhishek's dedication towards this sport, he offered to train him in his academy for a month during the summer session. This opportunity helped Abishek polish his skills. After this, Abhishek kept visiting Ilag for further training and soon became the first teeth archer in the country.
Abhishek has achieved his goal with his willpower and determination and on being asked about the difficulties that he faced, he said, "Practising archery takes a heavy toll on neck, scapula, and shoulders. I had to take extra care. With the help of my physio and regular exercises over the years, I have managed to develop the strength which is vital to prevent injuries."
This champion has achieved more than 45 medals. He has represented India in events like Princess cup archery (open) 2018, Thailand, Para world ranking event, USA, Para Asian games 2018, Jakarta and World Archery para championship 2019, Netherlands. "Sports are a wonderful way to inculcate determination in a person. I want to bring in more inclusiveness and create awareness towards archery by conducting sports events and awareness camps," concluded the young champion who is preparing for the upcoming national and international tournament.
Important : If you are making an impact in the world, Please send us your story at : manoj@sociostory.in and we will try to cover you.