Meet Afsana Perveen who has been instrumental in transforming lives of underprivileged children through education
Dec. 15, 2020, 5:57 p.m.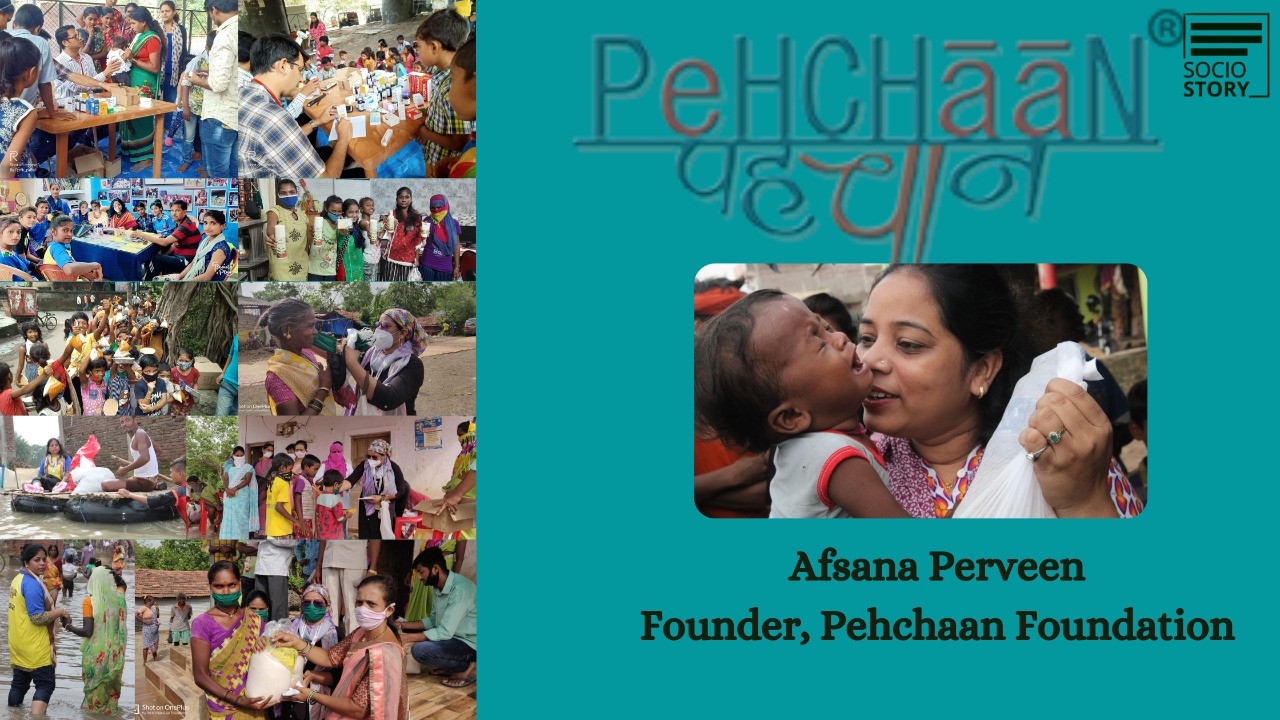 By:Reshma Jain
Even after a span of eight years, the date December 16 reminds us of a horrifying and a shocking incident that took place at the national capital. The brutal gang-rape and murder of a 23-year-old paramedical student left the country shell-shocked. The brutality of the crime shocked the Nation while people protested on the streets to demand better safety measures for women and strict laws to punish the culprits.
Unfortunately, the number of such heinous crimes have still been on rise and this disturbed Afsana Perveen. Hailing from Mumbai, Perveen was working in the retail sector as a merchandiser when she read and learnt about the Delhi gang-rape case. While riots took place, candles were lit and people mourned in the national capital, Parveen left her job to understand the reasons behind these terrifying incidents. "For a few days, I could not sleep because a lot of thoughts triggered my mind. Today, it is her, tomorrow, it might be any of us. What if I or my sister falls victim to such crimes. It is time to do something," thought Perveen.
When Parveen learnt that one of the perpetrators of the Delhi gang-rape case was a juvenile, she was appalled. When she went in search of answers, she found out that 'lack of education' is a contributing factor to these crimes. Also, she understood that juveniles who commit these crimes are not aware of the societal norms and are ignorant to the end result of a crime. "These crimes are a consequence of poverty, illiteracy, abuse and lack of parenthood. Drug abuse, violence, crime, family disruption, abandonment, disease and prostitution are the added factors in committing a crime," shared Perveen.
After observing the scenario for a few days and understanding that illiteracy is a major factor, she started teaching and sensitising the slum kids who were residing under the Ghansoli flyover in Navi Mumbai. From teaching, counselling to guiding the underprivileged kids, Perveen along with other volunteers was instrumental in setting up street schools.
"Surprisingly, most of the children were passionate about doing something in life. It was only the lack of education and the surrounding unhealthy environment that turned them into criminals. Within a few months of teaching children, I could observe the change in behaviour among the slum kids. They were enthusiastic to learn and study, even though they had to read under the street light," said Perveen who was awarded by Bollywood actor Amitabh Bachchan for her work towards underprivileged children.
The seeds of setting up a foundation for the welfare of the underprivileged kids was sown when she counselled a number of children and parents in the slum and saw a difference. It all started with Rs 350 and in the year 2014, Pehchaan Live Foundation came to life in Mumbai under the leadership of Parveen. The first initiative called 'Pehchaan -The Street School' was launched to connect with the children in slums where education, values and parental supervision were lacking. "This initiative was started to enlighten those little minds, through education, who remain deprived for their whole life," stated Perveen who is now 33-years-old.
After continuously working for 4 years, they registered themselves as an NGO. Today, they have 15 centres spread across Bihar, Mumbai, Delhi, Goa and Kolkata. Pehchaan's mission is to uplift the poor and destitute children by educating them to improve their prospects for a decent adult working life. They aim at making this an inclusive step, where these kids get an equal chance of education and to succeed, irrespective of their economic status.
Perveen who was awarded with Kalam Goodness award in 2017 for influencing the Young minds of India, said, "We strongly believe that education is the foundation for better future and that hope and equal opportunities should be given to all children. We at Pehchaan are committed to offer the basic education and healthcare facilities to the underprivileged kids living in slums. Children form the pillar of the future society and it is extremely essential to strengthen those pillars for a better future."
"These children do attend their government-run schools, but they need that extra guidance with a special emphasis on morality, values and life skills because a child's personality is an outcome of the environment in which he/she is raised. Therefore, if one needs to address the issues of poverty, surging population, unemployment or human rights, the best place to start with is education. Education will endow them to earn their own living, which is the primary concern of Pehchaan. Moreover, education encourages awareness on numerous social issues and evils among the people and helps them understand their rights and duties," added Parveen whose initiative was acknowledged by the 'State of Youth Volunteering in India 2017'.
"We are currently teaching more than 10,683 slum kids. Apart from educating them, we take care of their medical needs and organize medical camps. More than 50,000 stationary kits, books and clothes have also been distributed to kids," concluded social entrepreneur Perveen by saying that 'we make a living by what we get but we make a life by what we give'.
Important : If you are making an impact in the world, Please send us your story at : manoj@sociostory.in and we will try to cover you.