Meet Anand Malligavad who believes in 'Time to care before streams are bare'
Jan. 29, 2021, 9:02 p.m.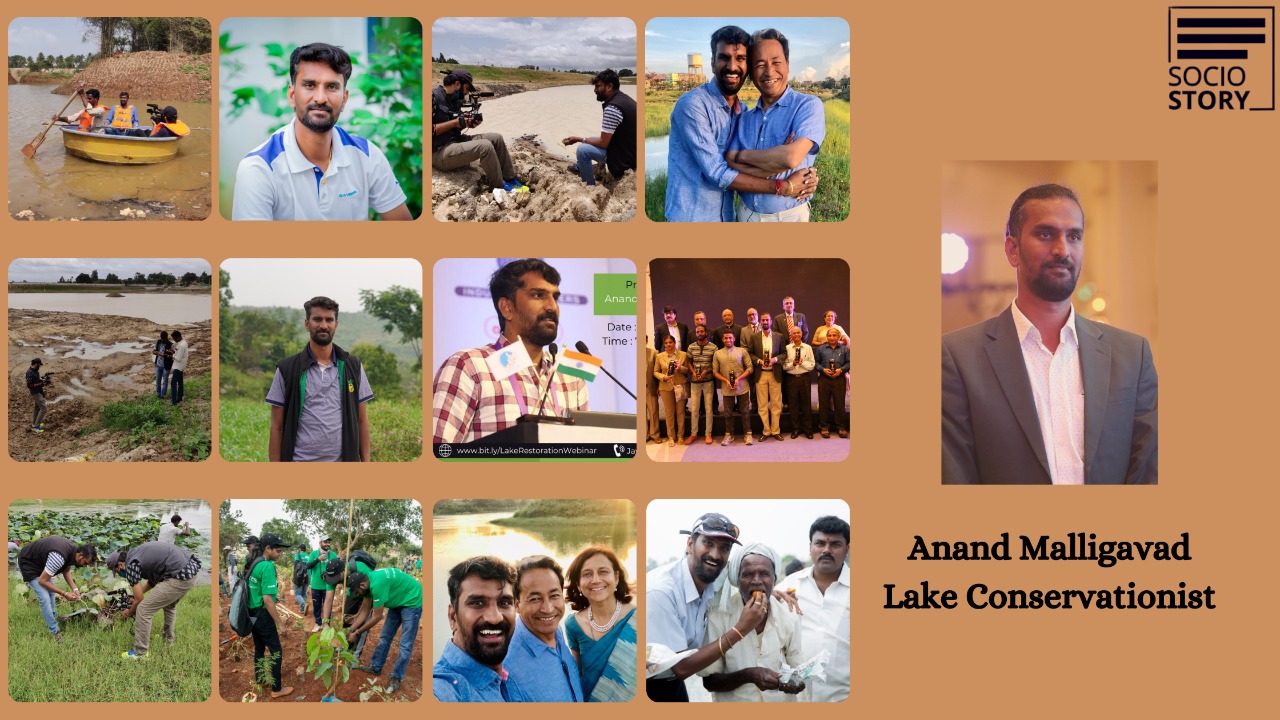 By:Reshma Jain
From being known as 'Land of boiled beans' or 'Land of lakes', and now to the 'Silicon Valley of India' or the 'IT capital of India', Bengaluru city was considered as one of the fastest growing cities in the world. Yes, it has created endless opportunities for the people but there was something important which was lost in the process of robust transformation.
Thanks to Urbanisation and Globalisation, the beautiful city lost its natural treasures- mainly the lakes, flora and fauna. The lakes in the city were encroached for urban development and were converted to residential colonies, bus stands, playgrounds, etc. And then? They say human wants are endless and the destruction went on in the name of progress and development. With concrete jungles all around, the remaining lakes are also in the state of deterioration.
Amidst the chaos, Anand Malligavad was appalled by the unplanned growth of the city and enormous pressure on the natural resources leading to the death of lakes. Hailing from a small village in the Koppal district of North Karnataka and having moved to the city of Bengaluru at a very young age, Anand was optimistic about the rate at which the city was growing but at the same time witnessing the sad state of lakes hit Anand very hard.
Sharing his insights with Socio Story, Anand who left his lucrative job in an effort to devote his full time to rejuvenate the lakes and improve the lives of people, said that his association with lakes has been quite long, in fact since his childhood. Having been brought up in a village, Anand spent most of his time amidst nature and learning from it as his school was located on the banks of a lake.
This long association with the lakes and also witnessing the present condition of lakes in Bengaluru, Anand decided that he wanted to do something to change the prevailing conditions. This set him on a path to rejuvenate Bangalore's lakes; one lake at a time.
The first project that he undertook was the rejuvenation of Kyalasanahalli Lake (36 acres) near Anekal in 2017, the work of which was completed in 45 days. In the past three years, Anand was able to rejuvenate 7 other lakes including the Vabasandra lake (9 acres), Konasandra Lake (16 acres), Gavi lake (3 acres), Manae lake (5 acres), Hadosiddapur lake (35 acres), Nanjapura lake (18 acres) and Chikka nagamangala lake (47 acres). Apart from that, he has provided guidance to rejuvenate three other lakes in the state.
Anand's approach to lake rejuvenation is systematic and scientific. It involves rejuvenation of streams of inter-connected lakes which are divided into four different zones of Bengaluru based on the topography and gravity. Over the course of his journey, the path was not very smooth, shared Anand. He had to overcome administrative hurdles and other issues like land mafia, encroachments and funding. It was also a challenging task to change the mindset and behaviour of the local people through his skills.
"A lake rejuvenation does not mean only focusing on water. It means changing the whole ecology with a self-sustainable eco-system representing the natural ecology of olden days. The rejuvenated lakes now host 38,000 saplings and four Miyawaki forests planted with the help of 20,000 volunteers in record time," shared ex-techie Anand whose work is now being studied by many top academic institutions for their research.
Anand employs engineering techniques for lake rejuvenation which is highly cost-effective, innovative and have proved to be successful. After the lake rejuvenation, nearly 180+ borewells have been recharged and the land value around the lakes have shot up drastically. Not only have these lakes improved the lives of the farmers, but also have become home to 100s of varieties of native trees and birds, opined Anand.
Anand who is a TED speaker and has appeared on various panel discussions, has been a source of motivation to social service groups like NSS, NCC, and numerous NGOs. His work has been used to inspire IT employees, management students and school children for taking up water conservation. So far, his work has inspired many communities across the world to take up lake rejuvenation.
After the impact seen from the rejuvenated lakes, his vision has broadened beyond borders. The rejuvenation of 34-acre Dyavasandra lake is in progress and is expected to be completed soon. The mission of this 40-year-old lake saviour is to rejuvenate at least 25% of the lakes (45 lakes) in Bangalore by 2025 and help the city become a drought-free city.
Anand has been relentlessly working and researching on lakes and ecosystems for nearly five years and has done independent work on understanding lake designing and execution. "I rejuvenate lakes ecologically so that they sustain by 60% water body and with 40% native forests with flora and fauna developing naturally. These lakes support surface drinking water for birds and animals. They also recharge aquifers to get portable water in borewells for drinking and agriculture purposes."
Discussing further on the need for rejuvenating lakes, Anand said that these lakes serve as carbon sinks and help to produce more oxygen, thus maintaining the temperature. "It has helped in increasing the economy of the villagers around the lake through Fisheries, agriculture and dairy farming," shared Anand who bagged the 'Asamanya Kannadiga'- a state level award and bagged the title 'Unsung Hero of the City'.
The road map for Anand and his team is to train more and more like-minded thinkers through creation of informational websites, blogs and dedicated lake databases. These portals will be used to share information and enable self-learning. The broader idea is to create a sustainable way of living by promoting weekend farming, agroforestry, creation of hydroponics on the drainage channels, permaculture and regeneration of soils through organic farming.
His idea is to make himself available to work with all the stakeholders, the governments, NGO's, corporate and individual communities to help this work reach out to as many people as possible. Anand dreams of a drought-free India and wants to inspire everyone to take up lakes and water bodies and make it a self-sustaining ecosystem.
Important : If you are making an impact in the world, Please send us your story at : manoj@sociostory.in and we will try to cover you.