Meet Anmish Varma- a mountaineer and a world Karate champion who brought laurels to the country
Aug. 1, 2020, 1:46 p.m.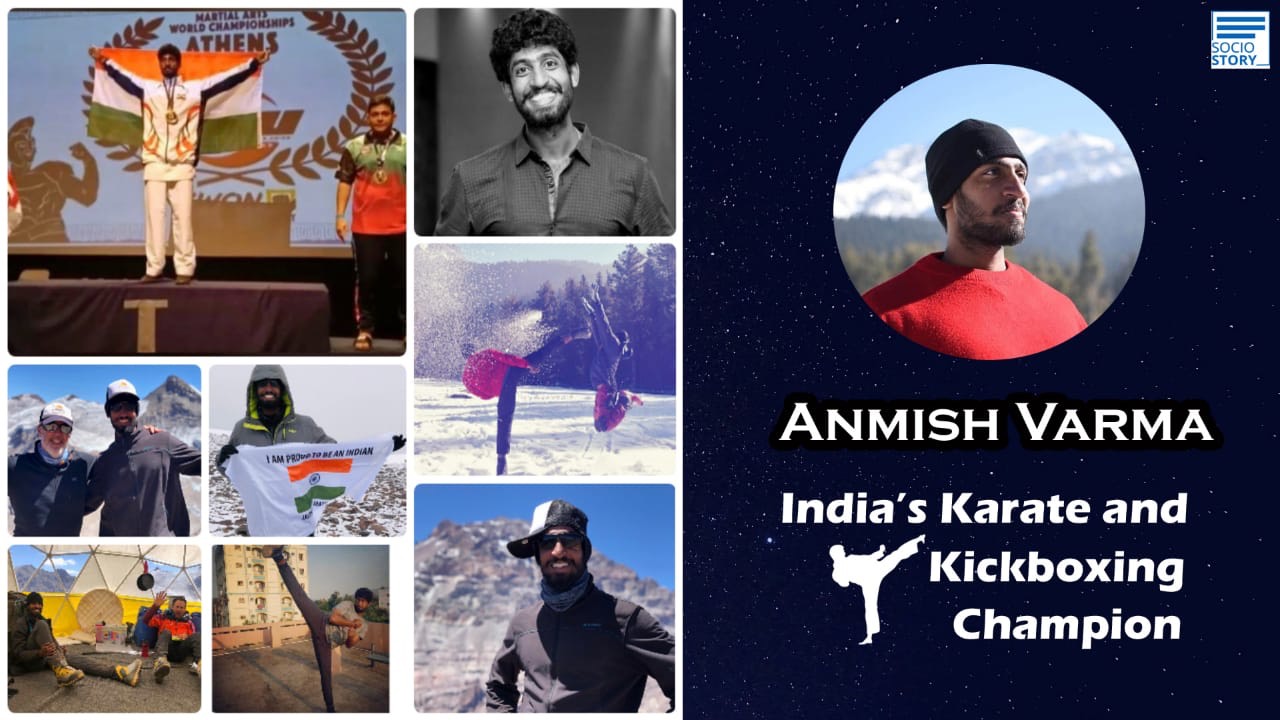 By:Reshma Jain
A world champion, a mountaineer and a social worker are the best terms to define Anmish Varma from Visakhapatnam, Andhra Pradesh. If given a chance, I can keep writing pages on Anmish as there are umpteen number of inspiring stories to share with the world. However, we tried to bring the best of stories to you. Here we go!
When Anmish Varma made his first attempt to scale the world's highest peak Mount Everest, little did he know that he would have to give up his dream and hard work for the sake of saving a life. However, Anmish has no regrets with this act of altruism as he feels that he can come back to summit Everest but will never get back a lost life.
Last year, Anmish along with his team started the trek from the Everest base camp with an aim to summit the peak and it took a span of 30 days to reach a staggering height of 7,900 meters. Had it been one more day, Anmish would have summited Everest by reaching the height of 8,848 meters.
But destiny took a turn as Anmish decided to drop out from his team immediately after he heard the news of the critical condition of a mountaineer who had reached 8,300 meters. While the Sherpas were trying to communicate and convey the message of his condition, language was a barrier. So, Anmish felt that someone was required to accompany the patient for immediate treatment.
After he was brought down to a lower base camp, Anmish saw the critical condition of the patient as he was suffering from severe headache, uneasiness. His mental condition was also not stable, said Anmish.
"I decided to be with him while the arrangement for a chopper was going on. We reached a hospital in Nepal in a chopper after a 5-hour car journey from the China border to the Nepal border. On reaching the hospital, the Doctors said that there was a blood clot in the left side of his brain and required a surgical procedure immediately. The surgery was performed and both of us landed in India after a month," said Anmish Varma.
Hailing from a poor family, 27-year-old Anmish from the city was selected by the Department of youth services, Government of Andhra Pradesh to participate in the Everest expedition with a mission to encourage the youth from poor background to take up adventure activities and to develop adventure sports in India. He still believes that his hard work will pay off one day and he is proud to save a life during his first summit.
This is one part of the story. We bring to you the second part of the story- 'Anmish Varma as a world champion'.
After watching a telugu flick 'Thammudu' (1999), Anmish was inspired and he started to learn karate from the age of nine in his school. After learning the basics of karate for a few years, he joined the Okinawa sports karate-Do association of Andhra Pradesh located in Vizag. Later, he continued to learn and explore opportunities in Karate.
It was in the year 2002 that he bagged his first medal (bronze) during the open National karate championship that was held in the city. After which he continued to play to bring laurels to the state and country. "In 2012, I got the first opportunity to represent my country in the USA WKU championship. But due to lack of sponsorships, I could not make it to the competition. Keeping my dreams in mind, I kept working hard and I had a strong belief that someday, I will make it big. It was in 2014 that I played the sport outside my country and stood in second place," said the MBA graduate who is now running an environment NGO called 'Kalpavruksh'.
International champion Anmish Varma Bhupathiraj had bagged the first position in the World championships Austria 2019 organised by World kickboxing and Karate Union (WKU). Anmish had also clinched two medals during a kickboxing and karate championship that was held in Ireland. The championship organised by the World kickboxing and Karate Union (WKU) in Ireland saw participants from almost 42 countries participating in different categories. He made the country proud by bagging a gold medal in the senior male category (18-34 years) in the Martial Arts World Championship in Athens, Greece.
Apart from 60 medals in his kitty, Anmish had bagged a silver medal in the World Kickboxing and Karate championship which was organised in London in 2014. In 2015 and 16, he bagged two bronze medals in the kickboxing world championship organised in Spain and Italy respectively.
Even during the pandemic, Anmish was a real Covid-19 hero. From volunteering to extending support to the district administration and distributing essential commodities to the needy and migrants, Anmish and his team were in the forefront.
This young man believes that every bad situation will always have a positive element in it. So, we all need to learn from both good and bad experiences to lead a happy and peaceful life, stated the world champion.