Meet Anoushka Jolly, the girl behind the Anti Bullying Squad
Oct. 25, 2022, 5:10 p.m.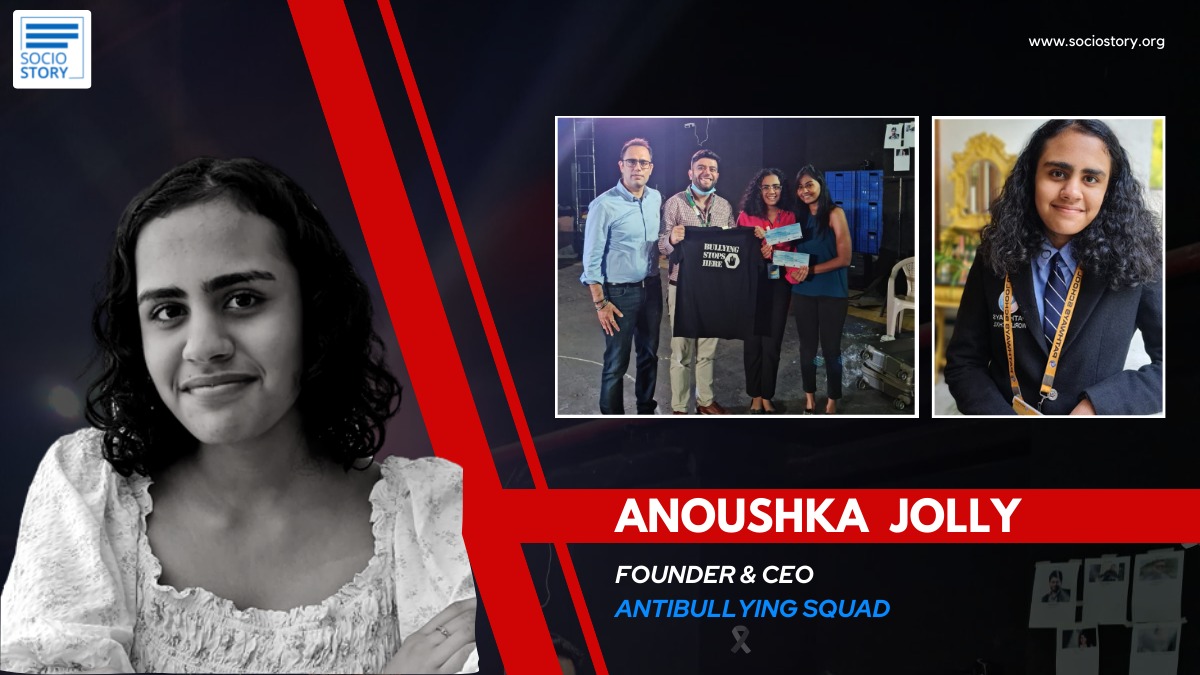 By: Reshma Jain
Although anti-ragging programmes are frequently mentioned, anti-bullying campaigns are less well known. Bullying is not reported, although instances of ragging are. Bullying, however, has its own share of detrimental effects on children's and teenagers' lives, and it is important to speak out against it. Socio Story brings to the fore a story of a young girl who is striving to give a platform to children who are bullied. When Anoushka Jolly experienced bullying herself when she was in grade three, little did she know that she would go a long way in bringing about a positive change.
Anoushka was only 9-years-old when she founded the Anti Bullying Squad (www.antibullyingsquad.com), an impact enterprise which works on creating awareness against bullying amongst children. Later, she started taking anti-bullying sessions with students in schools offline and online, spreading awareness about the issue. She also created her own online self-paced program of 1 hour that talks all about bullying in detail. After collaborating with a few NGOs and doing some more groundwork on bullying, she observed that the main reason why bullying is such a big issue is because it isn't reported. Based on this ideology and the current education infrastructure in our country today, she created an app called 'Kavach' which is a bullying reporting mechanism. Anoushka was the youngest contestant to win funding on Shark Tank India for the app.
Hailing from Delhi, 14-year-old Anoushka shared that the girls who she thought were her best friends actually ruthlessly bullied her. "It started off with social isolation: leaving me out and not letting me sit with them at lunch. Then they started making fun of me, my brown skin and curly hair, just because I looked different. They would treat me like a nobody, make me keep their plates, tie their shoelaces," she reminisced.
She further added, "There was one incident that was my tipping point, when these girls pulled down my pants and humiliated me in front of the whole class. This bullying broke me and changed me completely. I used to be a very happy child but I started coming home crying every day. It was very difficult for me to seek help but ultimately, I did. I discussed it with my parents about it and they gave me the courage to stand up for myself."
Daughter of Manu Jolly, a serial entrepreneur and Monika Jolly, a chartered accountant, Anoushka said, "One morning at breakfast, they instructed me to keep their plates. After gathering everyone's dishes, I headed to the sink, but I turned about halfway there. Let's keep our plates together, I murmured as I returned, passing out dishes to everyone. Everything changed for me after hearing that one sentence. I was eventually able to stop being bullied by others by advocating for myself."
I was able to move on, but the bullies persisted in being bullies. So, they made the decision to treat a small 6-year-old child the same way they treated her. She stared at the victim of their bullying, but instead of seeing the victim, she saw a reflection of herself. The same girl required support. I defended her because I knew what I had to do in that circumstance. I couldn't stop thinking about this episode, as well as the idea of bullying in general, after it happened. I got to work on it since I was aware that I wanted to take action," she asserted.
Anoushka shares that she has always derived inspiration from Mother Teresa because she embodied the value of empathy. She feels that if everyone empathises, the world would be a much better place to live in. Leveraging technology is important to make a difference, believes Anoushka. So far, this young girl has been able to reach out to over 2 million kids in over 24,000 different schools (comprising students in metropolitan cities as well as rural areas).
Anoushka is currently working on a mental health metaverse, the first of its kind, for teenagers. It aims to gamify mental health and combine it with immersive technology. She noticed that the solutions available in the market today don't provide for teenagers. Because teenage mental health matters, she wants to create one that caters to their needs.
"My mother has raised me with a mantra; 'Don't raise your daughters to have more than what you had but raise them to be more than what you were," concluded the talented teenager working to create a better place for the younger students.