Meet Anurag Chauhan who has been empowering as well as making women self-reliant
Dec. 30, 2020, 4:30 p.m.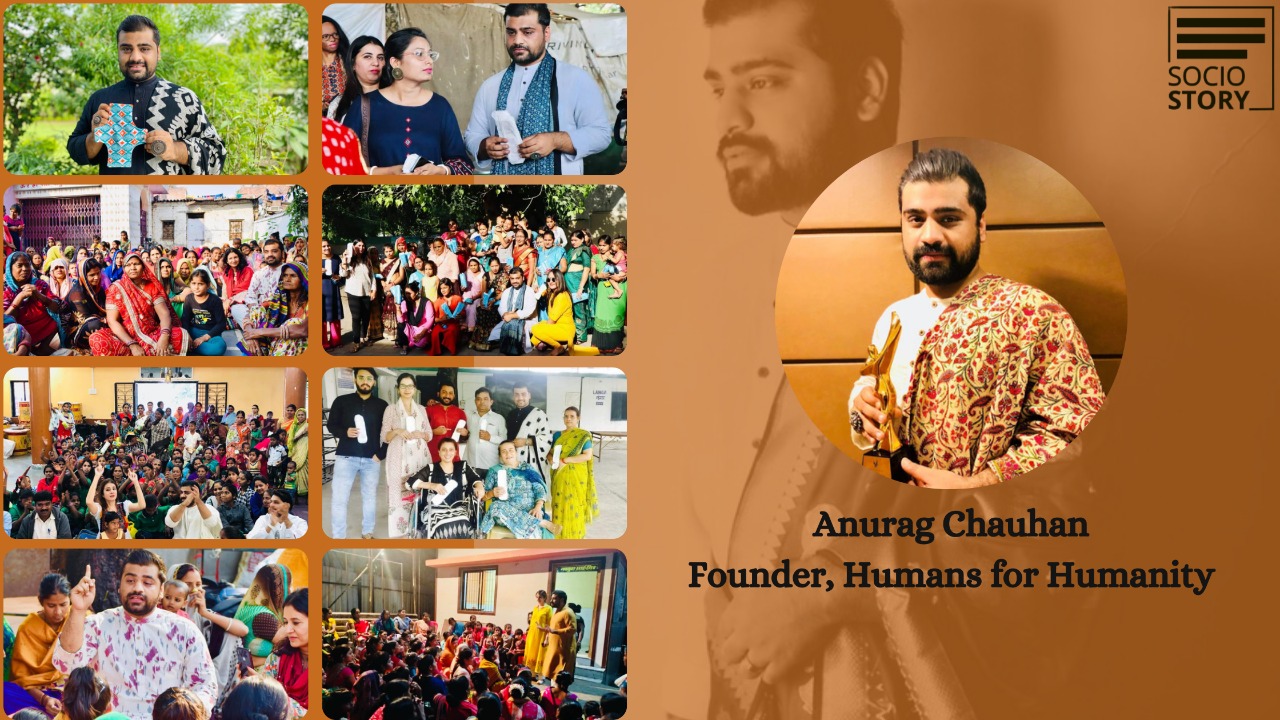 By:Reshma Jain
They are 'hidden', they are 'shameful', they are 'stigmatized'. People often use 'code words' as it is considered a 'negative experience'. Something used for this natural process is 'wrapped' in black plastic bags or newspapers so that no one sees it. There is usage of 'hushed tones' while buying or requesting for it in medical stores. But, why did we use these quoted words? Because all these are euphemisms used to convey a message surrounding this topic or the 'dreaded' word, 'Period'. Yes, Period.
Well, we are living in the 21st century where life has evolved by leaps and bounds. However, there is still a long way to go when it comes to topics like 'menstruation', 'period', 'pads' or a 'woman's natural cycle'. Don't we all think that it is high time we end period shaming and the stigma around it. The need of the hour is to accept the reality that 'menstruation' is just a natural process and menstrual hygiene needs to be tackled.
According to a few reports, due to lack of access to menstrual hygiene, which is grossly neglected in our country, thousands of women die annually across India. When Anurag Chauhan read about these facts in an article, he was taken aback. He realized that there is a need to reach out to people in the hinterlands and educate them about this neglected subject.
An Indian social worker, Chauhan who is the founder of Humans for Humanity, started a project called WASH (Women, Sanitation, Hygiene) with an aim to sensitize and spread awareness among menstruating women, especially in the rural areas. Based in Dehradun and hailing from a family which has been open to such topics, Chauhan wanted to reach out to the masses. Through the WASH project, this 26-year-old young social worker not only educates women but also distributes sanitary napkins to the underprivileged and at the same time provides training to make biodegradable sanitary napkins.
As part of the project which was initiated in 2015, a workshop is organised and led by doctors to sensitise women about biological reasons behind menstruation, hormonal changes, various stages right from teenage to menopause, disposal of pads, etc. Counselling is also given to women particularly who are dealing with menopause. Nutritionists educate women and girls on the importance of maintaining a balanced diet and on nutrition intake.
Speaking further on the training provided to women to make sanitary napkins, Chauhan, said, "Free distribution of sanitary pads can be done up to a certain time due to limited resources. Also, affordability and sustainability are big issues, especially in the rural areas. So, we decided to train women to make their own sanitary napkins at home. It is not only beneficial for them but also helps in creating livelihood opportunities. For instance, during the lockdown, sanitary napkins were not included in the essential commodities and there were shortages at a lot of places/cities. Since women in villages were trained to make sanitary pads, they were able to make it and send it to various cities depending on the requirement."
"During a survey, I learnt that rural women were using ash, dry leaves, sand, plastic and other unhygienic material during menstruation. I was disappointed by the state of affairs and I was of the opinion that cotton pads will be safer and economical. We slowly started training women and then gradually, more women came forward. The pads which are made of cotton are now handmade by rural women, school and college students. Apart from organising awareness and training sessions in Dehradun, Delhi and Rajasthan, the project has been expanded to Uttar Pradesh, Maharashtra and Karnataka and we have been instrumental in making women self-reliant," shared Chauhan who was honoured with the International Women Empowerment Award 2019 by IWES, Ministry of Women and Child Development, Govt of India, Ministry of Drinking Water and Sanitation, Government of India and UNICEF.
Sharing one of his experiences, Chauhan expressed that he was appalled by the ignorance of women and the fact that they were unaware of facts. "During a workshop in Rajasthan, one woman came forward and asked me 'Aapko bhi hota hai kya?' (Do you also get periods?). This left me surprised and I thought there is an equal need to empower both men and women."
"We are working on a proposal to submit a representation to the government for mobile vans. These mobile vans would not only be used to educate and empower men and women but also will provide training to make sanitary napkins," concluded Chauhan who received the Bharat Nirman award and bagged a medal and Global Fellowship by the United Nations, 2019.
Important : If you are making an impact in the world, Please send us your story at : manoj@sociostory.in and we will try to cover you.