Meet Anvita who started the campaign #BeatTheBlues after she lost her best friend to suicide
Sept. 10, 2020, 8:14 p.m.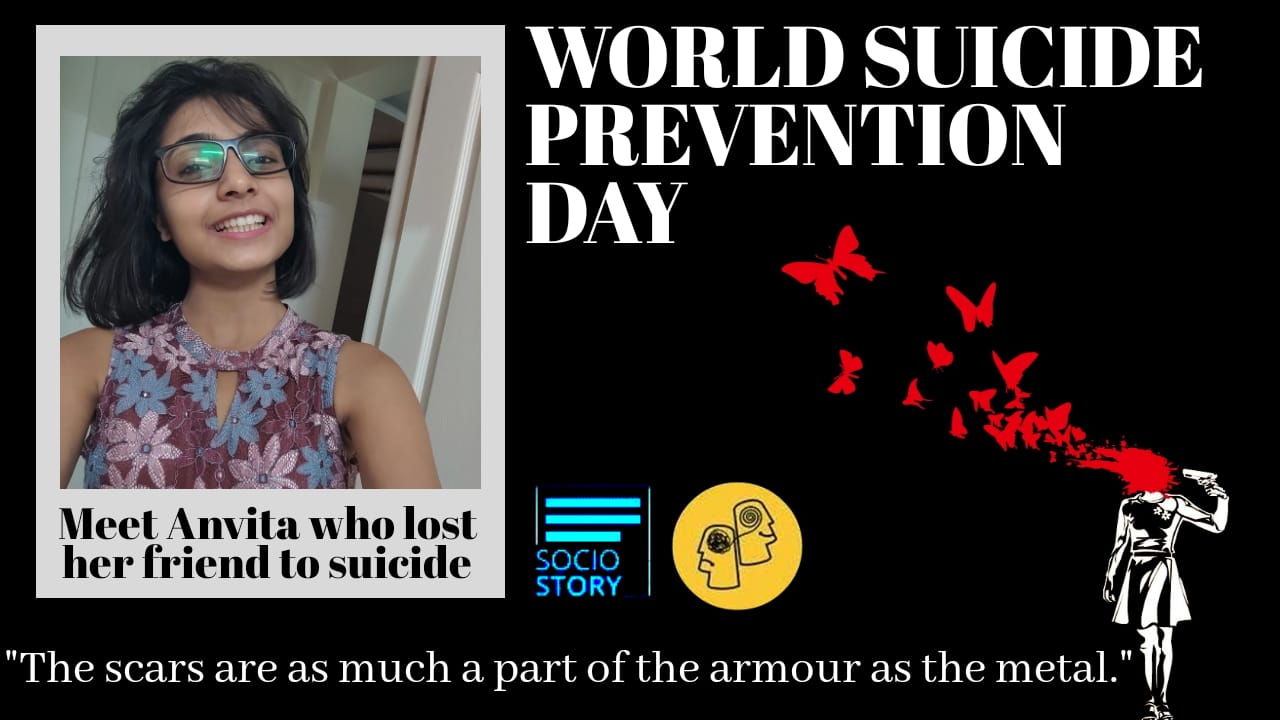 By:Reshma Jain
Anvita lost her best friend Prajna to suicide. Anvita met Prajna in the 11th grade when she joined a BASE integrated college that was coaching students to get into the IITs, and everything about the environment was completely new to her. About a month into college, Anvita gave up on the prospect of making new friends and that is when Prajna dropped into her life like an angel in disguise. Prajna was completely opposite to Anvita in a lot of ways but at the same time, she was easy to talk to - she was warm, welcoming, chirpy and the most optimistic person Anvita had ever met.
"Before I knew it, we had become best friends. She became a very important part of my life. She didn't take life too seriously although this was that phase of teenage nihilism where everyone was either complaining or worrying about entrances, college and the future in general. It wasn't that her life was perfect but she didn't let things get to her because she was the embodiment of 'ignorance is bliss'. And it was probably that very trait that took her from us in the end," shares Anvita, pursuing Electronics and Communications degree in PES University, Bangalore.
Prajna had always had an inclination towards design. She wrote a couple of entrances and got through to IIIT Jabalpur. Everything was going right for her and she landed a seat at this college and was ready to pursue her dreams. This is when she left for Jabalpur and Anvita and Prajna started college in different cities. "Slowly, we weren't talking as much, we would talk once in a while but every time I spoke to her, I knew she was doing really well. She was exactly where she wanted to be, she loved the course, the new place and her new friends. The last time I spoke to her was two weeks before the news came," said Anvita, a mental health advocate, an empath, a bibliophile and a passionate writer.
Prajna had planned to come to Bangalore for Diwali – on October 15th, 2018, but Anvita fell sick. She was bedridden and she switched off her phone. The next day, Anvita's mother received a call on her phone from one of their mutual friends, who asked if they had heard what had happened. That's when she broke the news to her Mother- Prajna was gone.
Anvita said, "My mother woke me up immediately and shared the news. I remember when I first found out - I was completely stoic, there was nothing. I just mechanically started calling people because it had not hit - I was frozen in time. No one seemed to know why she did it. I had so many questions and the ordeal took a huge toll on my mental health. This is when I was diagnosed with mild atypical depression and was asked to go for therapy."
It's fair to say that suicide can happen for two reasons - a prolonged and chronic mental illness or an impulse. For Prajna, it was the latter. She did not have any previously diagnosed mental health issues. It wasn't a snowball effect or a culmination of a lot of things gone wrong either. On that particular day, one incident took place and she suddenly felt like her life will never be the same. She did not know how to deal with it. "People have asked me - if you had the chance to say one thing to Prajna in that moment, what would it be? And my answer is - "Wait". That's all. I know for a fact that if she had paused for even two minutes, she'd have realised that this is not something she should do. It was just that one moment of desperation where she needed to escape and she saw this as the only way out," shares Anvita.
After Prajna passed away, Anvita spent a lot of time reading psychology and mental illness. She always had a passion for psychology but that passion was now aided with purpose. She started reading more about postpartum depression and that is when she came up with #BeatTheBlues- a campaign for maternal mental health. She also founded 'Patronus' - an initiative to provide warm and comforting dialogue around mental health.
"For all the people out there, who are struggling with suicidal thoughts, I just want to say that you need to keep pushing because one day your story of strength will be someone else's survival guide. Whenever these thoughts cross your mind, think about how one day in the future, you can help one other person who's in the same place as you by becoming their source of inspiration if you just push through," concluded Anvita adding that we need to make the world a more empathetic place.
Important : If you are making an impact in the world, Please send us your story at : manoj@sociostory.in and we will try to cover you.