Meet Archie Singh, the first Indian transwoman to win a title on the global map
March 31, 2021, 8:22 p.m.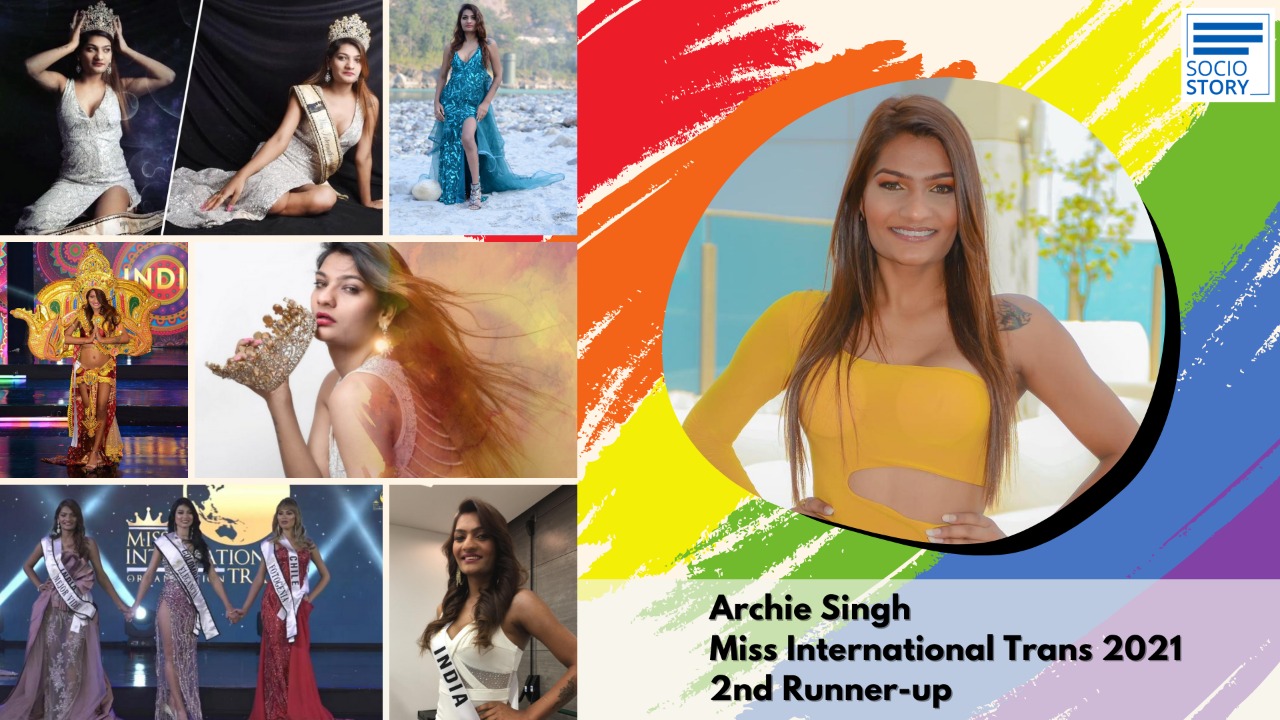 By:Reshma Jain
It is revolutionary for any trans person to choose to be seen and visible in a world that tells them they should not exist or makes them feel that their life is a curse. March 31 marks the International Transgender day of Visibility which is dedicated to celebrating the transgender people and raising awareness of discrimination faced by transgender people worldwide as well as a celebration of their contributions to the society.
Despite the stereotypical mindset of the mainstream society and the discrimination that trans people face, Archie Singh has set an example and has proved that people from the transgender community can do wonders, if they are supported instead of being suppressed and side-lined. To win an international title for a country that still needs to raise its bars in terms of acceptance is certainly no mean feat. Model Archie Singh made India and the entire Indian trans community proud by becoming the first Indian trans woman to win the second Runner Up at Miss International Trans 2021 held in Colombia, South America recently.
Hailing from a middle-class family in Delhi, Archie who was assigned the male sex at birth shares that it was during her school days that she realised that she had the characteristics of a female. She considers herself lucky for the fact that she was accepted by her family unlike other people who are thrown out of their home if they reveal their identity or do not identify with the sex assigned at birth.
This young woman always wanted her community to be heard and accepted. She found her penchant in modelling when she was 19-years-old and she soon realised that her passion lies in the same. She went on to participate in the National-level trans pageant and bagged titles like 'Miss Trans India' and also started becoming the show stopper for multiple fashion shows. "I wanted to reveal my identity as there was nothing to hide about it. I did not want to pretend and I knew it requires courage to take a stand for myself in a society which ostracizes us. However, I mustered courage to show the truest version of myself," recalled 22-year-old Archie.
"The journey though, was not easy. I faced a lot of discrimination not because of my looks or skills but because I am a 'trans'. Gender should not be a barrier and I believe that I am a woman and I need not have the tag 'trans' woman before my name," she assertively said by adding that after the sex reassignment surgery, she felt confident which otherwise she felt trapped in her body.
People tag our lives to begging, dancing and prostitution and the lives of trans people are synonymous with these terms. While interacting with a lot of people from the trans community, one common thing is that this is not something they wish to do or like to do. With no other option left, they are forced to get into it to earn a living. However, a few of them have realised their talents as well as potential and have ultimately proved the world. "It is high time that the perception changes and we are allowed to lead a dignified life," said Archie.
After having emerged victorious and to have brought titles home, Archie wishes to break the stigma around the trans community. She feels that there is a need to set an example for others so that they are not hesitant to live the life they wish and deserve. Sharing her experience after having bagged the title, Archie said, "I am glad that India is slowly progressing towards acceptance of the trans community. Opportunities and avenues are gradually opening up for the trans community, unlike the other countries. If children are educated from the school level, discrimination of the fellow beings would definitely go down. Education and awareness are the key to bridge this gap. I wish to see the change in India and be an example for the other communities in uplifting the lives of the LGBT community," concluded a beautiful Archie who now wishes to work for the welfare of the community.
Important : If you are making an impact in the world, Please send us your story at : manoj@sociostory.in and we will try to cover you.