Meet Arjun Gowda, the real superhero who believes in Heroism through service
May 10, 2021, 9:42 p.m.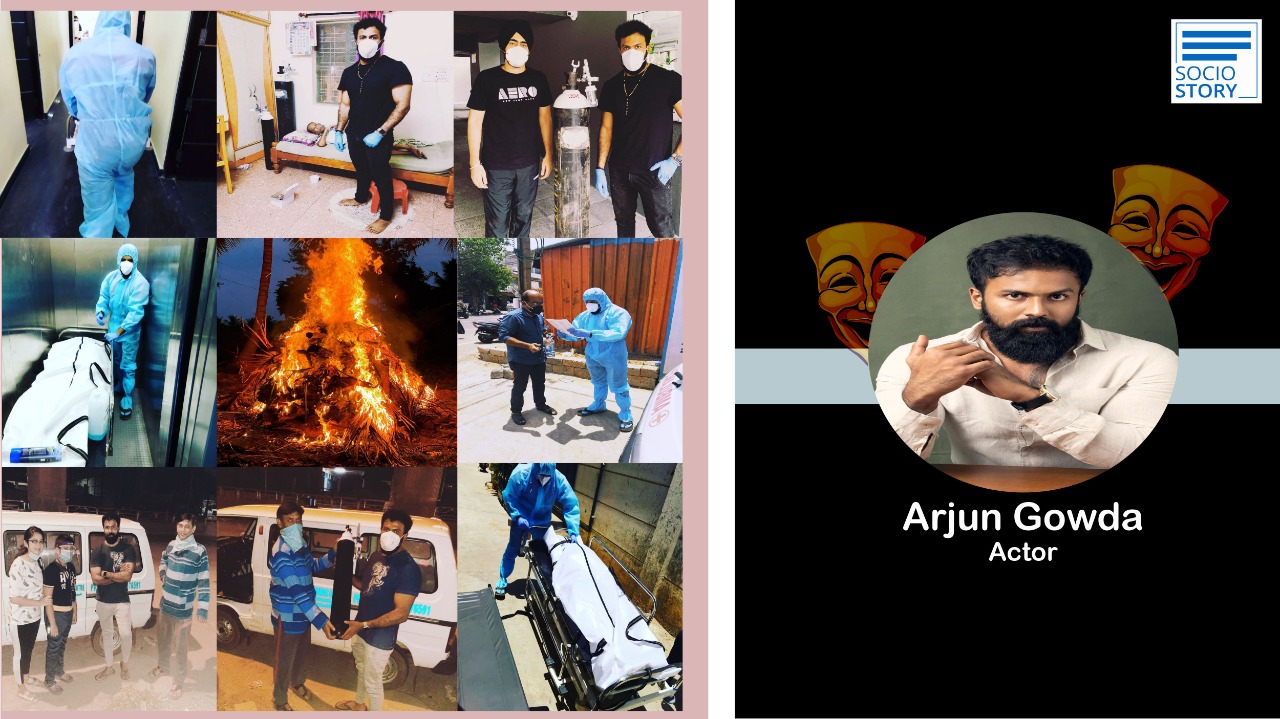 By:Reshma Jain
When actor Arjun Gowda received a call from a distant relative to cremate the body of a dead person in a small village of Amruturu in Kunigal, located around 120 kms away from Bengaluru, little did Arjun know that he would drive back home with a heavy heart and thoughts that will always be close to his heart.
Arjun who drove his ambulance for around 4 hours reached the spot to perform the last rites of this person. After the entire process, Arjun learnt that he had performed the last rites for someone from the Kannada film industry. As an actor, Arjun was sad to know that the person happened to be Swathi Ambarish, a film producer and director. "Such are the state of affairs," lamented Arjun by stating that handling dead bodies in villages is difficult as there is less awareness.
"There are many such incidents that have left me disheartened during such unprecedented times", shared Arjun who turned an ambulance driver. Although Arjun has been serving people in his own capacity from the last year, there was one incident that moved him. An elderly woman who supplied them milk everyday died due to Covid. Her grandson approached Arjun to get some financial help as he was being charged Rs 12,000 to take the body from the hospital to the crematorium. This disturbed Arjun and on giving a thought on the plight of such people, an idea struck this young actor.
He soon decided to work on the ground and almost 20 days now, Arjun has not only been driving Covid-19 patients to hospitals but also ferries dead bodies of victims who succumb to the disease, free of cost. Arjun has performed the last rites of more than 50 people, irrespective of their religion. "The situation is quite challenging and disheartening. The increased death rates coupled with the panic situation has made matters worse. Relatives of people who die of Covid are scared and the situation at crematoriums is scary. Although centres have been opened now by the municipal corporation, earlier there was only one or max two incinerators in each crematorium. There have been instances when a body carried today morning is burnt the next morning, as we need to wait for the people in line," said Arjun who receives more than 500 calls per day for covid-related help.
Serving people has been a part of Arjun's life since childhood. 27-year-old Arjun who has acted in Odeya, Rustum, and Yuvarathnaa shared that the pandemic is not new to the humankind. "Our duty as warriors is to fight and roar against it. It is time for us to realise the value of health. Each one of us must understand the need for physical fitness and awareness needs to be spread on the same," shared Arjun who is a bodybuilder and a weightlifter.
Having tested negative more than 25 times, Arjun said that he has been taking utmost care while working on the ground. Apart from the regular precautions, PPE is a must and maintaining physical vitality is mandatory. "Although I sleep only four hours a day, I ensure I get my dose of physical activity combined with a nutritious diet," shared Arjun by adding that we need to invest time and money towards a better living.
On a lighter note, Arjun said that the number 9 has proved lucky for him. Endowed with the gift to serve others, number 9 signifies doing something good for others. Number 9 is also perceived as a symbol of love and faith. "My birth date falls on 9th, the number of letters in the word 'Ambulance' is 9 and the sum of the numbers on my ambulance number plate is 9. My ambulance services will continue till I take my last breath," asserted Arjun who also serves people in the middle of the night.
Speaking on the concern shown by his family, friends and relatives, Arjun said that initially his parents were unaware of his work as he had cited other reasons to stay alone. However, when appreciation poured in, his family got to know about it and they were shocked. Arjun's mother was angry and she yelled at him. However, Arjun convinced his parents and explained to them why it is important to work when the situation demands.
In his concluding remarks, the real hero said that it has been a rewarding experience and he wishes to continue in reaching out to as many people as he can. "The future is uncertain. So, I wish to focus on the present and do what I can. All that I can do is to serve the country in my own capacity. Let's join hands together to fight against a tiny enemy."
Important : If you are making an impact in the world, Please send us your story at : manoj@sociostory.in and we will try to cover you.