Meet Arvind Thanvi who has been strengthening the learning ecosystem through techno-social innovations
April 8, 2022, 7:22 p.m.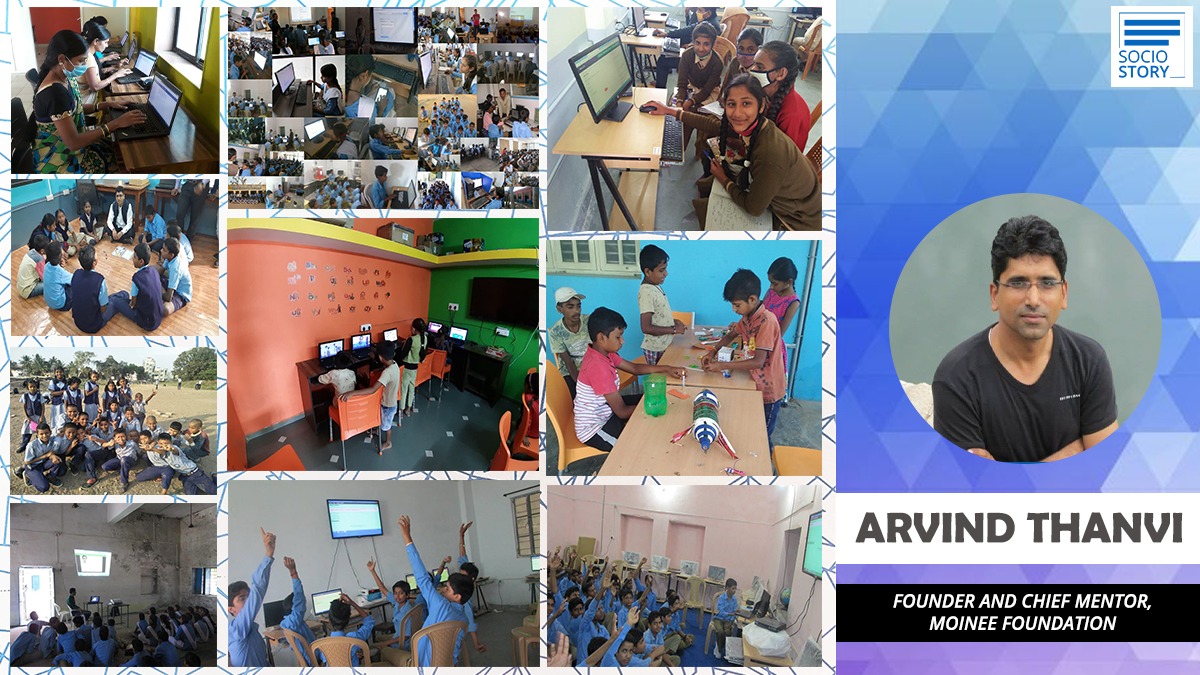 By: Reshma Jain
Arvind Thanvi, a graduate of IIT Kharagpur in 1997, had worked in the global IT industry for 15 years before starting his journey in the social sector in 2012. A strong desire to give back to society and realizing that there is a severe lack of quality education, he started working towards 'Right to Quality Education' in urban, rural and deep rural areas as a social initiative.
Arvind has designed many award-winning scalable interventions in education and also has been an innovator of various technologies to effectively serve local language learning without any dependency on the internet and continuous power. In the quest for holistic development for students, he has also built very low-cost STEM based interventions and easy to replicate language enhancement programs based on story making activities.
His designed initiative 'eGyankendra' and 'Project Utkarsh' were nominated for Prime Minister Innovation awards respectively in 2017 and 2018. His work was also recognized by the state of Rajasthan and was given the State CSR Excellence Award in 2019 under the Education category.
Arvind believes that 'First language is an art and any other language is skill'. During his corporate stint, he realized how important and life-changing are soft skills like confidence, communication, assertiveness, attentiveness, etc. After struggling for many years, Arvind realised that it was only due to good soft-skill training and existing command of his first language Hindi that he could overcome his challenge to adapt to an all-English working environment. He strongly believes that anyone with good command of his first language can effectively adapt to any new language with the help of good soft skills, for which the best time to learn is during school.
This self-realization and personal experiences gave him a strong reason to work towards strengthening the learning ecosystem for vernacular languages as the majority of talent does not reach its potential due to the unfortunate language divide in our country. He also believes that a sustained change requires sufficient rigour and time, hence most of his interventions are designed and implemented as multi-year programs ranging from 2 to 3 years.
In 2012, he started an educational trust, Moinee foundation, with a mission of delivering quality education in government schools and in their own languages. He started helping the district collectors and district education departments of different states in reviving existing Information and Communication Technology (ICT) computer labs in government schools. At the same time, he also created and implemented smart classes in these government schools by using a Quiz Based Learning and Monitoring System (Quiz Academy). "A playful, query-based facilitation is used to spark the curiosity and collective wisdom of students in the classroom to build high octane engagement by students," said Arvind adding that his foundation has partnered with various state governments and CSR partners, to scale his work.
He further stated, "Usually people are mistaken that quiz mode is for practice or test only but we are developing learning-oriented quizzes which not only helps in building foreknowledge but also focuses on connecting their existing real-world knowledge from their environment to content in books. One of the most amazing changes we see is the enhancement of soft skills in students through increased engagement. Every activity of interventions is designed scientifically by mapping to at-least one of the 19 soft skills addressed."
In the quest to holistic growth of a child, he also created a very cost-effective STEM learning kit for Robotics and Tinkering, which his team kept on refilling as material was consumed. This has helped in developing better sensory learning along with building a scientific temperament of higher degree.
Stories are one of the very engaging means to build vocabulary and wisdom around any language. 'Enhancing languages through stories' is one such program where with the help of multilingual story-prompt cards, the team engages students in story making activity, which over next few months starts producing graphical story books. It is again easy to replicate interventions with high impact as regular story making activities make kids less hesitant, more confident, better in imagination & comprehension, and good narrators.
Through his multi-year intervention programs, he has directly catered to over 7 lakh students and 75,000 villagers. His interventions are adapted in 4 regional languages across 11 states of India with another 5 vernacular languages in progress. Speaking on the modus operandi, Arvind said, "We started our smart class intervention (widely known as Project Utkarsh) with 12 govt schools in Udaipur district which has grown and reached to over 2,000 government schools & 150 offline Learning Centres across 22 districts of 11 states."
"In spite of building a tech-based NGO in the education space, his belief is that any social interventions are only 10% technology and 90% social engineering; as ensuring sustained adaptation of technology is a very creative and sensitive process, without that it may end up being an eyewash with no tangible impact on grass root," concluded Arvind.