Meet Aryan Pasha, India's first transman bodybuilder and a ray of hope for other transmen
Aug. 20, 2020, 3:42 p.m.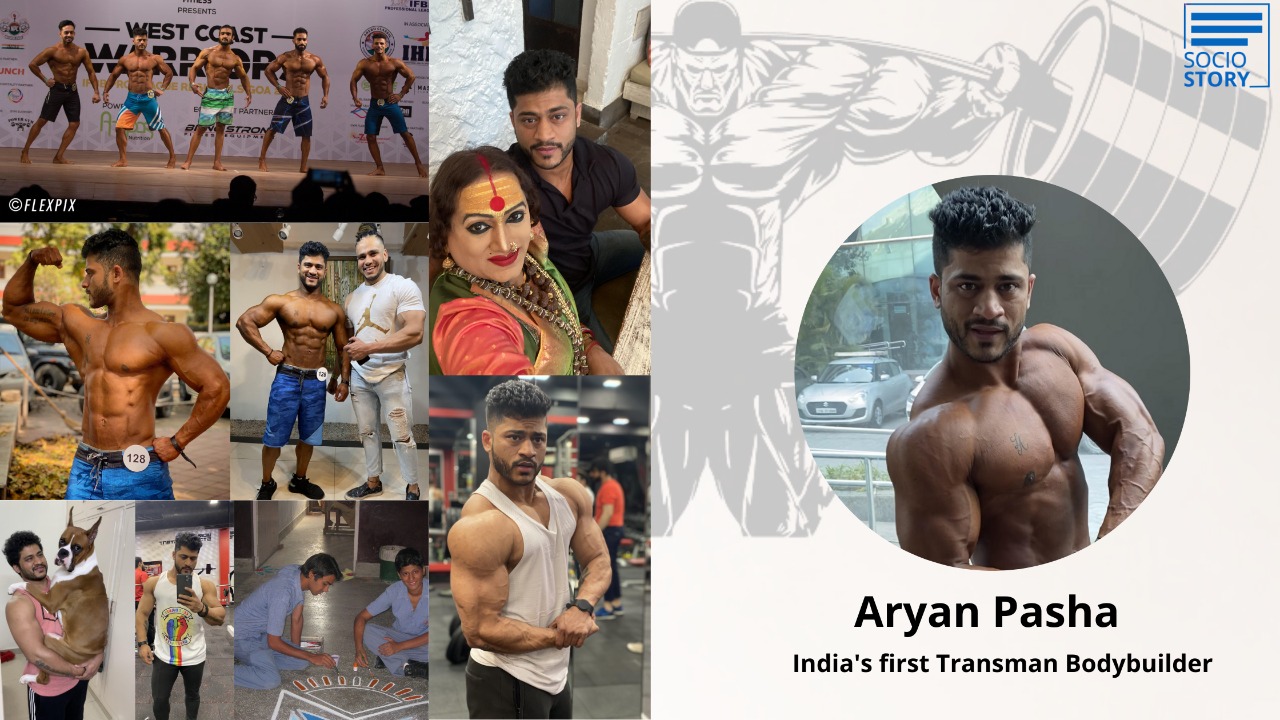 By:Reshma Jain
"I'm a boy who was born as a girl, and have to prove to myself every day that I'm a man enough for the world, and yes, I am glad to have proved it", stated Aryan Pasha, India's first transman bodybuilder. From being called a Hijra to becoming a renowned bodybuilder, Aryan is an inspiration to the entire LGBTQ community. Socio Story brings to you the story of transman Aryan Pasha from Delhi.
Many people don't identify with the sex that they are born with and feel like they are meant to be of a different sex. Aryan felt the same at a very early age. Biologically born a girl as Nyla in 1991, she realised at the age of six that she was meant to be a boy. When she was in class two, Nyla would go to school dressed in boy's uniform and was more comfortable around his male cousins than his sisters. During his school days, Aryan used to be depressed and often felt isolated, as he felt caged inside his own body.
Since childhood, Aryan was interested in playing sports like speed skating and basketball. Despite many achievements to his name and being a national-level skating champion, Aryan was never happy. He often sat quietly while the others rejoiced in victory. But for Aryan, it was more of bullying than victory. "People used to mock me and protest stating that a boy is competing in the girl's category and instead of cheering me, I was called by different names. Hence, I often felt dejected and depressed," said Aryan who dropped out from his 12th grade because he was bullied, threatened for physical and sexual abuse.
However, Aryan said, "Unlike the families of other transmen who are disowned and abused, I was fortunate enough to garner unconditional love and support from my family. They never forced me to wear a girl's dress or to behave like a girl. Although I was a victim of bullying in my teenage years, I would not have overcome it if not for my family's love and emotional support. It was my Mother who introduced the idea of a Sexual Reassignment Surgery (SRS) to me."
After a lot of research, he got a sense of assurance and satisfaction as he had finally found an end to his ambiguous identity. So, in 2011, when Aryan was 19, he underwent sex-change surgery in Delhi. "Before my surgery, I was very depressed and had a high suicidal tendency. When I started my transition, I felt relaxed and I was peaceful. When I got operated, I started feeling comfortable physically and got the much-needed confidence which I was lacking before my surgery. I started living my life as I was no more caged in my own body," added the talented boy who got himself identified as 'male' in all his documents and got a new name: Aryan.
For more than a year, Aryan's activity levels had to drop because of the two major surgeries that he underwent. One of the Universities in Delhi rejected his admission for an undergraduate course, hence he moved to Mumbai and pursued Law in one of the universities. Aryan felt something missing in his life, thus he picked up bodybuilding to keep himself fit. Later, bodybuilding turned into his passion as it boosted his confidence and contributed to Aryan's unwavering grit. He spent more than six hours at his gym, training to build a body that he has always dreamt of. "After training for 5 years, I finally made up my mind to participate in India and to compete with male bodybuilders. It was my dream to participate with male bodybuilders as opportunities for transmen were very rare. Earlier, I was preparing for a transmen bodybuilding competition in Atlanta, USA, but unfortunately my visa was rejected. However, I consider this as a fortune in my life because I started training even harder so that I can win among Indian male bodybuilders," stated Aryan, 28-years-old now.
However, there were a few hurdles on his journey to become a champion. Since Musclemania is a natural bodybuilding competition which bars the use of hormone supplements, it was challenging for Aryan as he was administered testosterone dose every 21 days as a part of his post-surgery hormone replacement therapy. "While the organisers allowed me to compete in the men's category, they asked me to skip the last dosage before the competition.
The young bodybuilder started participating in all the national-level competitions. He created history by bagging the second place in the men's physique category of Musclemania India 2018. He stood at the third place in the International bodybuilding and fitness federation (IBFF) 2019.
On being asked what are the myths surrounding transgenders, Aryan said that people think they are mentally ill. "WHO clearly states that transgenders are not mentally ill. However, the need of the hour is to spread awareness on the need to accept transmen and their capability. Some people say that I am muscular because I am on steroids and forget to appreciate the hard work put in. I agree I am on a steroid but that's a prescribed dosage by an endocrinologist and the dosage is to just maintain male pattern changes in my body."
The story of Aryan Pasha does not end here. As a change maker, he wants to make a better world for the entire LGBTQ community. He wishes to make the LGBTQ community a part of the mainstream society where they are accepted the way they are. "If you want to judge a person, judge him/her on their capabilities and achievements and not the way they look or dress up. We are equally capable and not less than others and we are also a part of mainstream society.
Important : If you are making an impact in the world, Please send us your story at : manoj@sociostory.in and we will try to cover you.