Meet auto driver Vani who is striving hard to make ends meet during this pandemic
May 16, 2021, 5:38 p.m.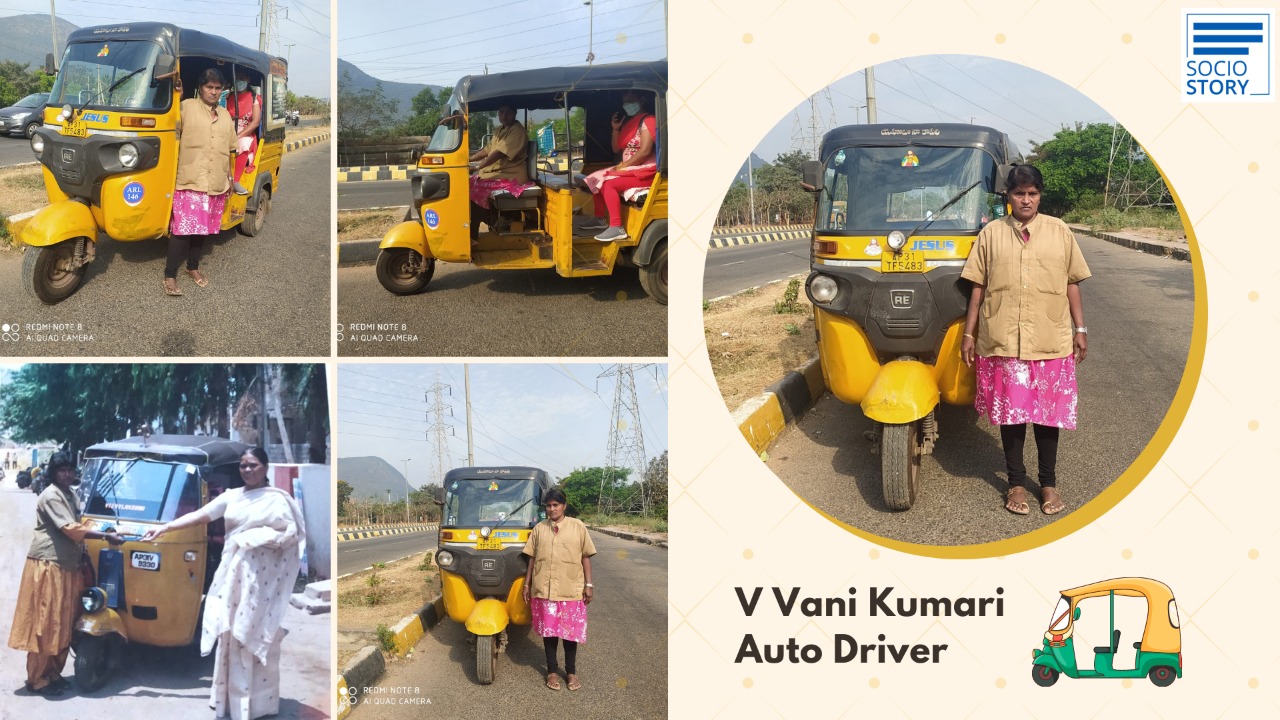 By:Reshma Jain
"Hello madam, I am near the junction waiting for the signal light to turn green. Can you wait for a minute so that I can park my auto to a corner and then speak to you?" said a lady when I reached out to her over a call. I was anxious as well as excited to speak to her not because she is a 'lady' auto driver but because she is a selfless person who has been serving people by ferrying them to their respective destinations in the city of Destiny.
"Please tell me madam, how can I help you?", she asked. After introducing myself and appreciating her work, her happiness knew no bounds. "An article on my journey? But I am not someone who is famous or popular. I just do my work and try to give back to society in my own capacity," she further said. And my answer to her: "This is exactly why I want to feature your story. Women like you have been doing amazing work and are an inspiration to all of us out there. It's time people know about strong and determined women like you."
And the discussion continued. An auto driver by profession, V Vani Kumari hails from Visakhapatnam and has been fighting odds to prove herself strong. When she got married in the year 1992, little did she know that she will have an unhappy marriage. She was a victim of physical abuse, harassment and domestic violence due to frequent fights over dowry. Three years passed on and Vani could not take it anymore. "We are four siblings and coming from a marginalised community, it was not possible for my parents to keep meeting dowry demands. I decided to fight for it or come out of it. Since matters were getting worse, I decided to move out of the house and not fall victim anymore," shared Vani.
Vani who had studied till tenth standard had a one-year-old daughter when she left her husband. Vani wanted to raise her child in a healthy atmosphere and wanted her to lead a good life. Since she had no means to earn a living and did not want to depend on her parents, Vani thought the best thing was to learn a vehicle and use the skill to earn money. "I had no money to start a business. So, all that I could do was work on my skill and put it to best use. I went to driving classes, learned how to drive an auto and I was very happy when I got my driving license. In 1997, I applied for a loan under the Pradhan Mantri Rozgar Yojana (PMRY). I was granted the loan and I took an auto on rent for a year. This job of ferrying passengers made me happy and satisfied and I decided to continue," quipped Vani.
In 2002, Vani opted to train herself in driving heavy vehicles and undertook a six-month course (government bus training). She passed the course and also received the Heavy Motor Vehicle (HMV) license. She applied at a lot of places but unfortunately did not receive any job offers. "Although I was willing to take up heavy vehicle driving, I did not get any offer despite getting a license. There could be many reasons but one of them could be because I am a 'woman'," said 50-year-old Vani who again resumed auto driving.
"I also went to the then AP CM late Rajasekhara Reddy to express my concern of not getting a job. I met the CM and my application form was signed by him. I was asked to meet the RTO commissioner and the process was complete. I was said that I will receive a letter at my residential address and I was asked to wait. I returned to Vizag and I received a letter after 15 days. The government granted me permission to establish a driving school in the city. Owing to the expenses towards home and my child's education, there was not much money I had to set a driving school," shared Vani who again plans to approach the present CM Jagan Mohan Reddy.
Vani who ferries people across areas of the city said that initially she was not accepted and appreciated as an auto driver. People mocked her and commented that she will not be able to continue this as her profession. "I challenged them and today, I am respected for my work. Most of my passengers feel safe to drive with me and I have daily customers. The pandemic has made life difficult for me. However, if people call me to drop them to hospitals, I try to reach out to them. Else, I will run out of money. My daughter and I will have no food to eat as I am a daily wage earner. Hence, I take safety precautions when I get out to work and get some money to fill our stomachs" said Vani.
Vani after completing her household chores, gets on duty from 9 am-1 pm and again from 4-7 pm. Sporting on a mega auto (AP 31 CF 5483) with a khakee coloured shirt, Vani looks beautiful and confident. The most interesting part is Vani does not charge money for rides from disabled/old people and pregnant women. She expressed, "I don't demand or charge money for such people. I feel service to mankind is service to God. Their blessing is all that I need and money cannot surpass it."
The Covid pandemic and the rise in oil prices has hit her hard. However, Vani is determined and feels proud to be an independent woman. My daughter is now pursuing her post-graduation and until she is settled in life, Vani says that she would work hard for her daughter.
Important : If you are making an impact in the world, Please send us your story at : manoj@sociostory.in and we will try to cover you.