Meet Battu Rajeshwar, a good Samaritan who has been serving selflessly
July 10, 2021, 7:15 p.m.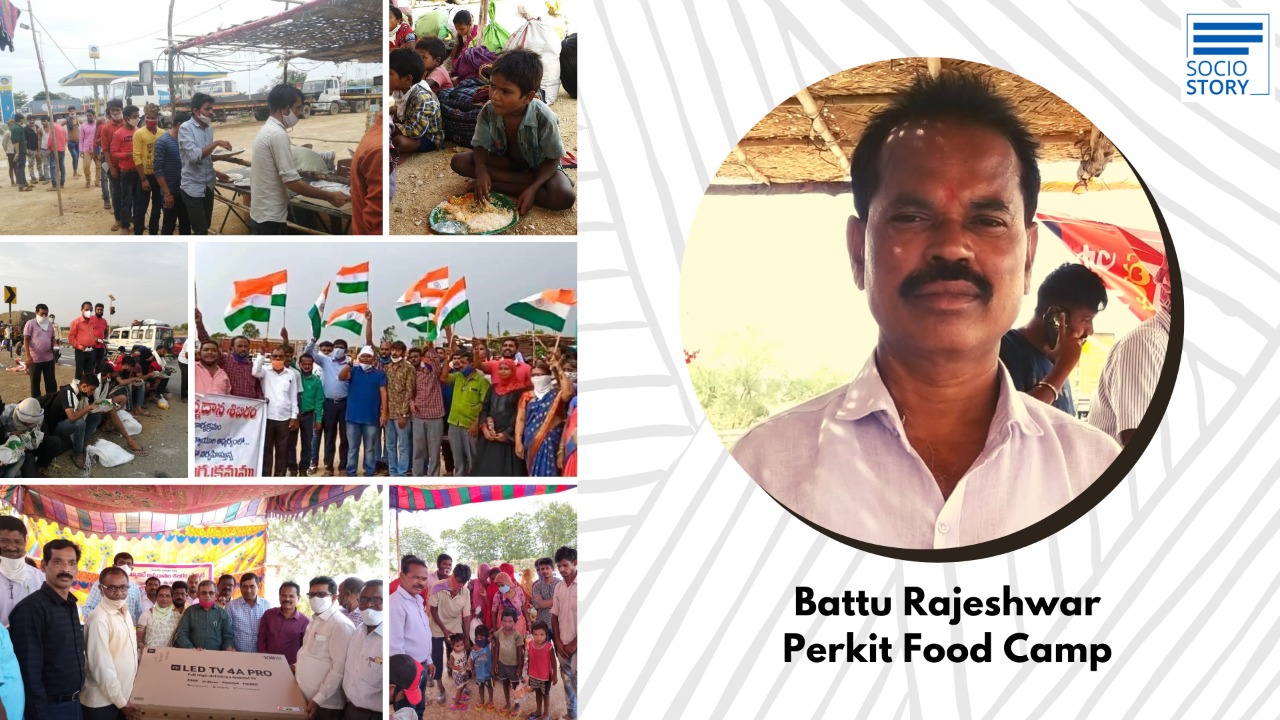 By:Reshma Jain
The first wave of Covid pandemic caused an upheaval in all our lives. Moreover, the pandemic hit the migrants severely. The vulnerability of labourers and migrants manifested itself in extreme ways in India when the government had announced a lockdown. While some migrants lost their work/job with no source of income, a few others lost access to basic facilities. With no other option left but to return to their villages, the highways in India witnessed an exodus of migrant's post lockdown.
As we might have watched on television or some clips on social media, the plight of migrants was in a pitiful state. Under the scorching heat and no transport facilities, pregnant women, children and men were seen wading through their way home. While their destination was miles away, some of them walked hundreds of kilometres and others were seen hitch-hiking atop trucks. At that point of time, there were a few good Samaritans who served the people in need.
One of them by name Battu Rajeshwar, Mandal Education Officer (MEO), Balkonda, Telangana, went beyond his call of duty to cater to the needs of migrants. The plight of migrants on foot was etched in his mind and without giving a second thought, he brought his ideas into action. Initially, mobile food centers were set up on NH-44 from Perkit to Nirmal.
On being asked on how it all started, Rajeshwar shared that the collector C Narayana Reddy had conducted a Cell conference with all the Mandal level officers on April 19, 2020. The collector had explained about the situation of migrant workers from Telangana and Tamil Nadu who headed to Jharkhand, MP, UP, Rajasthan, Chhattisgarh, etc and stated that they had no access to food and water. That is when Rajeshwar decided that it is one's duty to volunteer during such a crisis and this led to organising a food camp. To get the support of like-minded people, Rajeshwar passed on the message to the teachers through social media and luckily, a lot of them responded positively and extended their hands.
The teachers funded, owned, managed, organised the food camps and came forward to sponsor food including roti, rice, buttermilk, fruits, etc. What started with an aim of distributing food to 700 migrants reached 2,000. Gradually, the large group of teachers along with the MEO were able to provide food to more than 3,000 people on a daily basis in Balkonda, Mupkal and Mendora mandals. They also provided ration and travel assistance to the needy.
Rajeshwar, aged 50, said, "The food camps on the highway used to run from 9 am to 10 pm. With the support of more than 100 teachers, we were able to serve people in large numbers. Every day, there were 8,000 plus migrant workers who were heading back home. With the help of volunteers, teachers, Women clubs, ISKCON, etc, we were able to serve a large number of people. We also arranged medical camps, distributed masks, footwear and sanitary napkins."
"Since the food camps continued for a longer period of time, we crowdsourced funds from social media. We felt that as human beings, it's our responsibility to help the most vulnerable in their time of need. Nothing is impossible. I always believe in 'Where there is will there is a way. Our future plans are to organize some more camps such as Blood Donation Camps, Arranging of Infrastructure facilities in all Govt Schools in our area., such as Dual Desks, Science Labs, RO Plants installation ,etc," concluded Rajeshwar.
Important : If you are making an impact in the world, Please send us your story at : manoj@sociostory.in and we will try to cover you.