Meet British Diplomat Dr Andrew Fleming who believes in cohesion to fight the prevailing social evils
Dec. 16, 2020, 3:24 p.m.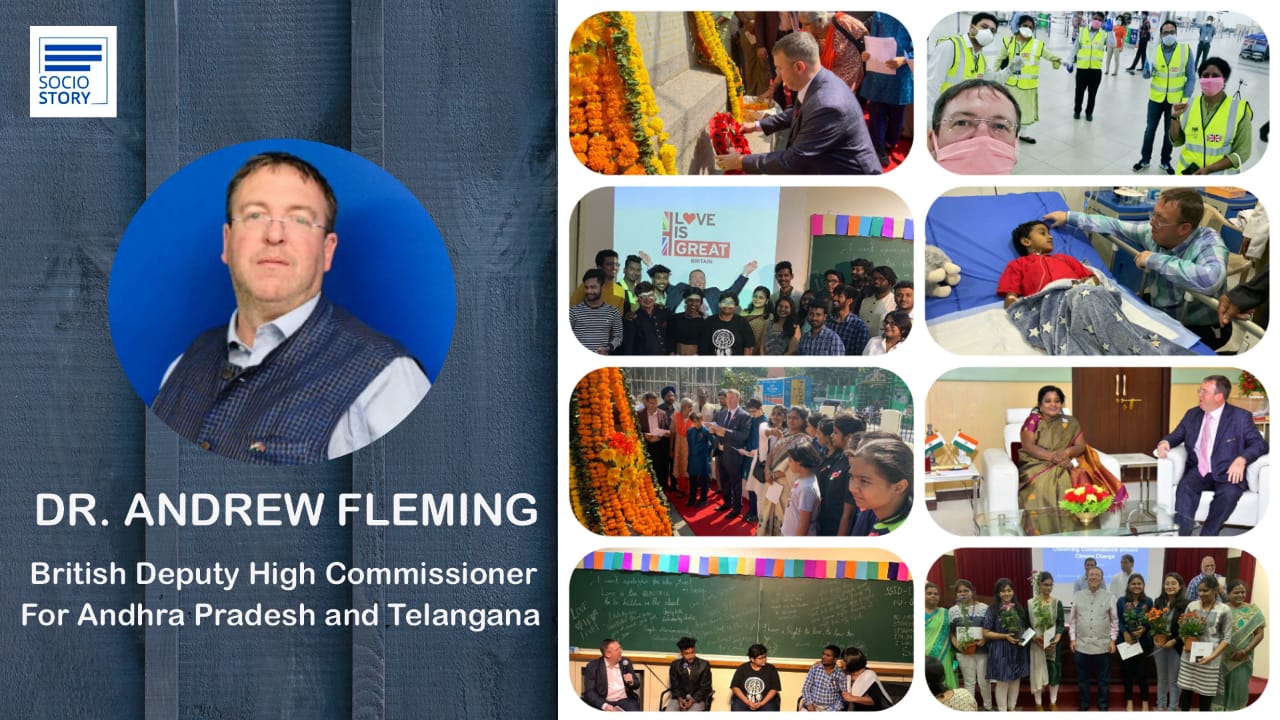 By:Reshma Jain
The first time I met Dr Andrew Fleming for an exclusive interview, he said, "Work hard in Silence and let Success make the noise." As a young journalist, this was something that motivated me and made me feel confident. That was the time, I was curious to know more about Dr Andrew Fleming, the Deputy High Commissioner to Andhra Pradesh and Telangana. Socio Story brings to you an interesting read on the journey of Dr Fleming.
Having spent his childhood in Wallington in South London, Dr Fleming faced a lot of bullying from his school mates as he suffered from a neurological disorder called Dyspraxia and a learning disorder called Dyslexia. However, he and his parents were not aware of these disorders and due to lack of support, he did not opt to go to university for further studies. However, Dr Fleming was a brilliant child as he learnt the names of all capitals when he was only 4-years-old. He was an avid reader and he spent a lot of time on learning about different countries.
Dr Fleming, who could identify flags of all the countries when he was five-years-old, joined the civil services when he was 17. He took a job at the Home Office and since then, he never looked back. Dr Fleming wished to have a job which takes him to places around the globe. Dr Andrew who is now 51 years has travelled around 115 countries in a span of 33 years.
Andrew joined the British Civil Service in 1986 and has held a wide variety of roles in the UK and abroad. After 14 years of joining the civil services, Dr Fleming was posted in Uganda and he loved his work as a visa officer. He was later posted in Ghana and Nigeria and also worked on international policy issues in many parts of the world including South Asia. Apart from working on international migration issues, he has advised ministers on community cohesion and faith-related policy. Dr Fleming's ambition was to be a member of the diplomatic service and the purpose was fulfilled when Dr Fleming became the Deputy High Commissioner to Andhra Pradesh and Telangana in July 2017.
His role includes promoting business and trade between the UK and India's Telugu region and connecting with people on local issues. As the head of the Deputy High Commission in Hyderabad, he has supported projects on community cohesion and interfaith, countering violence against women, human trafficking, child sexual abuse, fake news and youth empowerment.
On being asked on his role as a senior diplomat, Dr Fleming, said, "Initially, the majority of work was focussed on trade and investment. However, our work has now expanded into four further pillars of activity that includes Urban, Energy, Finance and Ease of Doing Business. My role also includes making good contacts with representatives of various fields."
Adding on the accomplishments over the last three years, Dr Fleming said, "The BDHC has achieved a good amount of success in terms of raising the profile of the organisation. Three years ago, we were struggling with our visibility and now with increase in trade and successful projects, we have come a long way." The Vision Statement of BDHC is: 'To build ever stronger and more resilient UK-India relationship across Andhra Pradesh and Telangana to achieve mutually beneficial outcomes on Trade & Investment and positively influence policy on growth and prosperity, climate change and force for good initiatives.'
A few of the projects executed by the BDHC include; To provide relevant training to reduce sexual exploitation of minors and to organise anti-trafficking campaigns in tribal areas.
"In an effort to sensitise the tribal community to prevent girl child and women trafficking, a campaign was launched in Araku valley, AP. Keeping in view the increasing number of such cases, the project aimed to sensitise the tribal community in Paderu mandal, especially children and youth on their rights and to teach strategies to guard themselves from falling prey to such and for the community at large to be vigilant. Hence, the British Deputy High Commission, through the campaign, created a platform to bring together stakeholders, tribal representatives, law enforcement agencies including police and lawyers/judges, prominent NGO representatives, government officials and survivors to discuss and bring out policy recommendations to address the issue for sustainable progress," informed Dr Fleming who believes that solutions work best through collaborative approach.
Stating that an 'Energy Conclave' by the BDHC is in the pipeline, Dr Fleming added, "To spread awareness on sustainable living and environment protection, we are identifying champions of climate change from the Telugu region who will be rewarded. Competitions have been organised on a regular basis and we have collaborated with the UNDP to work on issues related to Recycling and Waste management. We will also be participating for the United Nations COP-26 scheduled to be organised next year in Glasgow."
In his concluding remarks, Dr Fleming said, "Whatever could be your dream, you need to realise your potential and follow the path you believe in. Treat everybody with kindness and respect, the way you would like to be treated."