Meet cancer warrior Tamanna Punjabi who believes that magic shows up in the lives of those who believe in it
March 1, 2022, 11:43 a.m.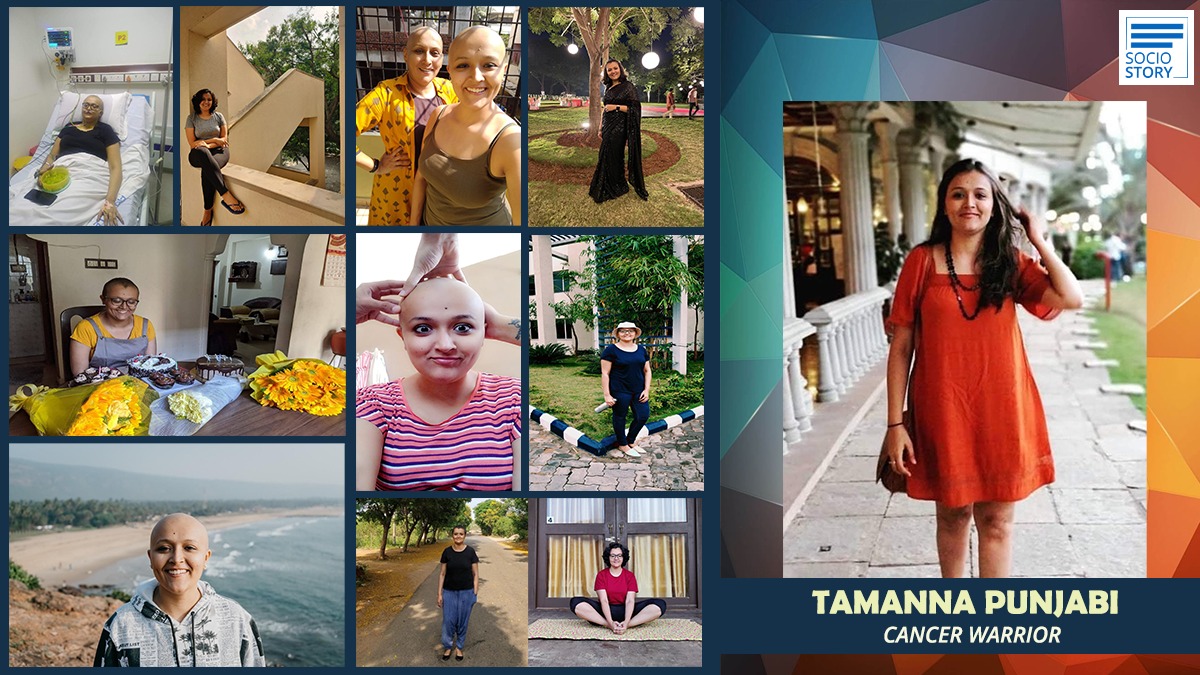 By: Reshma Jain
'She stood in the storm and when the wind did not blow her way, she adjusted her sails,' goes a saying and this reminds me of a valiant young cancer warrior Tamanna Punjabi. 'Tamanna' itself means to wish, to desire and to hope. With a 'wish' and a strong 'desire' to fight the battle that came her way, Tamanna emerged victorious and today, is a ray of 'hope' for the other cancer survivors.
The seventh day of this month was observed as the National Cancer Awareness Day and what better story than to describe Tamanna's battle with cancer. An active and intelligent girl, Tamanna hails from Visakhapatnam but has moved around within India for her studies and work. Life took a turn when she was diagnosed with Lymphatic cancer at the age of 24.
Speaking to Socio Story, Tamanna shared, "It started off with a chest pain, something I thought was an outcome of overdoing chest exercises at the gym. But after multiple tests and two biopsies, the doctors felt it was something bigger. I had an inkling, because we were going for various tests at different hospitals, one of them being a cancer hospital but this is something one is never prepared to listen to. When the doctor said I had lymphatic cancer, I tried to rationalise my thoughts asking when we can expect treatment to finish, how painful it's going to be, side effects, etc. But soon after, it hit me that life is going to take a very different turn here on."
Tamanna who is now 26-years-old and is currently pursuing her MBA from the Indian School of Business in Hyderabad, said, "I'm an extremely ambitious person and I want to conquer the whole world if I can. But cancer came as a huge hurdle in the journey of life. It was suddenly a time to pause, to slow down and deal with the disease. My close family members and friends were shocked but very supportive throughout the journey and I truly believe that I would not be out of it, if not for the strong support system.
In the case of Tamanna, she had a 10 cm tumour in the chest, between the rib cage and the heart - it was lymphatic cancer. To cure it, she had to choose chemotherapy and radiation. It took around eight months for Tamanna to heal and recover from this dreaded disease. It's like a massive shift; cancer changed so many things, so many perspectives and altered her way of being completely. It was one of the most painful but also the biggest learning experiences she has ever had, she reminisced.
During her treatment, the doctor had said one statement on Day 1. Tamanna shared, "The doctor said that he will ensure I get the best treatment but the game is more of will power. 'Are you prepared to win this in your head?' he asked. The main reasons I believe we are out of that ordeal are will power (which I pride myself in) and a support system that is rock solid. Without these two, the journey would have been 10 times tougher."
Chemotherapy is a very strong treatment and it brings down the body's immunity significantly, making a patient way more prone to all sorts of disease, viruses, etc. So, throughout treatment, it was recommended to eat immunity boosting foods and her mom Beena Punjabi made sure that she was very well looked after.
She shares a few myths about cancer and they are as follows:
Firstly, it's not always the end of the world. In my case, it's the beginning of a new life if anything. I believe it has to be looked at with lesser fear.
Secondly, everyone becomes a doctor when someone is diagnosed with cancer. Choosing to follow what to eat and what not to eat by societal pressure is the biggest myth ever. Listen to your doctor, they know what they're doing.
Lastly, please talk to cancer patients about things other than the disease. It's a myth that they're only going to discuss this.
Tamanna, who is currently studying and learning many new things every day, said in her concluding remarks, " 'NOTHING' matters more than health. It is very important to look after ourselves - to eat the right food, to exercise, to sleep well, to relax and reset, meditate and do everything that keeps mental and physical health at its best. Because when you have health on your side, you can have everything else."