Meet Capt Sonia Tandon who inspires people to fly
Nov. 17, 2020, 5:08 p.m.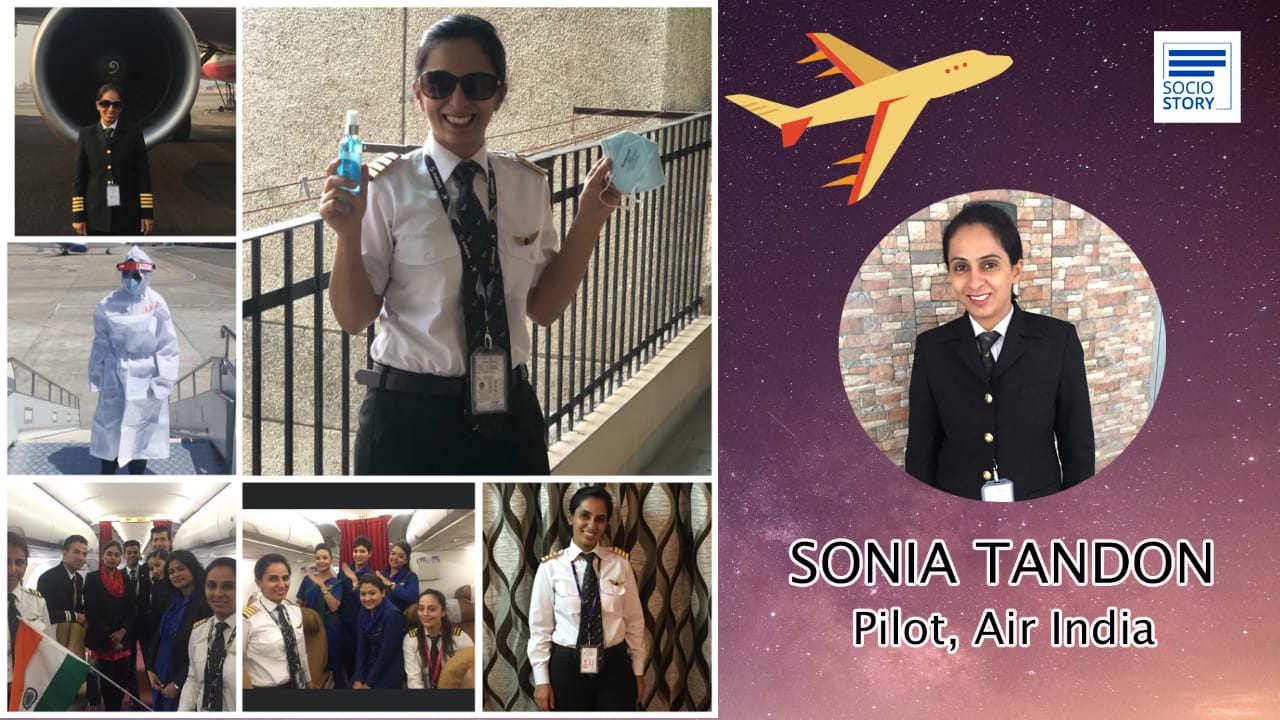 By:Reshma Jain
"Your wings already exist; all you have to do is fly," believes Capt Sonia Tandon, Pilot, Air India. During an interview with Socio Story, Sonia shares her journey as a successful aviatrix.
"I am on my way back after the Covid tests for my next VBM flight to Jeddah, Saudi Arabia," said Sonia before the discussion started. This was followed by a discussion on the Vande Bharat Mission (VBM) – a massive repatriation operation by the Indian government to bring back stranded Indians in different parts of the world during the Covid pandemic. While people around the world were reeling under the crisis of an unprecedented pandemic, there were a few who went beyond their call of duty.
Throwing some light on her experience, Sonia said, "VBM was basically started to get the stranded passenger's home in times of Covid when countries closed borders. A pilot's job is a risky one and we are used to coping with risks. Being a part of the mission was a different type of risk which we gradually learnt to tackle."
"The pilots understood their call of duty and took all the required precautions accordingly. It felt scary in the beginning as we could be carriers of the virus to our family including little children and senior citizens. But that did not stop us from undertaking the flights as duty comes first. Regular Covid tests ensured that we are safe," said the pilot who has two little kids aged 6 and 9.
Adding further, Sonia said she has tested positive in one of the Covid tests that was conducted. Although tension prevailed and she isolated herself, she was happy that all the other family members had tested negative. She then repeated the test in five days and was tested negative. "Since I have little kids, it was a little difficult to be in isolation. But luckily, I was out of it soon and heaved a sigh of relief. I sprung to work within a few days and carried out other operations under the VBM," expressed the pilot who has 6,000+ hours of flying experience.
Coming from an air force background and having seen fighter planes in her childhood, Sonia pursued her degree in Bachelor of science in Aviation. She underwent training from the prestigious Indira Gandhi Rashtriya Udaan Academy (IGRUA). She joined Air India in the year 2005 and has flown A320 and A330 aircraft. "While I was pursuing my degree, there were no women pilots in the Air Force. Hence, I joined civil aviation and became a part of the Air India family," said Sonia whose hobbies include Mountaineering, Swimming, Tennis and reading.
Sharing one of her memorable experiences, Sonia, said, "One of the best experiences was of the A330 aircraft. They were new in the airlines and I was one of the first one to fly them. I was on cloud nine and the plane was a beauty to fly. It was a thrilling experience. With the new aircraft, we started many new destinations all over the world and each one on its own was an experience to remember."
Sonia, apart from flying planes, contributes to the society in her own way. She helps with education for the poor children. Not only financially but also teaching small kids on a personal basis is her motive because she believes that education is the one and only tool that can change one's life.
She wishes to bring a change in society by influencing people through examples. She says that it's more important to be a good human than being successful in any field. "However, accomplished one may be, if you can't be of any use to people in day to day life, there is no point in living a life with a purpose," believes Sonia who is now 40-years-old.
In her message to the women who wish to join the aviation sector, Sonia stated, "It is a wonderful profession to choose if you want to accept challenges in life."
Important : If you are making an impact in the world, Please send us your story at : manoj@sociostory.in and we will try to cover you.