Meet Captain Soniya Jain who steered flights as a part of the Vande Bharat mission
July 12, 2020, 12:19 p.m.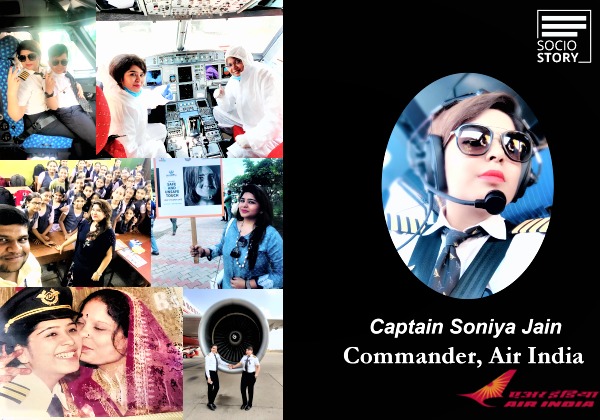 By:Reshma Jain

Life had come to a standstill in the wake of the coronavirus pandemic. While lives remained locked at homes and the nations grappled with the invisible enemy, there were a few corona warriors who went beyond the call of duty. Socio story is proud to present the story of Captain Soniya Jain who steered the Air India repatriation flights to bring home stranded Indians as part of the Vande Bharat mission.

The frightening possibility of contracting COVID-19 did not deter Capt. Soniya Jain from standing up for duty. India launched the Vande Bharat Mission on May 7, 2020 which was executed in three phases by Air India. As part of the rescue operations carried out for repatriation of passengers stuck abroad, Capt. Soniya operated a flight from Kuwait to Chennai carrying 150 passengers and another flight from Chennai to Singapore carrying 135 passengers and Singapore to Chennai with 165 passengers.

Sharing her experiences on steering the repatriation flights, Capt. Soniya (34) who hails from Chennai, said that it was a matter of pride to be a part of the mission. In this unprecedented situation, the country displayed a sense of solidarity and it made her proud to bring back Indians home. "When I got to know about the Vande Bharat mission, I decided to be a part of it although my family was reluctant. However, I convinced them by saying that I am fit and young and it is my responsibility to serve the country during the crisis," added the young Captain who has been flying with Air India since 2006.

Stating that it was a herculean task to wear on the PPE suits and operate the flights, Capt. Soniya avers, "Meticulous procedures were followed on evacuation flights, and the process was time-consuming so as to ensure safety. For every flight we operated, there were three Covid-19 tests (pre-test and post-test) that were done. To ensure one's family is safe, we had to self-quarantine ourselves for a few days. It was a challenging situation; both inside and outside the aircraft."

The young aviatrix added, "After two days of operating the flight from Kuwait, it was surprising to know that there were a few passengers who tested positive for Covid-19. Although it was a risky mission for the crew, we ensured that all the safety precautions are taken to keep ourselves and our family safe."

Discussing on her journey of becoming a pilot, Capt. Soniya who is the first Jain commercial woman pilot said that it was her brother who inspired and family which supported her in soaring high in the sky. Capt.Soniya, who is now a commander pilot, Air India, has 7,000+ hours of flying experience on Airbus 319, 320 and 321. A licenced paraglider, this adventurous woman has flown her 7-year-old young son on her flight, dressed as a Captain.
Sharing one of her tragic incidents which still gives goosebumps, the woman pilot said, "This incident is almost similar to the Charkhi Dadri mid-air collision that happened in 1996 which killed all people. I was a co-pilot then and we were just a few seconds away from a mid-air collision. While we were flying to Dubai over the Arabian sea, there was a Sri Lankan flight which was approaching head-on. When there was 25 seconds to collision, there was an amber alert in the cockpit. And when there was 15 seconds to collision, it turned red and a buzzer filled the cockpit. With hardly any seconds left for the collision, we disconnected the auto pilot mode and descended immediately. That was a moment which triggered an adrenaline rush."
Apart from her unending achievements in the field of aviation, Capt. Soniya Jain is quite active in a lot of social activities on ground. Inspiring and educating children on social aspects, she teaches students on road safety, spreads awareness on child abuse and other social issues. She has given inspirational talks to thousands of students on career and life goals. "I have been doing webinars during lockdown to create awareness and inspire people. I am a part of Young Indians and have been actively involved in social work," stated Soniya who is a Nari Ratna and Yuva Ratna awardee.

Be it flying in the air or dancing perfectly to the tunes of classical music, this Indian pilot puts her heart and soul in whatever she does. Yes, this young talented India's super woman is a Kuchipudi dancer and has given several performances in Tamil Nadu, Andhra Pradesh including unique dance performances on a brass plate.
Capt. Soniya who dreams to travel the world, explore, discover and someday to become an archaeologist says that her desire is to scale up in her profession and to be the Icon for young women globally.
Stating on what makes her happy as a pilot, Capt. Soniya who pursued her B.Sc. Aviation from Chhatrapati Shahuji Maharaj University (2006), said, "This is a job which is always evolving and the variability of different crew, interesting destinations, diverse weather conditions and lots of surprises which come every day is what excites me every morning. The spirit of perfect flight with a smooth landing has become a habit, appreciation and applause from passengers is what I take back as pride."
"Everything in life has to have balance. Set your priorities. Be Humble. Believe in yourselves. Do not waste time. Live every moment," shares the aviatrix who was felicitated by a number of organisations in the country.
Important : If you are making an impact in the world, Please send us your story at : manoj@sociostory.in and we will try to cover you.