Meet Disha who is on a mission to revive the culture of writing postcards
Sept. 30, 2020, 6:30 a.m.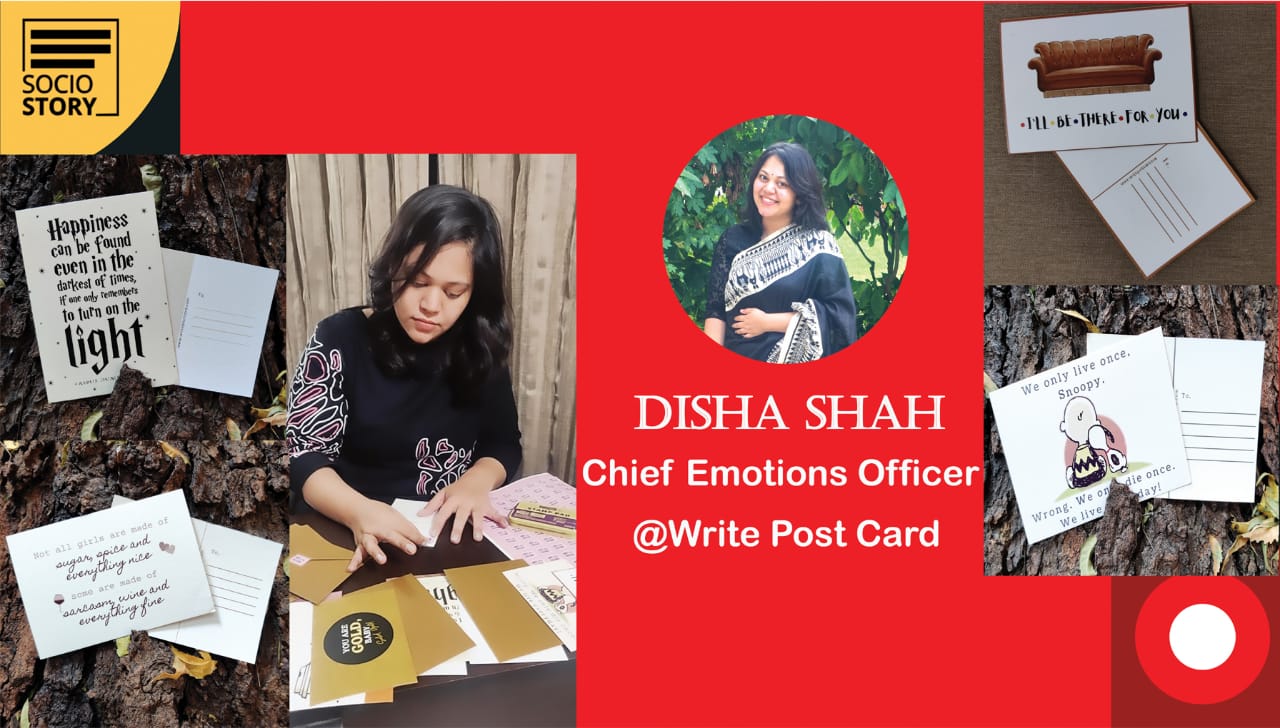 By:Reshma Jain

In the era of IT, the least I expected was to receive a beautifully written postcard all the way from Chandigarh. Nothing can beat the beaming smile and the boundless joy after reading the postcard. A piece of thick colourful paper with a handwritten note through meaningful words pouring out from the heart indicated the love and care of the sender. It made me feel special and during my otherwise dull days, this letter was my stress buster. Can a postcard make such a huge difference? I wondered.
The quest for someone who could bridge the gap by designing postcards came to an end when I got in touch with Disha Shah from Ahmedabad. October 1 is celebrated as World Postcard Day and what better day to celebrate it with the one who plans to revive the culture of writing postcards. Sounds incredible, right?
In this digital era, postcards are still a favourite means of communication to keep in touch with loved ones back home, to let them know where you are and what you're doing, without feeling the need to check your Facebook messages or your emails. The best part is that it is also helpful when you have no internet access or no smart device handy.
Disha's romance with postcards started about two years ago, when she made sure to send a postcard back home from wherever she was visiting (mostly it used to be remote places for work). That was when she fell in love with postcards. During lockdown, she wanted to do something special for her friends and family, so she started writing them postcards rigorously to make sure that they were keeping healthy and happy. "Of course, postcards took a lot of days to reach, but it was totally worth it. Although it was a simple gesture, everyone loved it," expresses Disha who works full time as a Research Associate at an educational institute based out of Ahmedabad.
Disha further adds, "Some of my friends and relatives even wrote me back. Most of them didn't know where the nearest post office was, or how the process was. That's when I started to think in these lines. While researching, I realized that postcard designs were quite outdated. That is when I decided that I'll make writing postcards cool, swanky and accessible."
In this world of instant messages, I asked Disha what do you think is the role of a postcard? On a lighter note, Disha shares that it is the same as the role of fresh food in this world of frozen and canned food. Yes, that was an amazing point Disha made! This is the beauty of a postcard that it touches the heart of a person.
"Do you think we must go back to our roots?", I asked.
"No, I am not the one who would propagate that we must live like how people did 50 years ago. I feel that the change in thoughts and beliefs that has emerged in our so-called progressive society is quite commendable. But in this change, we forgot some amazing stuff behind. Postcards are definitely one of them. So, let's not forget the good things behind, and be mindful when going for changes," answered a confident Disha.
On being asked about her memorable experience, Disha shares, "Just a couple of months back, when I was thinking about starting writepostcard, I casually told my Dad that no one writes postcards these days. To that, he told me that he had stopped writing postcards just 3-4 years back. It sounded strange. He told me whenever his clients didn't pay on time, he wrote them a postcard that said '____ amount payable to _____', with an almost incomplete address, and posted it. Postmen would then need to ask around for the address and the whole neighbourhood would come to know about the dues. This was so embarrassing for most of them, that they immediately paid back."
"And then, postcards are so heart-warming to collect. I have all my postcards locked up in a box. From time to time, I open to read all of them. It is the most satisfying thing ever," states Disha who designs light-hearted, fun and modern-ish postcards and sends them to loved ones on behalf of you with a personalized message.
Disha is on a mission to spread smiles through her postcards. 'Writepostcard' has already partnered with 2 NGOs and will be sending out postcards to orphanages and old age homes soon. "I also want to create a series of postcard stories. I love stories. So, I want to go on, collect everyone's experiences with postcards, and make audio/video/written stories. I want everyone to feel the magic of receiving a well-thought postcard," signs off Disha.
Important : If you are making an impact in the world, Please send us your story at : manoj@sociostory.in and we will try to cover you.