Meet Dr Avisikta Mallick, a young frontline warrior who has been helping people to battle Covid-19
May 31, 2021, 6:04 p.m.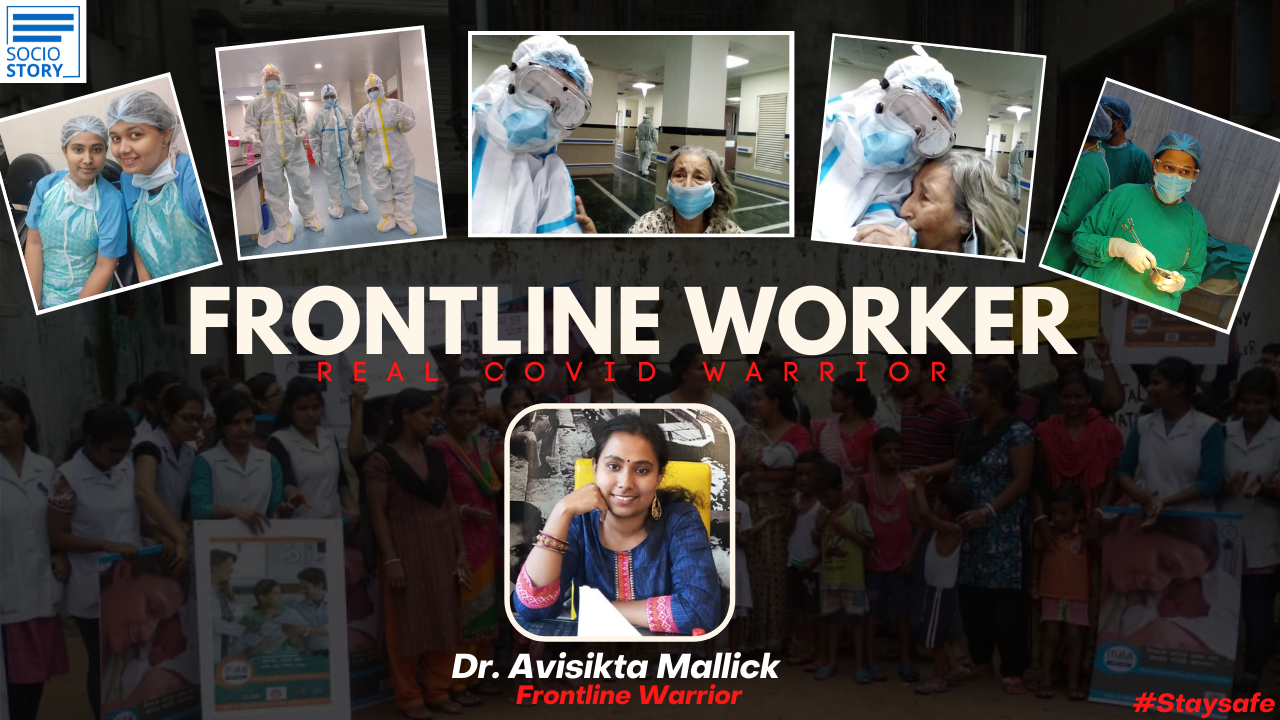 By:Reshma Jain
Earlier this month, a video of an old lady hugging a PPE-clad Doctor (Dr Avisikta Mallick) went viral on social media. This old lady from Kolkata is reportedly 75-years-old and having recovered from Covid, hugged the doctors to express her gratitude. After 10 days of battling with Covid, this 75-year-old lady was overwhelmed by the support she got from doctors and while leaving home, she decided to hug and bless the frontline warriors.
Although we fall short of words to show the dedication of the people from the medical fraternity during these unprecedented times, Socio Story salutes the efforts by all the frontline workers who have been risking their own lives to save the lives of their fellow beings. The second wave of the pandemic has wreaked havoc in the country, yet the doctors, nurses, healthcare workers, med students have left no stone unturned.
In a conversation with Socio Story, Dr Avisikta Mallick shares her experiences while dealing with people suffering from Covid-19. Hailing from Kolkata, 27-year-old Dr Avisikta completed her MBBS from Medical College, Kolkata. She has been practising since the last 3 years and now she is a post-graduate trainee in the department of General Surgery in the same college.
Sharing her experiences since the pandemic struck, Dr Avisikta said, "It has been a challenging task to deal in the Covid ward. Although we have been taking all the precautionary measures, there was always a concern for the family which made me worried. We always wear PPE, goggles, face shield and double gloves while doing duty in a Covid ward. Of course, it has been exhausting, both physically and mentally. However, we wake up every new day with a hope to save a few more lives and to give them a ray of hope, that we are here standing for you. Since it is our duty and responsibility, we try to do our best in helping people beat the dreaded virus."
"Most of the times, patients panic and they need someone from their family to provide them the comfort. They wish to to talk to their family members and we try helping them by making video calls from our mobile phones. The smiles on their face when they see their loved ones gives us the energy to serve them. Patients express their gratitude in a lot of ways and they become very emotional. People break down a lot of times, yet we stay strong and motivate them to fight the virus with positivity," added Dr Avisikta.
Dr Avisikta said that she has witnessed a lot of patients who become psychotic while staying for a prolonged period in the hospital. "In this case, it becomes difficult to deal with patients because co-operation is not easy. At the same time, we see patients maintaining saturation levels in the morning but get into a ventilator in the evening. Yes, it is difficult to cope with everything going around, but at the same time, patients need us."
The young doctor, further said, "Being doctors, we always keep motivating the patients about their recovery even if we are aware of the poor outcome. Treating them every day, an emotional bond is developed automatically."
Dr Avisikta who was battling Covid last week shared that her colleagues were getting infected while performing their duties. Moreover, they cannot go home fearing the spread of the virus in the family. So, they stay back at the hospital until they are fine. So, it's like fighting a double battle; one with yourself and one with our fellow beings. Be it day or night, summer or winter; our frontline heroes have proved that humanity fosters a greater purpose in life.
Dr Avisikta has been working relentlessly in the Covid ward since the pandemic struck. Speaking on the situation around, she said, "Covid-19 pandemic is an unprecedented situation and it has ruined all our lives in some or the other way. But we can fight this battle if we are aware and use the precautionary measures to cut its chain of transmission. Once you develop any of the symptoms, immediately isolate yourself, go for testing and seek medical attention without a delay."
"Also, please do not outcast the people suffering with Covid. Instead, help them in their isolation period," added a beautiful Dr Avisikta by concluding, "Eat healthy, stay safe and together- we shall win the battle."
Important : If you are making an impact in the world, Please send us your story at : manoj@sociostory.in and we will try to cover you.