Meet Dr. Sunil Kumar who has converted his car into a mobile clinic
Jan. 10, 2021, 7:27 p.m.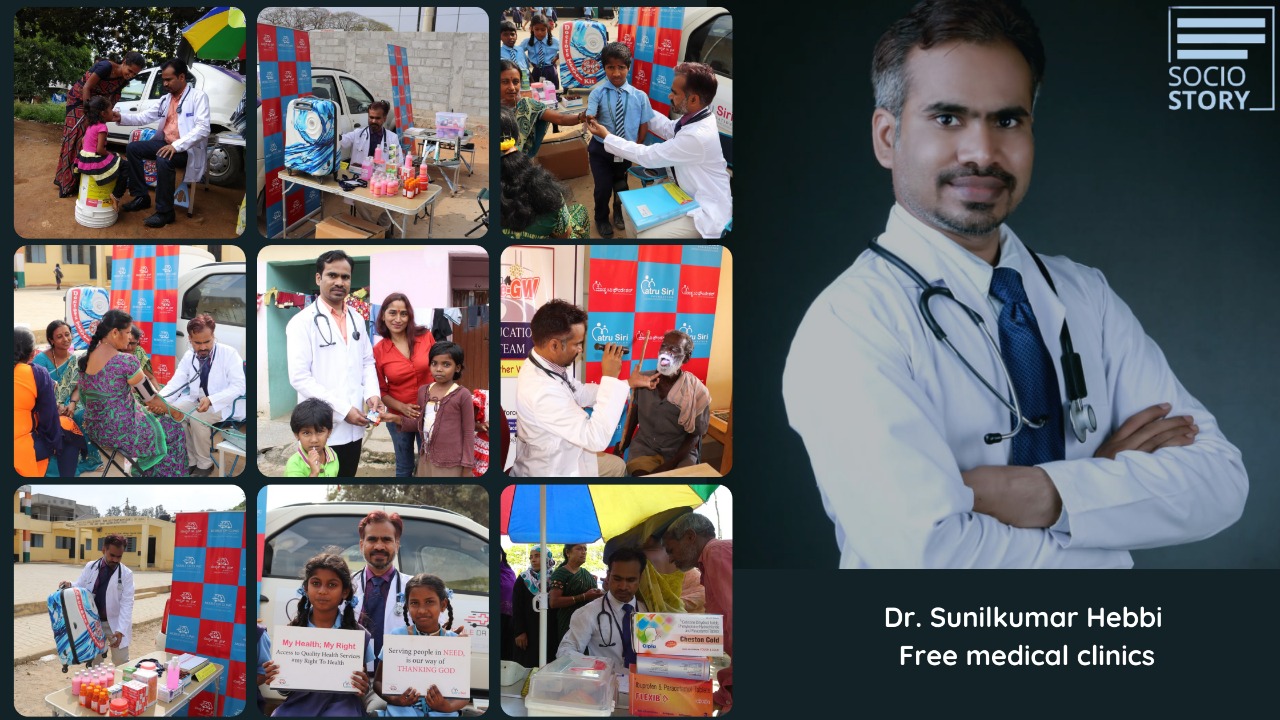 By:Reshma Jain
When Dr Sunil Kumar Hebbi witnessed an accident on Hosur road a few years ago, little did he know that it would change his life. That was the point of time when he realised the need of keeping a first aid kit or medical equipment in vehicles. And today, Dr Hebbi who is considered as a 'saviour' provides free treatment and primary care services at the patient's doorstep through his fully-equipped van.
"The smile on the face of the victim's Mother was priceless. She could not thank me enough to have saved the life of her son. I felt if I could help people in this manner (during road accidents, etc where medical emergencies need to be attended immediately), a lot of lives can be saved. I did not look back since then," shared Dr Hebbi who hails from Vijayapura, Karnataka.
An Indian medical doctor, Dr Hebbi is known for his humanitarian deeds and qualities like compassion and commitment. He started his career in a renowned Bangalore Corporate Hospital. However, he opines that his passion lied in serving the society through his knowledge. So, he resigned from his well-paying professional career to set up an NGO called Matru Siri Foundation (a non-profit humanitarian health organization) in 2008 to help the underprivileged and needy through free primary medical care.
While interacting with Socio Story, Dr Hebbi, said, "The purpose and focus of Matru Siri Foundation's is to serve the underprivileged and downtrodden people who do not have access to healthcare because of the crushing poverty in which they live. We believe Healthcare to be a fundamental human right that is required to understand and to exercise all other human rights. In the last 12 years, we have successfully executed various projects under our healthcare facilities."
Dr Hebbi, a philanthropist, had converted his car into a fully-equipped 'Mobile Doctor Clinic' so that it is serviceable around the clock. He said that he has been travelling in his Mobile Doctor Clinic since 2010 to villages, slums, old age homes, construction sites to treat patients free of cost.
With his mission being 'To prevent/treat million patients before he bids adieu to the world, Dr Hebbi claims to have treated as many as 1,20, 000 outpatients and has conducted 750+ free multi-speciality health check-up camps across the country with the help of volunteers. Dr Hebbi, a multi-award-winning doctor, author and humanitarian is dedicated to lead the way to a more sustainable, just and equal world through providing preventive and integrative healthcare to all, especially the marginalised community.
Throwing light on a clinic (a project under his foundation) which was inaugurated recently at Murankeri Bagalkot Road in Vijayapura, Dr Hebbi, said, "This is a pilot project for extending primary health services. The clinic will have a doctor, a nurse, a lab technician and a receptionist to help with patient registration. We will provide allopathic, Ayurveda, yoga consultation, drugs and basic diagnostic tests free of cost. While the blood samples will be collected at the clinic, we have tied up with a private lab for the tests."
Having treated around 25 Covid patients in the recent past, Dr Hebbi's future plan is to build a 100-bedded free hospital and a research centre. Dr Hebbi has also been counselling patients and has given first aid training to people. He spreads awareness to ensure that people from the downtrodden community also have access to quality health services.
"Health is a fundamental human right but is it really so in countries like ours?" Dr Hebbi asks. "According to the National Health Policy 2015, 63 million people fall under poverty every year. Two million slum children die every year in India. We have one of the highest disease indexes in the world. How developed are we as a country when basic needs such as health are not accessible to people?" – Dr Hebbi concluded saying that like-minded people need to join hands together to bring a difference.
Important : If you are making an impact in the world, Please send us your story at : manoj@sociostory.in and we will try to cover you.