Meet Dr Varsha Ghawalkar, a homeopath from Bangalore who believes in love for humanity while following her passion
Dec. 29, 2020, 6:52 p.m.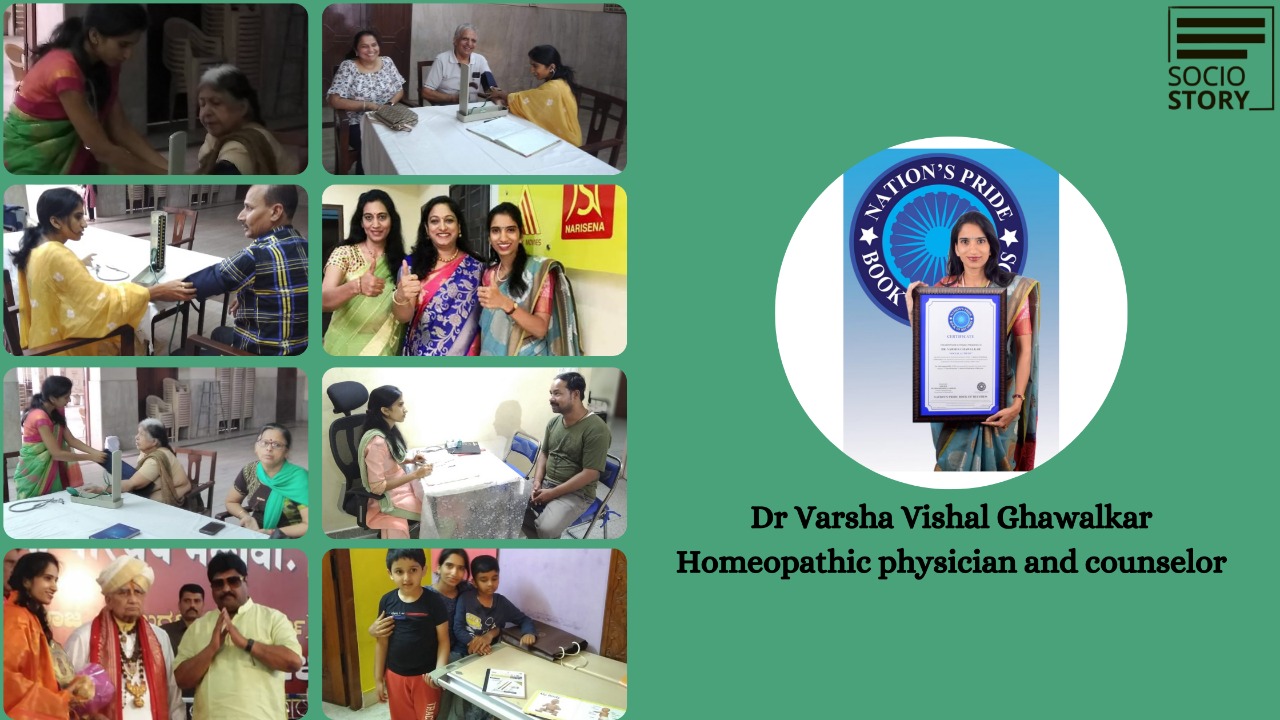 By:Reshma Jain
A good doctor's comforting and reassuring words are sometimes more powerful than medicines and most of us would have come across patients who forget their pain or suffering, given the comforting words. However, there are a few more doctors who beyond their call of duty, have been serving the society at large. Socio Story brings to you the journey of Dr Varsha Vishal Ghawalkar, a homeopathic physician whose selfless acts has healed and comforted thousands of people.
When Ghawalkar started her practice, she observed the behaviour of patients and there was one kind of behaviour that surprised her. "Most of the patients who visited me for consultations had either taken a treatment with no results or had spent huge amounts for the treatment with no saving left. So, before explaining about their ailments/chronic issues, the first question most of them had asked me was 'what are my consultation fees?' or 'how much would the treatment and medicines be charged?'.
These concerns of patients, let alone the ailments, disturbed Ghawalkar. As days passed by, Ghawalkar gave it a thought and decided to not charge consultation fees from any of her patients. Since then, Ghawalkar has never looked back. It has been nine years now that this young homeopathic physician who is also a counsellor has been giving free consultations to her patients. During the pandemic, more than 7,000 sachets of homeopathic medicine were distributed to the needy.
Sharing her experiences, the young doctor, said, "Because of inaccuracies in the system/organisation, fault diagnosis, financial issues, etc, patients lose faith and give up on their treatment. They are left helpless. So, my aim is to provide them with good treatment and I treat them with trust and faith."
Ghawalkar who has treated psoriasis cases, varicose veins without any surgery, added, "For those who cannot afford medicines, we give them free of cost. Presently, I consult patients from all over India and abroad."
Hailing from Bangalore, 35-year-old Ghawalkar also deals with women and child mental health. She deals with children who suffer from Autism, ADHD, genetic disorders, Schizophrenia, etc. Presently, she is treating 17 children with Autism under the guidance of Dr Meena Patki. "Mental health must always be considered as priority as it reflects the individual's overall development. It helps the person to balance life, to undergo the daily routine in a normal or harmonious way. Any kind of disturbance in harmony of mental health leads to mental illness. The disturbance may be in the form of trauma and stress," said the doctor by adding that a calm and peaceful mind always helps to build a constructive personality.
Dr Ghawalkar who has bagged the Rashtriya Gaurav award 2019 and received appreciation award from SAK Samaj, Gulbarga, stated, "My future plan is to expand my health care organizations to people who are in need of treatment and are financially not stable. I would also reach out to the people where there is a lack of medical availability or awareness."
Having been mentioned in Nations Pride Book Of Records 2020 as Social Activist, Dr Ghawalkar received the corona warrior award by SAK Samaj, Nashik, recently. Dr Ghawalkar has been instrumental in providing treatment to the army personnel and their families.
Stating that a smile on a patient's face with positive hope is priceless, the homeopath said, "Modern treatment treats a patient on a symptomatic level. But we believe in understanding the patient first, it's origin or pathogenesis before treating the disease."
"As a counsellor, I say live life like a player. Whether the audience makes noise or not, stay focused and determined. Stay happy, stay healthy and save humanity," concluded the young Samaritan.