Meet Dr Wasim Ghori who is empowering individuals for a healthy lifestyle through patient education initiative 'Healthcare on Your Fingertips'
Feb. 12, 2021, 3:50 p.m.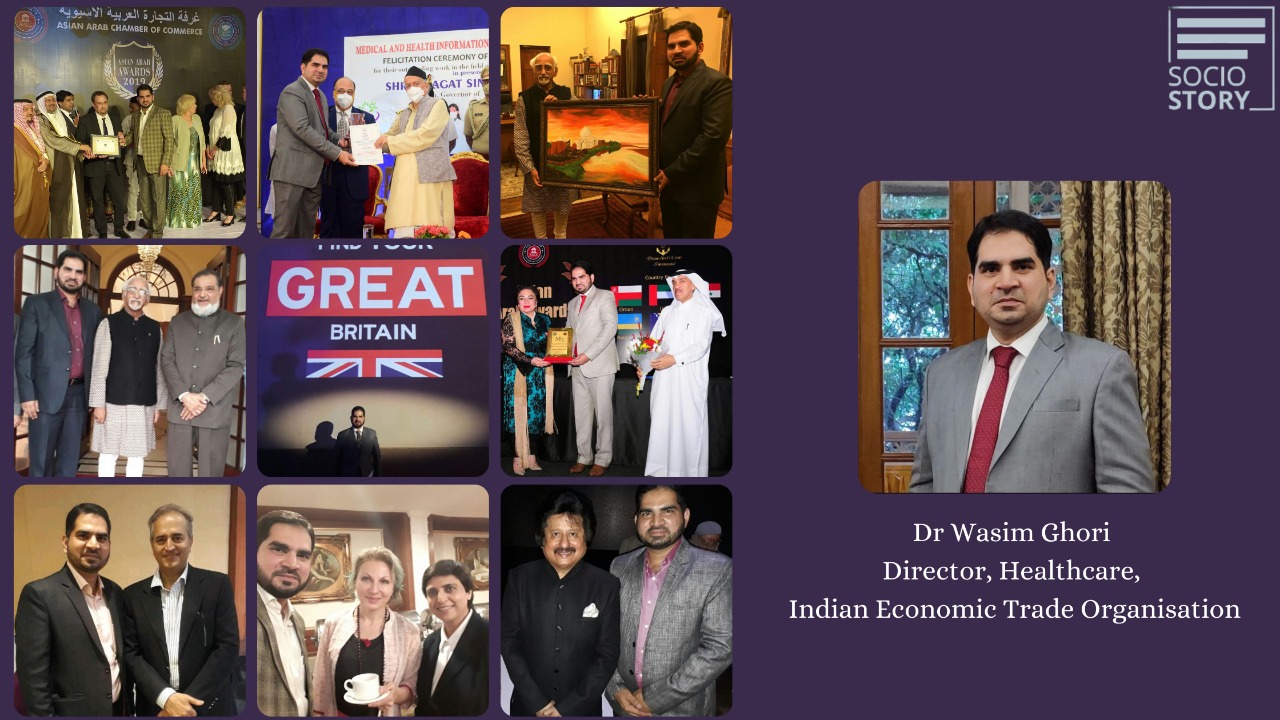 By:Reshma Jain
The COVID pandemic had brought normal life to a grinding halt and caused an upheaval in most of our lives. While we stayed locked up at our homes, there were a few others who went beyond their call of duty. A majority of them included the doctors who served on the frontline, risking their own lives. While Socio Story pays a tribute to all the doctors, we bring to you the journey of Dr M Wasim Ghori who was honoured with the title 'Most Distinguished Alumni from India' during the COVID-19 pandemic by London South Bank University.
Currently, Dr Ghori serves as the Medical Director and Consultant Diabetologist for a chain of Specialty Heart & Diabetes clinics in Mumbai with a focus on wellness and multi-disciplinary holistic care. He helps incorporate IT-supported care pathways for early detection and prevention of long-term complications caused by Type 2 Diabetes.
Dr Ghori helps people with diabetes on how to self-manage their health so that they can avoid long term complications and enjoy better quality of life. To achieve this goal of having a 'Diabetes Complications Free India', he educates and empowers individuals to become more aware of their health and enable them to make informed healthier lifestyle choices through 'Healthcare on Your Fingertips' - a patient education and awareness WhatsApp messaging initiative where bite-sized health nuggets get delivered to people every morning which they can access anytime and anywhere. This patient education initiative received positive feedback and appreciation from Dr. V. Mohan, internationally renowned expert identified amongst the top 2% scientists in the world listed by Stanford University in the specialty of Endocrinology and Metabolism.
However, life was very different for him during the lockdown while serving on the frontline at the peak of the pandemic. Sharing his experiences during the COVID-19 pandemic and learnings from there, Dr Ghori expressed that it was quite a challenging task to deal with during the crisis.
During the pandemic, Dr Ghori volunteered and served on the frontline by responding to the issues faced by patients on dialysis and ensured that those affected received the much-needed services through his personal, professional and social network. He was involved with other healthcare professionals, in helping the public and the government with suggestions in formulating policies to tackle the challenges posed by Covid-19.
He created awareness on the importance of physical distancing, hand washing, usage of sanitizers and using face masks as control strategies for Covid-19 through radio talks and virtual conversations. He educated and empowered communities and individuals on the need to follow protocols in combating the social stigma associated with Covid-19.
In 2018, Dr Ghori collaborated with a US-based Healthcare Technology Company to set the stage for a new way to work with individuals at high risk of developing heart disease, hypertension, high blood cholesterol, diabetes and its complications; all of which are dramatically rising across India. His insightful leadership in developing, supporting and implementing new technologies and electronic medical records supporting chronic disease prevention and management proved to be exemplary.
Dr Ghori who serves as the Director - Healthcare for Indian Economic Trade Organization (IETO), stated, "The growing epidemic of Type 2 diabetes demands urgent and coordinated attention.
Given the size of the diabetes epidemic and the number of people at high risk, approaches aimed exclusively at individual behaviour changes in clinical settings will likely prove inadequate for diabetes control at the population level. On the other hand, improvements in policy and the environmental factors would predispose, enable and reinforce more healthy diets and more active lifestyles for widespread and sustained behaviour changes."
"These will require development of infrastructure, environment and policy changes and ongoing funding of a multilevel, multidisciplinary approach and an experimental attitude at the state and local levels to allow public health researchers to evaluate the ingredients of successful innovations that constitute natural experiments in diabetes prevention," further added Dr Ghori who is the recipient of numerous awards for his pioneering work in the field of Healthcare Entrepreneurship, Leadership and Management Development and Cardio-Diabetes Medicine.
Dr Ghori also said that an integrated national system for early detection and prevention of Diabetes must be developed in order to minimize an individual's risk of Type 2 diabetes and its complications.
For his courage and valiant efforts in dispensing duties to the society and the country during the lockdown, Dr Ghori was felicitated as a 'Corona Warrior' by the Governor of Maharashtra Bhagat Singh Koshyari at a function organized last year at Raj Bhavan, Governor's House, Mumbai.
Important : If you are making an impact in the world, Please send us your story at : manoj@sociostory.in and we will try to cover you.