Meet former Indian Army officer Col Shashikant Dalvi (retd) striving to make India 'Atmanirbhar for water'
Jan. 15, 2022, 5:32 p.m.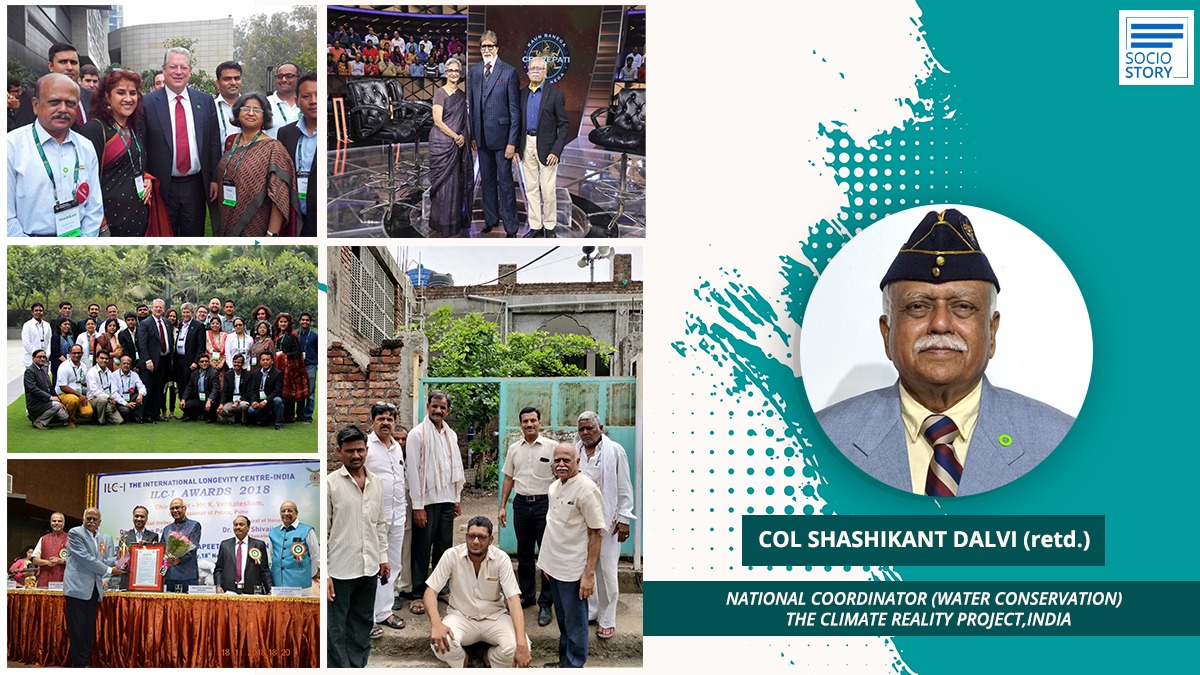 By:Reshma Jain
"Water conservation for today is life conservation for tomorrow", goes a saying. Socio Story presents the story of Colonel (retd) Shashikant Dalvi who designed and implemented Pune city's first roof-top rain water harvesting project in 2003 in his housing society.
Col Shashikant served with the Indian Army from 1969 to 2002. As a young officer, he led troops in enemy territory during the 1971 war to liberate Bangladesh. He was also involved in cutting edge technological achievements to enable defence machinery to operate at sub-zero temperatures in high altitudes.
Post retirement, he was the one to implement the city's first roof-top rain water harvesting project in 2003 in his housing society in Pune. This resulted in a 'Tanker Water' free society, which saved costs and improved the water table in Viman Nagar. After that, he started spreading awareness on water conservation through his organisation named 'Parjanya'. He successfully helped more than 650 different organisations like housing societies, schools, colleges, hospitals, industry etc to improve the falling ground-water table in their locations and to overcome water shortages.
Explaining about the start of his initiative on water conservation, 73-year-old retired army officer Col Shashikant said, "When I was made Chairman of our new housing society, the first thing I noticed was expenditure on tanker water. Our society had one borewell, the water level was at 225 ft and water yield was only for 30 minutes. This forced our society to depend on 3 water tankers daily to meet our needs. An idea struck me for recharging our borewell by implementing a Rooftop Rainwater Harvesting System. However, in 2002 there was no case study available in our state. I had noticed such systems in Rajasthan villages, during my Army days. I convinced society members about this, trained a team and implemented the first Rooftop Rainwater Harvesting System in our society in May 2003. Since then, our society is tanker water free. Now our borewell water level is at 60 ft and yield has increased to 10- 12 hours a day."
This experience initiated his journey to spread awareness about water conservation, the need and benefits of the Rooftop Rainwater Harvesting System. Col Shashikant who was commissioned in 21 Rajput Regiment as a second Lieutenant, on 15 Mar 1970, has helped more than 650 projects in urban cities and made them tanker water free. Similarly, more than 100 villages in Madhya Pradesh and five villages in Maharashtra are now water sufficient and tanker water free. His efforts have generated new job creation and has also reduced carbon emissions of the project area.
Stating that the impact of such a project is rise in groundwater table and water sufficient status, Col Shashikant while sharing one of his memorable experiences, said, "When I received a call from Sony TV Studio inviting me as a special guest to be interviewed by legendary actor Mr Amitabh Bachchan on Rainwater Harvesting, happiness knew no bounds. I still cherish those memories of my interaction."
A few years back, Col Shashikant got a call from an assistant professor from a college in Nandurbar town in Maharashtra. She informed him that due to water shortage in summer months, citizens get water supply only once in 15 days. She wanted his help to implement the Rooftop Rainwater Harvesting System on her bungalow. Col Shashikant was successful in providing her online technical guidelines and the project was completed in 10 days. Today, there is sufficient water and citizens are using it efficiently.
Presently our approach towards precious resources is 'Use and Discard'. This needs to change to Recycle the used water, reuse this recycled water, conserve every drop of water received, collect every drop of Rainwater and Channelise this to recharge the groundwater table except the toilet water. So, the new approach should be Recharge, Recycle, Reuse and Conserve, suggests Col Shashikant who currently volunteers with the Climate Reality Project and is the National Convener for water harvesting. The Project is run by former US Vice President and Nobel Laureate Al Gore. He has attended multiple domestic and international seminars and workshops and is regularly invited as chairperson for these events. He was trained by Mr Gore and his team at a workshop in Brisbane, Australia.
He also conducts workshops in villages to enable villagers to become self-sufficient for water purposes. His projects in Khamkheda Village, District Beed, Maharashtra have transformed the water deficient village into a water sufficient village. For the last four years, this village has become tanker water free.
He has addressed Members of Parliament on "Rainwater Harvesting in Metropolitan Cities" at the Parliament House in New Delhi. He has worked with TVS industries in Madurai to implement RWH on 74 buildings. He also worked with Maj Gen Vinod Sharma in Lucknow to implement RWH on Army buildings. He is closely associated with International Longevity Centre- India, as a resource person for value education on environmental issues in different schools. He works with them to spread awareness about the climate crisis and water issues amongst students in Maharashtra.
Presently Col Shashikant and his team is working in ten villages in Pune to make them 'Atmanirbhar for water'. This is being done by raising depleting groundwater table using Rooftop Rainwater Harvesting Systems in village houses as they all depend on tanker water in summer months.
The Indian army veteran's future plan is to continue spreading awareness about water conservation in schools and colleges, communities, corporate sector, industry and villages, through different modes of communication.