Meet Geeta Chouhan who has overcome adversities to become an international wheelchair basketball player
Sept. 2, 2020, 12:41 p.m.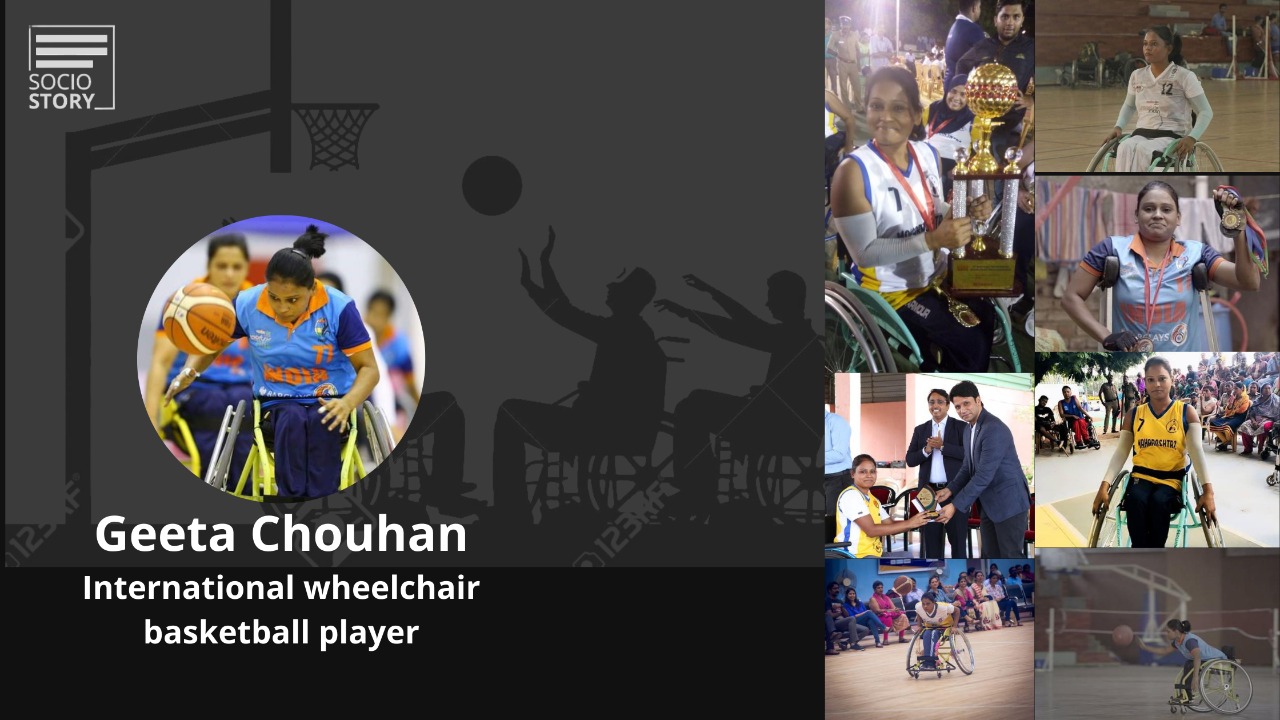 By:Reshma Jain
"Disability need not be an obstacle to success," believes Geeta Chouhan, an International wheelchair basketball player from Mumbai. Born in a middle-class family, life took a turn when Geeta turned six. Polio, a disabling and life-threatening disease took a toll on her and affected her ability to walk. As she was bound to a wheelchair, Geeta was denied admissions in private schools. However, her disability did not deter her determination to work hard and make a mark in life. Despite the struggles, she completed her education in a government school and moved on to pursue her graduation from Narsee Monjee College of Commerce and Economics.
Being a woman on crutches, Geeta faced a lot of challenging situations. After having appeared for more than 25 job interviews and being rejected, she took life as a challenge. She stated, "Life has always been a competition for people like us because it's tough to accept yourself as disabled, thanks to the perception of people towards us. People think that we cannot sit or play with able-bodied players and cannot lead a happy life. But I wanted to prove that people with disabilities are capable and powerful."
And the inspirational story begins now! It was in 2017 when Geeta's friend Ravi (a wheelchair basketball and cricket player from Meerut) told her that Mumbai has a good scope for disabled / wheelchair players. Initially, Geeta found it strange and pondered as to how disabled people can play sports. "But then it seemed like an amazing opportunity. I was informed that a wheelchair basketball team was under formation in Mumbai and I was asked to join the team. I was hesitant in the beginning and thought to myself; 'Is it really going to happen or will we be mocked as usual'? Come what may, I mustered all my courage and joined the team."
The beginning seemed tough as neither did they have proper grounds nor appropriate wheelchairs to practise. "So, a member of our group spoke to the Rehab centre of Disability located near Haji Ali to seek permission to use the small ground behind it, although it was in a poor condition. The Rehab centre helped us a lot and also provided us with wheelchairs. We had to work very hard to push those wheelchairs, but slowly got used to it. We started practising for 3-4 days in a week and there began my journey in sports," recounts Geeta.
Geeta grabbed the opportunity and realised her potential in playing sports. She started competing in the Nationals and then moved on to represent India at various international competitions. An international level wheelchair basketball player, a budding national level wheelchair tennis player and a marathon runner, Geeta has a lot of achievements in her list.
Geeta aided the Maharashtra Wheelchair Basketball Team to secure the 4th position in the 2017 National Wheelchair Basketball Championship at Hyderabad. She won the runners-up title in doubles at the 2018 Open National Wheelchair Tennis Championship, held in Chennai. This strong woman emerged as the winner (Maharashtra Wheelchair Basketball Team) of the 2018 National Wheelchair Basketball Championship at Tamil Nadu and also the top scorer in the team with 12 points in the final match.
Adding feathers to her cap, Geeta represented Indian Wheelchair Basketball Team at the 2018 Asian Para Games Qualifying trials in Bangkok, Thailand and also represented Indian Wheelchair Basketball Team at the 2019 Asia Oceania Championship in Pattaya, Thailand. She bagged a gold medal at the 2019 National Wheelchair Basketball Championship in Mohali for Maharashtra Wheelchair Basketball Team and participated in Valsad Marathon and completed 10 km in 40 minutes and 3 seconds. Bravo!
After joining sports, Geeta says that her life has improved a lot. "People who didn't even like to talk to us before, they want to meet us now and want to spend time with us to learn more about our career and life. So overall, there is a lot of difference after I switched to sports," she says cheerfully adding that she has done paragliding and swimming along with wall climbing and tried skydiving too.
Speaking on her support system, the young champion who is 31-years-old, said, "There is no such role model in my life, nor have I ever found any such person. After I joined sports, my team captain Kartiki Patel helped me a lot and was there through thick and thin. I have a college friend (Sarah hunter) from Canada who has been a great support for me in the past few years. My mother has always supported me and has never restricted me from pursuing my passion."
Stating on the need for infrastructure to compete in international games, Geeta said, "We need good equipment, mainly advanced wheelchairs so that we can practise accordingly and improve our performance for the International Games."
"I would say that whether you are able-bodied or disabled, all of you have potential. Just try every possible thing to bring your talent out because there is so much to do in this world. I will definitely try to develop my Maharashtra team to a level where we will be able to support our next generations and aspiring athletes so that they can achieve their dreams as well," said Geeta concluding that her ultimate goal is to win a Gold medal in the Olympics.
Important : If you are making an impact in the world, Please send us your story at : manoj@sociostory.in and we will try to cover you.