Meet Grammy award winning Violinist Manoj George who composes music to spread positivity
Nov. 10, 2020, 2:43 p.m.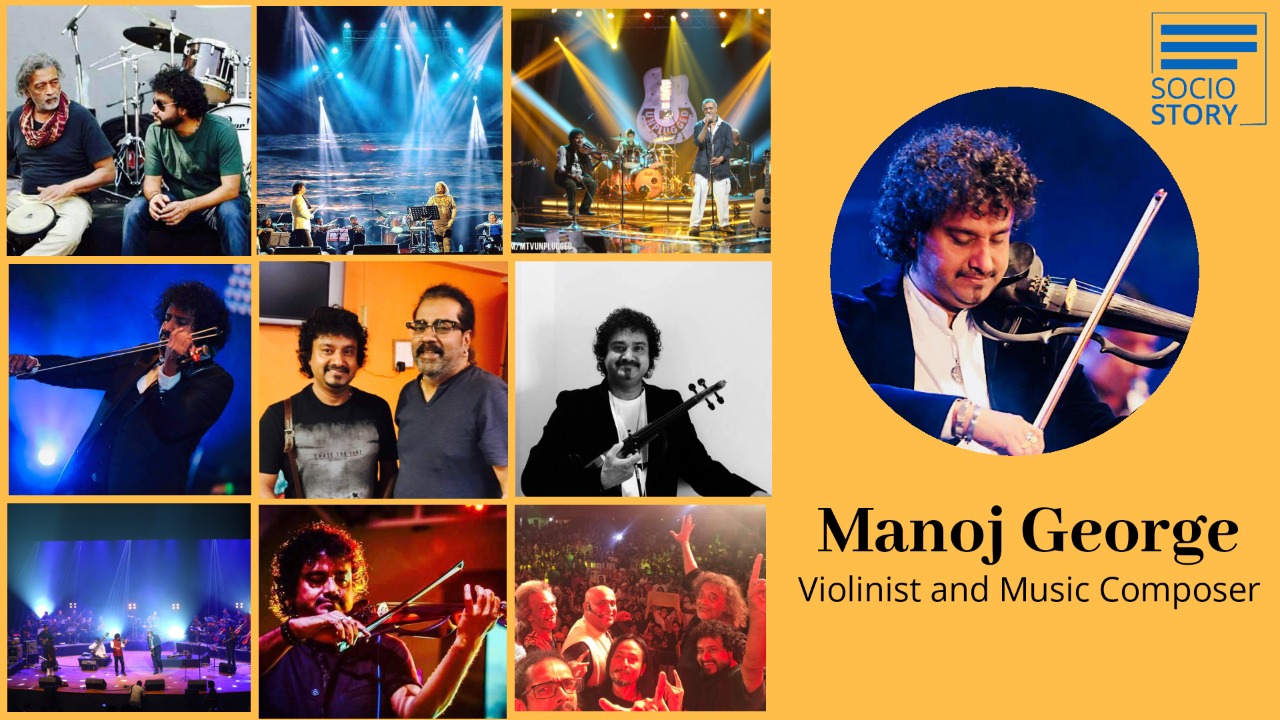 By:Reshma Jain
It is believed that music has healing power and I am sure most of you might have experienced it during the unprecedented pandemic. While a few of us found solace in music, there were others who composed music to spread happiness and positivity. An instrumental album called 'Enlightened Sunrise' was released in October 2020. The album focuses on streaming life with positivity. It described a different aspect on how better we can look at life. The seven tracks of the album are different in its styles and genres; it has rock, world, folk, fusion etc. conveying how we can make our days beautiful.
Similarly, an instrumental album 'Weeping Strings' was released in 2019, to convey the message on 'Zero Hunger'- an initiative of the United Nations. The album encapsulates the journey of hungry people as well as refugees around the world and is concluded on a positive note when humans unanimously come together at all levels to eradicate hunger. Apart from the message it conveys, the life of this music is with three instruments (Mohana Veena, Violin and Flute)- the combination of which is unique.
But whose work are we speaking about? Most of his musical works give a message to the public. He is a Grammy award-winning Indian violinist and a music composer. He is none other than Manoj George known for contemporary styles on violin amalgamating western music with Indian classical music.
Hailing from Thrissur, the cultural capital of Kerala, Manoj George, a passionate violinist and music composer shares his journey with Socio Story.
It all started from the church choir when Manoj was always fascinated with the melodious sound coming from the choir team. Later on, he realized that the melodious sound is from the Violin and started admiring the violinist in choir. The mesmerizing sound haunted him all the time and that got developed into a wish that he should learn that instrument. When Manoj was 13 years old, he started learning Violin.
Selecting his profession as a violin player was in fact a very tough decision. "During my college days, I used to play in college fests and other programs, received many prizes, got opportunity to play with legendary Malayalam singers like K J Yesudas, KS Chitra etc. However, my wish to learn western classical music always haunted me, hence after my graduation I decided to learn western classical and moved to Puducherry, later to Bengaluru where I continued learning till I completed LTCL in violin from Trinity college of Music, London. During this time, I was awarded a scholarship from the Ministry of Human Resource and Culture, Govt. of India, New Delhi. Opportunity to learn western music and my craving to get deep into world classics triggered me to consider music as my profession," shares George.
Composing music and scoring background music is his life. He has done music scoring for feature films, short films, corporate movies, documentary films and advertisements. He has scored the background music for a Malayalam film "Kharaksharangal" which won the National award for the best children's movie and composed the music for the Kannada film, "Urvi", which won the best feature film at New York city film awards in 2018.
Apart from this, as an independent musician, he has composed music albums and arranged music for several songs and other projects. He also had the opportunity to be part of Grammy winning album "Winds of Samsara" as a conductor, string arranger, choral arranger and the orchestration for Royal Philharmonic Orchestra and the Voxaphonic Choir at the Abbey Road studios, London for the recent ''Vande Mataram" song produced by Ila Paliwal and Ricky Kej.
His original composition – 'Saraswati', which highlights cultural harmony by blending western and Carnatic styles on violin and piano has won a silver medal from Global Music awards in 2019. "I also got a great opportunity to compose and perform a piece 'Burning Love' for Pope Francis for his 83rd birthday celebrations. Classic composers like Mozart, Beethoven and other world class musicians are an inspiration to create my own music," added George who has done more than 3,000 concerts across the globe.
Speaking of music as a medium to spread awareness, George said, "As Henry Wadsworth Longfellow mentioned, 'Music is the universal language of mankind', I echo that. Music can converse to everyone, spread different messages because of its feel and expressions. I believe that music has power to break boundaries and get people close to each other, irrespective of the language, making music an easier way of communication."
With his motto as "Change Lives through Music", George shares, "In one of the concerts which was performed in Kerala, I was surprised to know the outcome of that concert. My music helped in saving two lives as they were about to commit suicide that night. After watching this concert, they changed the decision and came back to life."
"Another memorable moment was during this lockdown when I started a violin series named 'Positive Vibes' and uploaded these music videos on YouTube channel and Facebook. My intention was to reduce stress and tensions, since people were locked inside their homes. But I realised that it had a tremendous impact on people's life. One of them who was suffering from Covid-19 stated that the violin music healed him and supported him in his sleepless nights," added George who is the first Indian violinist to serve as the brand ambassador for Roland Corporation, Japan.
His upcoming project 'Burning Love' will be released in December 2020. It is a journey through collaboration and has different cultural influences. The music is recorded in Prague and by Prague orchestra and with an Austrian soprano singer Barbara Kajetanowicz.
George is also a key patron of a charitable organization called Little flower charitable society. This society focuses on the movement to improve the quality of life of the poor.
Important : If you are making an impact in the world, Please send us your story at : manoj@sociostory.in and we will try to cover you.