Meet Gulfam Ahmad, a multitalented specially-abled athlete who knocked down the discriminatory barrier of disability
Dec. 8, 2020, 4:48 p.m.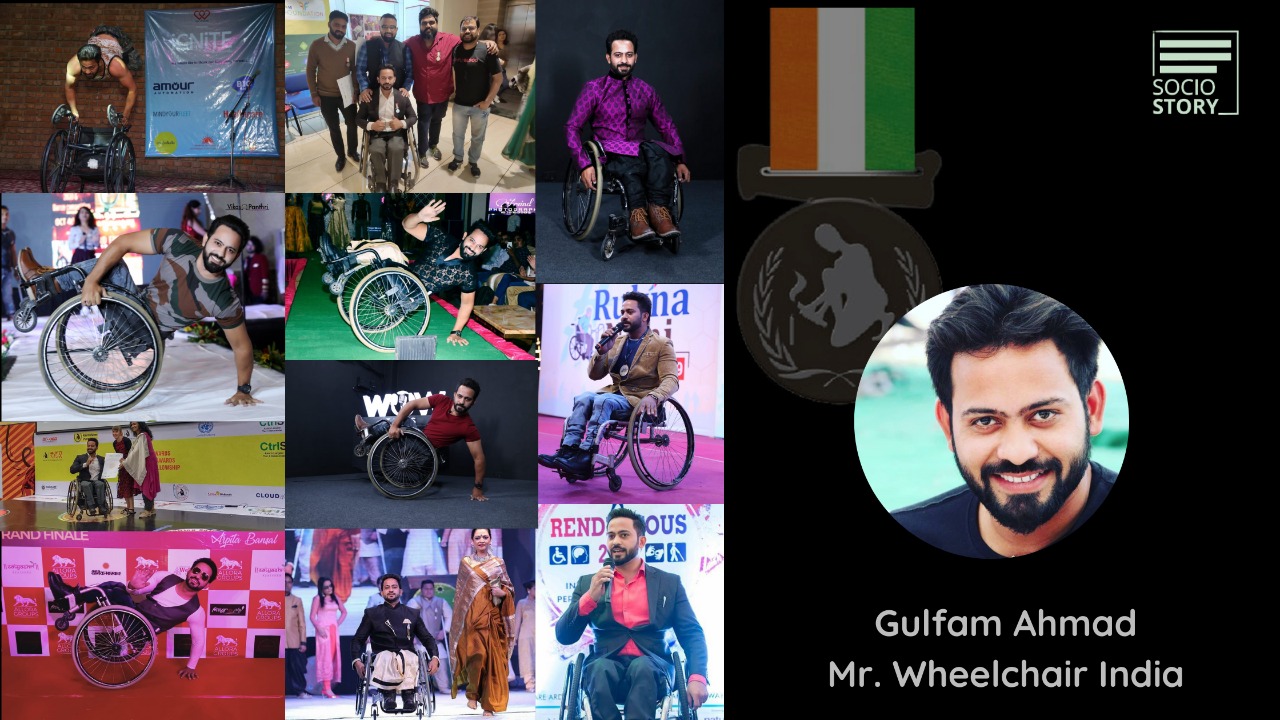 By:Reshma Jain
Christopher Reeve had once said, "A hero is an ordinary individual who finds the strength to persevere and endure in spite of overwhelming obstacles." December 3 was observed as the 'International day of Persons with Disabilities' and we bring to you the story of an extra-ordinary individual who despite all the odds, found the strength to persevere and never 'gave up'. A national para powerlifter, Ahmad also bagged the title Mr Wheelchair India (2015). Before I list the other achievements of Ahmad, let us take a look at his background.
Born into a poor family in Bijnor, Uttar Pradesh, where his father was a tailor, Ahmad was hardly a year old when Polio attacked him. In an effort to get proper access to medical facilities, his family migrated and later settled in Delhi. Bound to a wheelchair from childhood, life was tough and challenging.
Although Ahmad was very fascinated by the activities of school kids, his parents were reluctant to send him to school as the schools were not accessible for wheelchair-bound students. So, Ahmad used to crawl to a school located nearby his home and sat on the school steps every day. He observed very keenly, the way children were taught, the way they played and the way they shared. "Everything felt so happy on seeing them and somewhere I felt that my disability should not be a hurdle to achieve what I dream. So, I decided to rewrite my fate when the principal noticed me seated on the stairs one day and asked me to join school. I was an eight-year old then and my joy was endless," recounts a nostalgic Ahmad.
Gulfam completed his higher secondary education from a government school and went on to do an ITIL course in computer operations. To maintain a good body, Ahmad started to work out in the gym during his teenage years. He was then introduced to the world of sports for the specially-abled by his gym instructor. Ahmad had won the first national championship in 2008.
Despite the limitations, Ahmad is a very active sportsman. He has won 26 medals so far in different sports categories like Powerlifting, Wheelchair race, Taekwondo etc at national and state level championships. He assists, advises and coaches others with disabilities to excel at sports too. He also frequently organizes 'scooter rides' for the differently-abled people where participants enjoy their day 'out'.
Till 23 years of age, Ahmad, being paraplegic, used to sit on the floor and push himself to reach anywhere and everywhere. Eventually, two surgeries, 45 days hospitalization with a lot of mental discipline, hard work and consistent exercise, he is now able to stand on his own feet and walk around with the help of crutches. "The hip release surgery that I underwent in 2013 was a life-changing experience. The most memorable moment was when I saw a beaming smile on my mother's face after I stood on my feet for the first time after my surgery," shared Ahmad who is also a motivational speaker.
A fitness enthusiast, a bodybuilder, an active sportsman, a speaker and a stand-up comedian, there are still a lot of feathers in his cap. Ahmad had a penchant in modelling and Bravo! He was crowned Mr Wheelchair India 2015. Hats off to his confidence levels. But what was next?
Given his willpower and love for sports, Ahmad realised that he is capable of competing in the wheelchair racing category. After he participated in a marathon organised in Delhi and completed the race with a good timing, there was no looking back. "I kept practising with my wheelchair and started to research the world records that were already set in my category," said specially-abled athlete Ahmad who dreams to win a gold medal for India.
While all of us are getting adapted to the 'new normal', people like Ahmad found different ways to make use of the time and motivate others who were locked at homes. Ahmad has been giving fitness and grooming lessons to his followers on social media.
"You fall, you get up, you learn and move on. This is life and it is beautiful," concluded a confident Ahmad.
Important : If you are making an impact in the world, Please send us your story at : manoj@sociostory.in and we will try to cover you.