Meet HS survivor Ankita Muwal on a mission to empower people on Holistic Living
July 2, 2020, 1:26 p.m.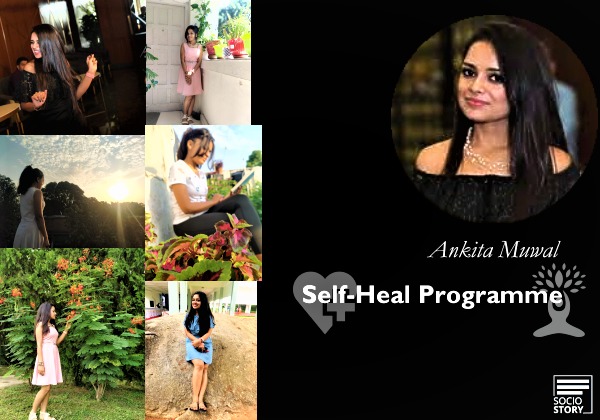 By:Reshma Jain
When Ankita Muwal, 27 years, was diagnosed with a rare skin disease called Hidradenitis Suppurativa (HS), little did she know that she would be a source of inspiration to hundreds of people. From suffering to holistic living to a lifestyle entrepreneur, Ankita from Chandigarh shares her journey with Socio Story.
A highly misdiagnosed and misguided disease, HS also called acne inversa is a skin condition that causes painful lumps under the skin, especially in areas like the armpits, groin, etc.
After pursuing her post-graduation in Hyderabad, Ankita went on to follow her career goals and got into a corporate job. However, life took a different turn while she was working in a pharmaceutical company in Hyderabad. The condition of her health had become acute and she could not carry out the daily chores due to the painful wounds on her body. With the doctors and modern sciences terming HS as incurable and the wounds becoming deeper, Ankita started getting into mental trauma and went to an extent of contemplating suicide.
Ankita, said, "I tried all the suitable allopathic medicines, homeopathy and every other superstition to heal, but all in vain. I felt rejected, hopeless, lonely, anxious and directionless after trying modern medicine for almost four years. Some dermatologists prescribed antibiotics, steroids and some also prescribed harmful retinoids. Lastly, I was prescribed biologics which is not only very expensive but also extremely painful and comes along with serious side effects on other organs. HS brought inflammation in joints, difficulty in sitting, hormonal imbalance, frequent migraines, irregular menstrual cycles, liver issues overall difficulty in moving the entire body."
However, the young girl has now been able to heal herself after educating herself on holistic health, fitness and nutrition which enabled her to understand the basics of the body thereby empowering its own intelligence to heal. The deep painful wounds and zits which looked impossible to heal have healed miraculously, says Ankita.
The young girl who was able to reverse this condition by sustainable lifestyle changes is on a mission to empower 1,000 lives to follow a holistic lifestyle by December 2020 and create more success stories like her. Her experiences have shaped her up into a lifestyle entrepreneur, holistic health influencer and a recently turned fitness advocate.
"I intend to educate people on lifestyle diseases through an e-learning platform by which people around the globe can heal themselves. I have created a YouTube channel 'Self-Heal' to create more awareness on HS (one of the highly misdiagnosed diseases) and holistic living. There is very little information for HS survivors, hence I want to bridge the gap and strengthen the HS survivors by sharing my experiences," stated the fitness advocate.
Ankita who does not want to continue with corporate life said that she has already started conducting one-to-one workshops in person and through skype which enables and empowers people to achieve perfect health naturally. "HS actually turned out to be a blessing in disguise which made my life worth living and transformed me inside out," said the HS survivor.
Stating that empowering others to achieve health goals makes my life more meaningful, Ankita said, "I want to spend my life helping others to achieve their health goals. Through my Self-Heal program, I educate people on holistic lifestyle which has potential to reverse any chronic skin diseases, autoimmune conditions, food allergies, chronic illnesses, breathing problems, joint pains, reproductive issues, emotional difficulties like stress, anxiety, aggression, depression, etc."
Holistic lifestyle is a sustainable solution to all your health problems and it works like magic. Ankita has been able to mentor more than 60 people suffering from lifestyle diseases like HS, heart ailments, chronic indigestion, type 2 diabetes, liver diseases, chronic skin problems, etc. She has recently conducted workshops in California and Maryland, (USA), Dubai (UAE), Wellington (UK), Winnipeg (Canada) , Riyadh (Saudi Arabia) and Eindhoven (Netherlands).
Mahatma Gandhi had once said, "It is health that is real wealth and not pieces of gold and silver." And people like Ankita are willing to do whatever it takes to be a warrior for your own health.
Important : If you are making an impact in the world, Please send us your story at : manoj@sociostory.in and we will try to cover you.