Meet IAS officer Gandham Chandrudu who set an example by working for the welfare of people
July 5, 2021, 5:37 p.m.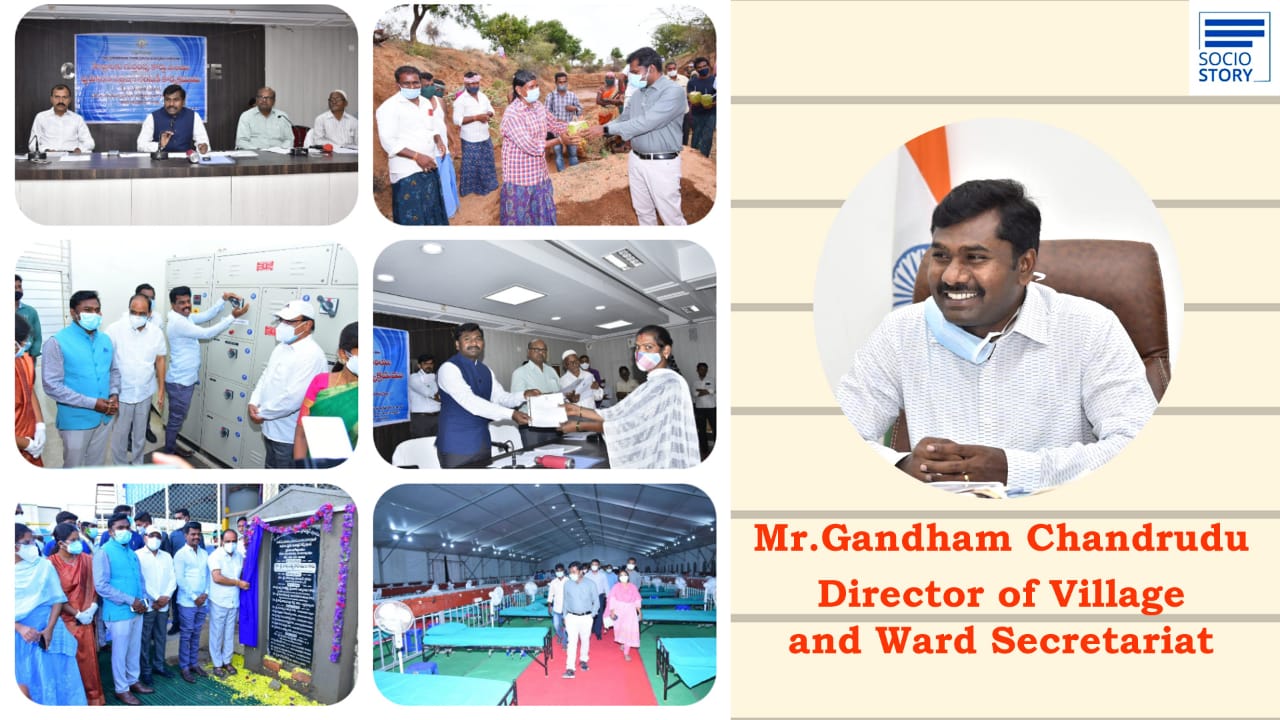 By:Reshma Jain
The second wave of the Covid pandemic devastated the lives of thousands of people. The situation demanded people to join hands and serve humanity together. From government officials, NGOs to individuals, there were good Samaritans who went beyond their call of duty during the crisis. One such example is Gandham Chandrudu, an IAS officer who was the former Collector and District Magistrate, Ananthapuram district of Andhra Pradesh.
He has sprung like an eagle in his life journey from a small village boy to a railway ticket collector and then to a successful IAS officer. He has worked in various capacities so far as Sub-Collector, Project Officer-Integrated Tribal Development Agency (ITDA), Additional Commissioner- Capital Region Development Authority (CRDA), Joint Collector Vijayawada, Commissioner-Tribal Welfare, Vice-Chairperson and Managing Director of AP SC Corporation and then as Collector and District Magistrate, Ananthapuram district in the last ten and half years of service as an IAS officer. Presently, Chandrudu has been posted in PR&RD, MAUD department in Amaravati.
He has many firsts and achievements to his credit. During his first posting as Sub-Collector, he ensured, with his own initiative, that more than 20,000 tribal people voted for the first time since independence. As head of SC Corporation, he reached out to the poor unemployed youth and transformed their lives through skill development training, economic support schemes, income generating activities and entrepreneurial activities.
As Collector and District Magistrate of the 7th largest district of India and largest district of South India, he has many firsts to his credit. He has put the Ananthapuram district on the country's map with highest single day labour turnout of 6.4 lakh workers in NREGS (National Rural Employment Guarantee Scheme). The previous highest ever record was 2 lakh workers daily. He increased it to 300% increase for a day, again changing lives, generating income for immigrant labourers who travelled back to their home towns in covid times.
Speaking to Socio Story on the need of inclusivity of the marginalised communities, Gandham said, "Out of 240 transgender people identified by our teams in the district, 151 have been issued ID cards so far and the rest are in the process. One of the basic issues with transgender people is that they don't have any identity proof, which is mandatory for accessing various Govt services/benefits like pension, ration, housing etc. We decided to strike at the root by identifying such people in the district and giving them ID cards. We even conducted a meeting with all of them to give the sense that they are cared for. A few other awareness drives were held to spread a message that they shouldn't be discriminated against. Proactive steps should be taken to accept their beings as normal / into the mainstream."
Speaking further, he said, "During the Covid pandemic, we started the first PSA plant (Oxygen Production Plant) on 25th May. The first in the country, this plant was set up with support from DRDO, PMCARES, National Highway Authority of India (NHAI). We have completed the work in record one week's time and operationalised the plant. It has a capacity of 1000 LPM (Litres per minute) of oxygen."
"We also made arrangements for yoga/music/light games like shuttle, volleyball etc for the inmates of Covid Care Centres (CCCs) and motivation sessions with Social Counsellors at both CCCs as well as Hospitals. With regard to vaccination in Ananthapuramu, we did it with 107% efficiency, again setting a record in the country," added Gandham.
"The other initiatives in the district include Integrated Command Control centre at Ananthapuramu for Covid Management, LMO (Liquid Medical Oxygen) plant, at GGH. Each hospital has one such LMO plant now. The capacity increased from zero in 2020 April to 40KL in 2021. We are striving hard to work for the welfare of the people and ensure every individual in need is supported by our initiatives," concluded Gandham.
Important : If you are making an impact in the world, Please send us your story at : manoj@sociostory.in and we will try to cover you.