Meet India's Pond Man, the man who brought back life of many ponds in India
June 8, 2022, 11:33 a.m.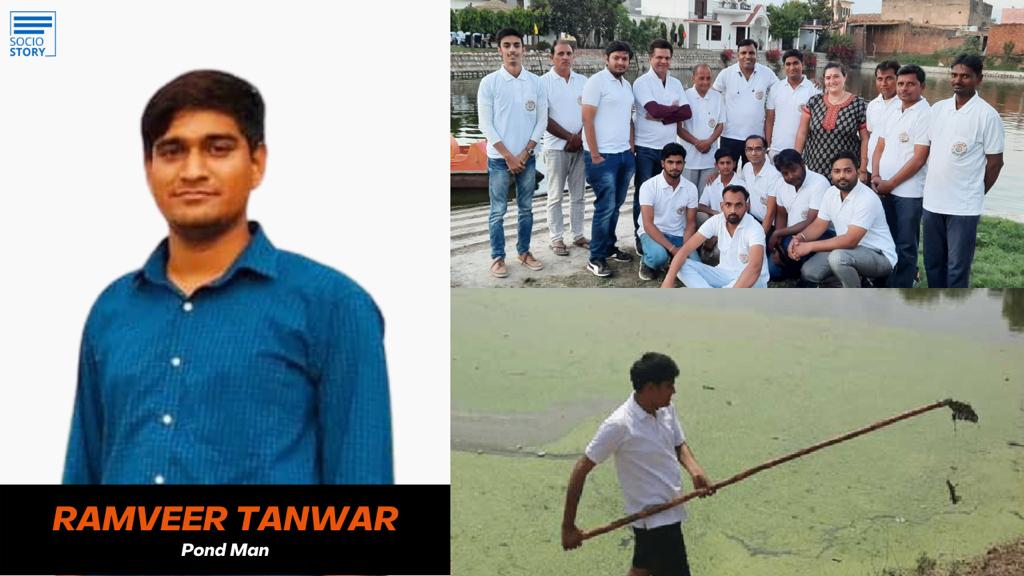 By: Reshma Jain
Known as Pond Man, Ramveer Tanwar, an environmentalist and TEDx Speaker, based in Greater Noida has been passionate about water conservation during his student life. He started his campaign called 'Jal Chaupal' in Gautam Budhha Nagar, Uttar Pradesh which urged people to conserve water and to save natural resources like ponds, lakes and wetlands.
Tanwar started off by giving lessons to kids from his village, who began to feel like they had to do something about their dying water sources. Later, he told the students to come with their parents every Sunday to a special place where he'd facilitate a discussion and suggest methods to conserve water. The message finally started to sink in, and the villagers were really starting to grasp the problem they were facing. His effort was recognized by the district authorities, and these community meetings were officially called 'Jal Chaupals'.
Jal Chaupal is an initiative to sensitise people about the importance of water and various factors related to water scarcity in society. In Jal Chaupal, they discuss topics like ground water extraction, water pollution, rainwater harvesting, water budgeting, etc. Jal Chaupal has been proved as one of the most important support tools to motivate people to involve in pond restoration work.
In 2015, Ramveer and his team of volunteers, students, and their parents removed all the garbage from the first pond. Not only did they clean it, they also planted some trees around it. Later on, they invited the local administration to come and see the glorious restoration.
The good news spread fast and soon enough, people from other villages and districts started to come to Tanwar to ask for help with the restoration of their local lakes. Thanks to the efforts of many volunteers and enthusiasts, dozens of lakes and ponds have been restored throughout India.
Post his training by The Central Pollution Control Board (CPCB), MOEF, and Govt. of India, Tanwar founded an NGO called 'Say Earth' which primarily works on water body revival, urban forest and environmental awareness. Tanwar has contributed to restore and rejuvenate 40+ ponds and lakes all over India. He is also working as a consultant with different corporate groups and government departments for restoration of waterbodies and awareness campaigns.
According to a June 2018 report by government think tank NITI Aayog, India is facing the 'worst water crisis in its history,' with some 600 million people suffering severe water shortage, and approximately 200,000 people dying as a result of lack of access to clean drinking water each year. This worrying situation is 'only going to get worse' in the coming years and by 2030, half of the Indian population will not have access to drinking water.
In the year 2018, Tanwar had started an online campaign on social media called #SelfieWithPond. The motive of this campaign was to connect the youth with ponds and lakes. This campaign got great support from more than 10,000 people from all over the world.
The interesting part is how Tanwar and his team involve villagers in cleaning the lakes in their localities. "Whether it is by asking for labour or equipment, we ensure that the cleanliness and revival drives are not by some outsider. On average, the team extracts 500-1000 kg of plastic per hectare of land from each lake. While the plastic is sent for recycling after the revival, it demands the question as to why it landed there in the first place. Perhaps we need to rethink our garbage disposal methods, so it doesn't directly harm the water bodies that benefit fishers and farmers. To ensure that their efforts are sustained after revival, fishers from the local communities are given the responsibility of the lake," shared Tanwar who was praised by Prime Minister Narendra Modi in Mann Ki Baat and also by Chief Minister Yogi Adityanath. He has been declared as Brand Ambassador of Swachh Bharat Mission, Ghaziabad and has been appointed as the district coordinator of the 'BhuJal-Sena, Noida (Groundwater Force)' by Government of Uttar Pradesh.
Apart from a lot of awards and recognitions, Tanwar has been a guest speaker in different universities, Govt Departments, corporate groups and schools. He received the Shining World Protection Award from Taiwan with a grant of USD 10,000.