Meet India's Water girl Garvita Gulhati, a young changemaker working towards saving water
Jan. 6, 2022, 11:45 p.m.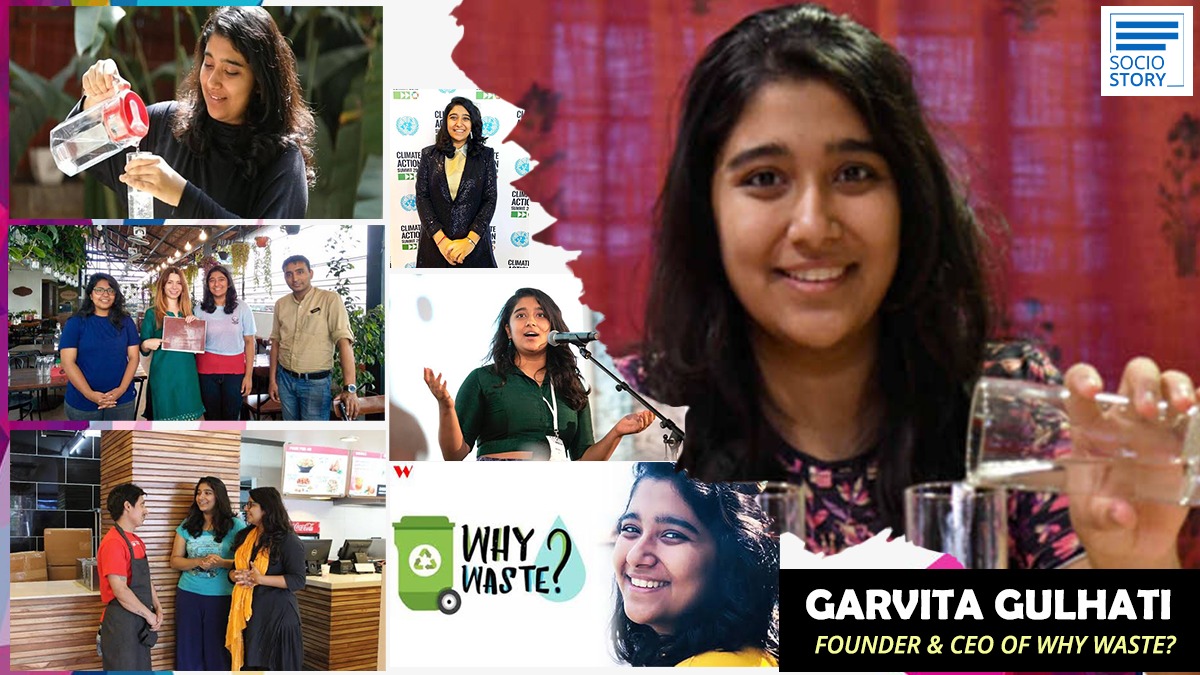 By:Reshma Jain
Deeply impacted and disturbed by the water crisis India faced in 2015, Garvita Gulhati felt the need to take a lead and compelled her to make a difference. This led 21-year-old Gulhati in taking an initiative called 'Why Waste?' after she learnt that 14 million litres of water are wasted every year simply in the water that we leave behind in our glasses at restaurants.
Why Waste? aims at changing the mindsets of people towards natural resources, specifically water. With the increasing number of restaurants, the primary goal of Why Waste? is to reduce wastage of water in restaurants. Their pilot project #GlassHalfFull, has been a huge success with several restaurants adopting their trademarked idea along with organisations like NRAI and Change.org supporting it as well.
They began working with restaurants by helping them prevent wastage of water that is left behind in glasses through their viral #GlassHalfFull movement in addition to conducting workshops. Today, their work has reached over 5 lakh restaurants, 10 million people and prevented over 6 million litres of water from being wasted through the various partnerships they have built.
Speaking to Socio Story, Gulhati said, "Late last year, we had also launched the Why Waste? App that helps every individual calculate their water footprint and helps them save at least 100 litres of water every single day through a gamified approach. In partnership with CNN, they are building this very movement to encourage more people to calculate their water footprint and become part of the change through their national campaign 'Mission Paani'."
Each and every person can and must contribute to saving water. At Why Waste? it is believed that collective action will create a positive reaction. We are all in this together and we can all make a difference. "From saving over 100 litres of water every single day to creating a chapter of Why Waste? initiatives of our own have helped in saving millions of litres of water. We believe these small actions of saving water wherever we can and spreading the word to do the same will create a huge impact," added Gulhati who has worked with various organisations including Ashoka, IKEA, Facebook and UNICEF to build global programs to encourage more and more young people to become changemakers.
Gulhati who is an Engineering graduate from Bengaluru, said, "Two of my biggest inspirations have been Steve Jobs and Indra Nooyi. Indra Nooyi's story inspired me and sparked to life the leader in me, driven with the hope to change the world. Steve's Jobs' approach to leadership has been a huge motivator for me."
Adding insights on the need to sensitise children, Gulhati shared that children are the future of our generation and there's no doubt that their actions will determine how the world will take a new direction. "We believe that for children to understand the importance at an early age is very important to conserve our precious resource – 'water'. It is very important for schools to include water waste management in the curriculum so that students at an early age can know how small changes can make a huge difference from their end. This will also create a base for them to work on ways to come up with ideas to save water, which each of them has the capability to do," she said.
"The Sustainability Stories" - a for youth, by youth collection of 13 new-age fables which talks about environmental issues and inspires children to be the change was launched recently. The books were published in partnership with Pratham, India's largest non-profit publisher, and are now being brought to life on video with UNICEF.
Gulhati shared that the Grassroots Governance and Environment conservation can be implemented at the grass-root level by :
Local bodies having the authority to decide on the course of development in their own localities should be made genuinely operational across the country.
Rainwater Harvesting at the local level.
Awareness of Indigenous methods of water conservation to the people.