Meet IRS officer Rohit Mehra who has been transforming trash into Vertical Gardens which give an aesthetic appeal to the surroundings
Jan. 11, 2021, 4:16 p.m.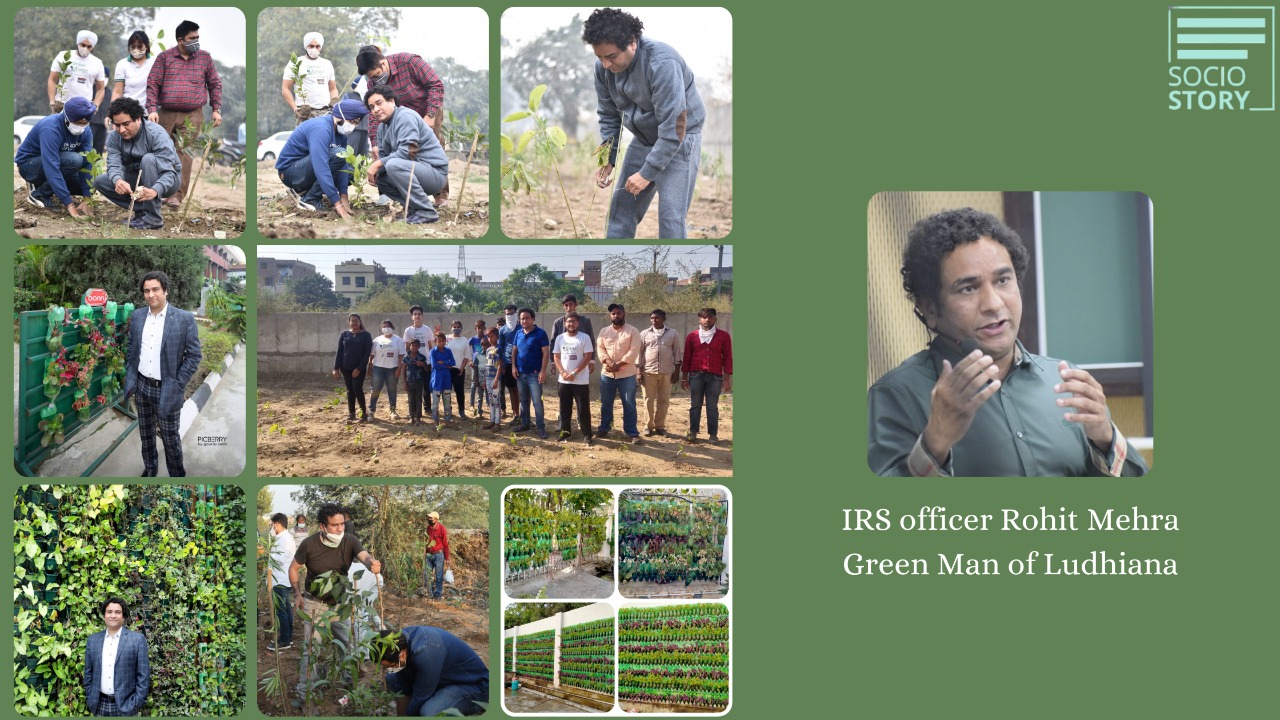 By:Reshma Jain
The term 'stubble burning' has been trending for quite some time now. While farmers find stubble burning as a quick, cheap and efficient way to prepare the soil bed for the next crop, the repercussions of stubble burning have been side-lined. Although the government is taking some measures to sensitise farmers and to procure the stubble from them, there are a few others who think that there is a need to take an individual action before it is too late.
One among them is IRS officer Rohit Mehra who is fondly known as the 'Green Man of Ludhiana'. But what triggered Mehra to go an extra mile? Mehra shared, "A few years back, the school in which my son was studying declared holidays due to high air pollution. While the entire city was engulfed under smog, people were gasping for breath. This scenario disturbed me and I felt what life are we giving to children if they do not have fresh air to breathe? Without giving a second thought, I decided to take action before my child gets another round of 'pollution holidays'."
Mehra who is an Additional Commissioner in the Income Tax Department, Amritsar, further shared his green plastic initiatives that turned into 'Green movement' over the past few years.
Mehra was instrumental in creating 'Vertical Gardens' with waste plastic. More than 500 vertical gardens with 7 lakh waste plastic bottles weighing 70 tonnes were reused for creating it. These vertical gardens were made in 10 States and close to 25 cities of India.
As per studies, vertical gardens act like a pollution absorbent wall. Apart from removing the particulates from the air, it can also filter greenhouse gases. Vertical gardens also help in absorbing sound, hence reducing noise pollution. Reducing plastic waste, vertical gardens beautifies the building and adds an aesthetic value to the surroundings.
Mehra also created 80 micro-forests ranging from 2,000 square feet to 5 acres. These were created in various Indian states on the basis of Vrikshayurveda and Miyawaki technique in places including Surat, Baroda, Delhi, Amritsar, Ludhiana, Calcutta, Jagraon, Zira etc.
As part of the seed ball Movement, more than 20 lakh seed balls were made and distributed to people. They were given as Prasad in Gurudwara, temples etc. Another initiative was Panchwati Plantation in which people were asked to plant in the name of their ancestors. Mehra has been invited to a lot of schools to deliver lectures and encourage people towards an eco-friendly living.
Under the aegis of National Green Tribunal (NGT), Mehra had beautified the banks of polluted Buddha Dariya in Ludhiana. A series of micro-forests in and around the Buddha Dariya were created. This initiative not only helped people in and around to breathe clean air but also helped in getting access to clean water.
Sharing the impact that has been created, Mehra who is now 43-years-old, said, "As per our observations, the Air Quality Index (AQI) has improved by 75% in and around the vertical gardens. More than 8 lakh plants have been planted till date and people are being encouraged to plant more trees. Also, due to regular plantation of trees, 950 square feet forest area per day is being increased."
Adding that we need to adopt sustainable life patterns, Mehra opined that we need to change our habits and culture. Apart from spreading awareness on agroforestry, Mehra's aim is to plant 1 crore plants and create 1,000 forests by the end of this year.
Important : If you are making an impact in the world, Please send us your story at : manoj@sociostory.in and we will try to cover you.