Meet Jude Relangi whose passion lies in rescuing animals and serving them with love
Oct. 13, 2021, 3:34 p.m.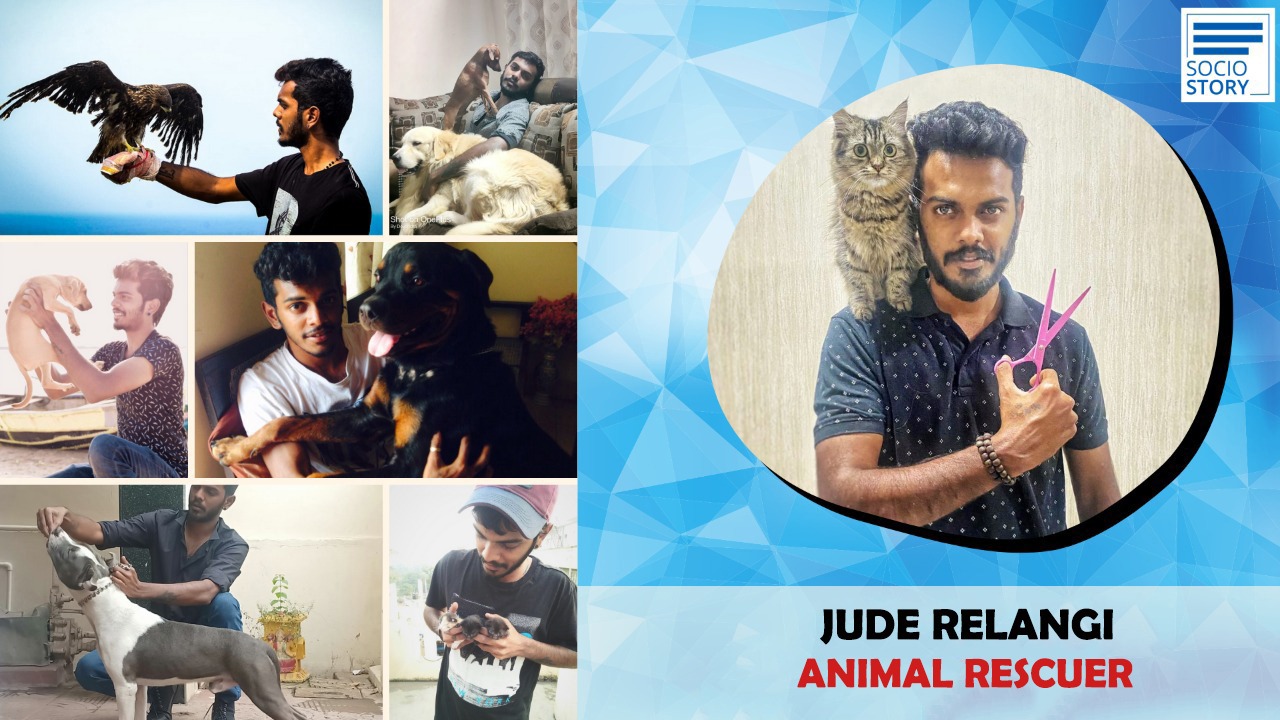 By:Reshma Jain
"When I wanted a helping hand, I found a paw instead and there was no turning back". This forms the crux of any relationship Jude Relangi has had with his dogs and all other animals that he has worked with. Animals don't judge. They don't make friends with you based on certain criteria. They don't discriminate in terms of gender, caste, religion or pedigree. "I have always received unconditional and unequivocal love from animals, and I feel incredibly lucky to be able to experience something pure like this," expressed Jude, a self-proclaimed animal lover.
Jude, 25-years-old, has carved a niche for himself in the pet circle of Vizag. His love for dogs started when he was just 13-years-old and today, he is a pet parent of three dogs (2 Golden Retrievers and 1 Mini Pinscher). Rescuing street dogs had become his passion and soon he started working with all breeds of dogs.
Letting go of a career in Fire and Safety, Jude decided to work with animals, full-time. A self-taught groomer, he has been grooming dogs/cats for nearly 8 years now. Jude realised that his love is not just limited to dogs but to all kinds of animals, birds and fish. From pet grooming, obedience training, creating specialized diets, taking up pet first-aid to consulting pet-related issues, Jude has always been in the forefront in providing best services for animals.
Speaking on the varied aspects of his work, Jude said, "Being a self-taught groomer helped me understand the behavioural aspects of cats and dogs in a very detailed way. I can give them specific aid and care and spot instantly when they are not being their usual selves. I generally make house visits when required either for consultation or grooming, and I have my own pet grooming studio and equipment at my workplace."
Adding that it was difficult to leave a full-time career to follow his passion, Jude said, "While my day job consists of grooming animals, I also take active part in training dogs on request and rescuing animals. The feeling that I get when I am grooming an aggressive dog, speaking its language and building trust enough to touch the dog, is unexplainable. When they start responding to you, nothing can be compared to that. There is an innate sense of 'animal' inside of me and I keep listening to that voice, which has really helped me come this far."
One of his earliest memories of working with animals is when he used to go along with his grandmother to feed the stray dogs in their street. The dogs became so accustomed to them that they used to follow around as if they were the 'Pied Piper' duo of that area. Jude's grandma used to love dogs, and always tried to take care of them in any way she could. Soon people of their locality began calling Jude whenever there was trouble with their dogs. This young animal lover started going on several rescue missions in a month, with dogs and cats being stuck in tanks, getting injured due to hit-and-run accidents, or acting differently out of the blue.
Reminiscing one of his memories, Jude shared, "I had the friendliest African lovebird named Kylie at my place. She would sit on my mom's shoulders and eat out of my hand. Most of the caged birds like Cocktails, Grey Parrots, etc. don't know how to fend for themselves, never having done that before. I pride myself on preparing them to live outside of the cage. As chicks, if you can hand-tame them, they wouldn't have to be shut off inside cages."
The vibrant colours of all the different species of fish are a delight to see. Having his own aquarium and designing it from scratch opened his eyes to this whole new world of aquatic life. Jude loves the Betta fish species, also known as Siamese fighting fish. Jude used to have a collection of fishes, including Crown Tail Bettas, Moon Tail Bettas, Guppies and Flower Horns. He has a penchant for setting up aquariums and has done it for a lot of clients.
On being asked about the rescue operations, Jude said, "I have been involved in several rescue operations of squirrels, birds, pups and cats. The most recent one was where a two-month-old puppy was stuck in an empty water tank that was nearly 4 feet in depth. We had to first identify where the cries were coming from and then go through overgrown, thorn-filled shrubbery to get to the water tank. The puppy had fallen in, couldn't climb out and was shivering from the fright of it all. We managed to jump in, get the pup out and take it to the hospital for a check-up. We were glad to have saved it's life."
"There is a lot that can be done when it comes to animals and I see very few people in this city wanting to do anything about it. Change begins with us and I want to help as many animals as possible," said Jude who has teamed up with one of the most popular pet stores in the city.
His dream is to help as many animals as possible, and educate pet parents on their different behaviours which would lead to a better life for them. Jude concludes by saying that he has been thinking along the lines of a cafe that is welcome to pets and comes with a spa facility (equipped with grooming, training) and then expand it to a boarding house for rescue animals, and animals in need.
Important : If you are making an impact in the world, Please send us your story at : manoj@sociostory.in and we will try to cover you.