Meet Kaamya Karthikeyan, the youngest girl in the world to summit Mt Aconcagua
Aug. 11, 2020, 1:24 p.m.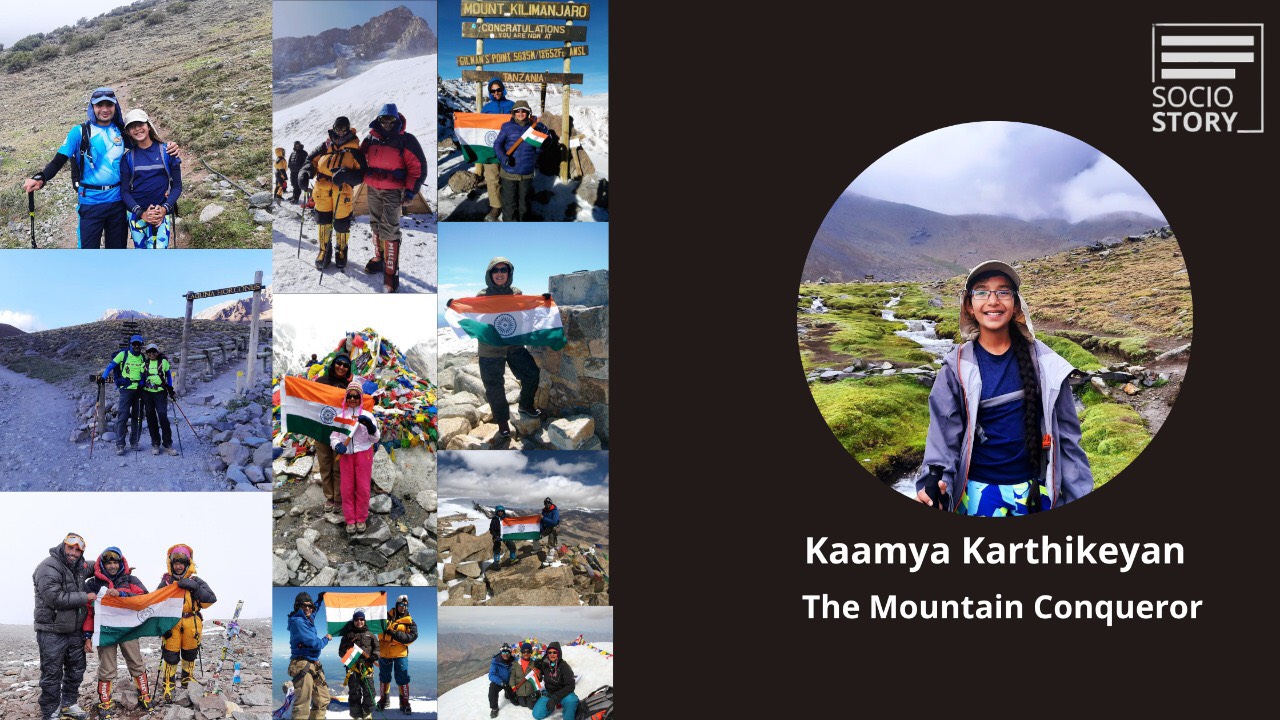 By:Reshma Jain
This mountain kid was 'born into adventure'. Mountaineer Kaamya Karthikeyan was yet to open her eyes to the outside world, when her father Cdr S Karthikeyan was training with Indian Navy's skydiving team for the World Military Games. The World Military Games were to be conducted in India in 2007 and his skydiving team went to the U.S. for some rigorous training in preparation. Kaamya's mother K Lavanya got a chance to travel with her husband when they were about to be blessed with their little bundle of joy. Read on, to find out the thrilling story of this young intrepid adventurer.
When Kaamya was born, her parents were living in Lonavala, the biodiversity hotspot of the Western Ghats. Starting at the tender age of 3, Kaamya discovered the joy of being with mother nature and the thrill of trekking which soon developed into a passion. At the age of 7, the trails of Sahyadris had become Kaamya's playground and when she was 8, she was training hard to scale mountain peaks. When she turned 10, she dreamt of scaling Mount Everest.
Kammya, now 12 years old has notched up one record after the other in the field of mountaineering and adventure. Kaamya's father has always been fond of an adventurous life and had a fascination for mountaineering. When he went on his mountaineering expeditions, for Kaamya it was as if he had just disappeared for a while and she would often ask her mother what her father did in the mountains during his absence. Kaamya's mother could never give her a satisfactory reply, so one day she said to Kammya, "let's find out ourselves" and thus began an amazing journey of adventure and discovery.
So, to satisfy the curiosity of her daughter, the mother and child embarked on an adventure into the Himalayas. Keeping Kaamya's young age in mind, they decided to start with a trek to Chandrashila (13,000 ft) in Uttarakhand, which was considered to be of easy-moderate difficulty. Kaamya would look up at the mountain peak with a stubborn look and say "I am coming to meet you at the top." When they reached the summit, the vastness and majesty of the mountains all around them was humbling and spellbinding. The trek was such a remarkable experience that it called them back again the next year. This time they were accompanied by their close family and friends on the trek to Har ki dun (13,500 ft) and continued their journey to Kedarkantha right after. It was a straight 10 days of living outdoors in the mountains and it was quite a challenge for an 8-year-old. Since then there has been no looking back.
In 2017, Kamya became the second youngest girl in the world to trek to the Everest Base Camp which is approximately at 17,000 ft. After her success on the trek to the Everest Base Camp, Kaamya's motivation levels rose further and she graduated from a trekker to a mountaineer. She had become the youngest in the world to summit Mt Stok Kangri, a 20,000 ft high peak.
She has also conquered several peaks including scaling Mt. Kilimanjaro (5,895 metres) the highest peak in Africa, Mt. Elbrus (5,642 metres), the highest mountain in Europe and then Australia's tallest mountain Mt. Kosciuszko (2,228 metres). And two other peaks with heights of over 6,000 meters above sea level.
At the age of 12, Kaamya Karthikeyan has set a record of becoming the youngest in the world to summit Mt. Aconcagua, the highest peak of the Andes Mountains in Argentina, South America. She achieved the feat atop the 6,962 metres tall mountain on February 1 where she unfurled the Indian Tricolour. Prime Minister Narendra Modi had mentioned about this feat of Kaamya in 'Mann ki Baat' in February 2020.
This little girl who has developed a passion for mountaineering through her father's stories of Himalayan-scaling expeditions plans to complete, by 2022, the exclusive 'Explorers Grand Slam' - where competitors climb the tallest mountains in all seven continents besides skiing on the North and South Poles.
Terming it as mission 'SAHAS', Cdr S Karthikeyan, said, "We aim for Kaamya to complete the mission by 2022, so as to become the youngest in the world to achieve the feat at just 14 years of age. The current record is held by Marin Minamiya of Japan at 20 years of age and only 63 mountaineers the world over (including just 14 women) have completed the Explorers Grand Slam till date."
"Through this mission we want to motivate people to adopt an outdoor way of life. We want to encourage Indian women to aspire for and to achieve everything they want to," added Karthikeyan.
Bravo! Kaamya has become the youngest to have climbed the highest peaks in three of the seven continents. This Mountaineering prodigy has become a source of motivation to a lot of people and she would inspire many more. Indeed, Kaamya was 'born into adventure'.