Meet Kalki Subramaniam, author of the book 'We Are Not The Others: Reflections of a Transgender Activist'
Nov. 16, 2021, 7:53 p.m.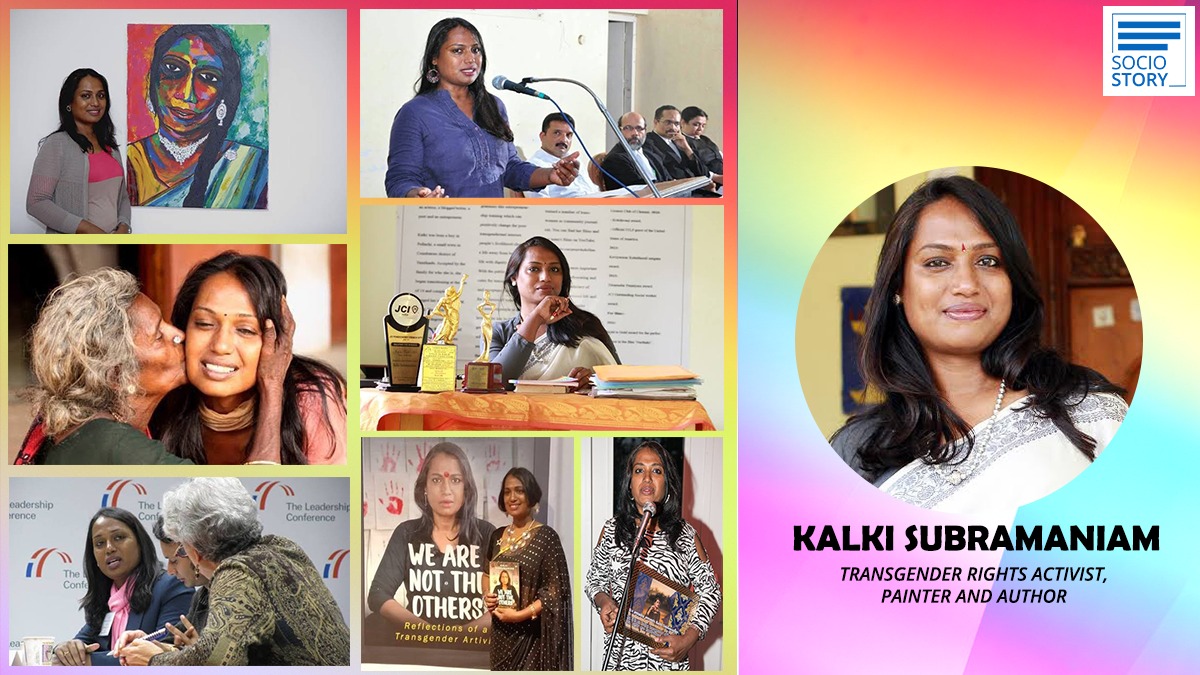 By:Reshma Jain
'Gender equality' must become a 'lived reality' and that is when we can progress as a nation where every person deserves dignity and respect. Even today, there is so much stigma around the transgender community. Every year, between November 13-19, people and organisations around the country observe the 'Transgender awareness week' to spread awareness and their visibility. We have discriminated and ostracised the community to such an extent that such days are observed to address the issues faced by the members of the community. There is a need for a revolution where they are given equal opportunities and dignity of life.
Socio Story brings to you a story on Kalki Subramaniam, a transgender rights activist, writer and actor hailing from Tamil Nadu. Kalki shares about her book 'We Are Not The Others' which throws light on the untold lives of transgender people. The book, launched a few months ago, has been published by Notion press and is a collection of Kalki's poetry, essays, art and monologues over the past few years.
Kalki has always stood for the rights of her community and this brave lady has been an inspiration to many. Through her book, she writes on the need for an unbiased approach from all of us towards the members of the transgender community. Kalki opines that her mission is to change people's attitude towards the community by being supportive and accepting.
Speaking to Socio Story, Kalki known for her innovative activism, said, "Expressing oneself is the best way to communicate; be it through writing, art or films. They are important carriers of information and for a community like ours which is not very vocal about their rights and issues needs a medium to express. My book 'We Are Not The Others' speaks about my journey and struggles as a transgender person. It also throws light on where we stand as a society now. The book has also made its way to the curriculum of a few educational institutions."
Kalki who is invited from across the globe to speak on art and activism further added, "Through art, I want to break stereotypes, question ignorance, and impact society. Earlier, I had started a magazine called 'Sahodari' for the transgender community, which had a great positive impact. I have also created a couple of documentary films on LGBT rights. I use my art to tell stories, to perform, and to act. I also encourage the people of my community to express themselves in any form they like, be it writing, documentaries or poetry."
Kalki who was an academically bright student said that it took many years for herself and family to understand and accept her gender identity. Such is the case with most of the people of her community. While a very few families understand and accept the diversity, most of them ostracise such people, thanks to the notion and myths around the transgender community. Hence, the community is left to fend for themselves without any support. However, Kalki never let any circumstances or situations deter her purpose and goal in life.
Kalki who has received international recognition from the US plans to release a documentary "Untold" which will tell about the story of three transgender women who are no more. We hope to see a more inclusive society where everyone gets equal opportunities and a platform to put their best foot forward.
Important : If you are making an impact in the world, Please send us your story at : manoj@sociostory.in and we will try to cover you.