Meet Karimul Haque who once struggled to save his mother and now offers help to many on his Bike Ambulance
July 1, 2020, 8:19 a.m.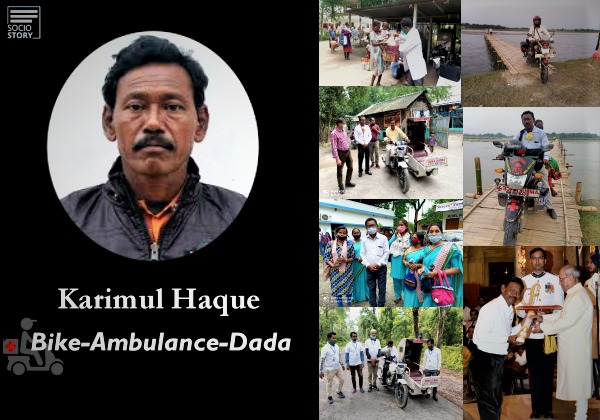 By:Reshma Jain
When Karimul Haque from Jalpaiguri district in West Bengal turned his two-wheeler into an "ambulance", the villagers mocked his idea. And today, Karimul who is better known as 'Bike-Ambulance-Dada' ferries the villagers who are weak and sick to the hospital on his bike.
Hailing from Dhalabari village, Karimul was conferred with Padma Shri, the fourth highest civilian award of India, in 2017 for supporting villagers through his free ambulance services. Very soon, India's Bike-ambulance-Dada will be seen on the silver screen as a biopic on the life of Karimal Haque is in the pipeline.
So what made Karimul who works in the tea gardens of West Bengal come up with this idea? It was two decades ago when his mother was in dire need of medical attention and Karimul went from door-to-door asking for help. Lack of access to healthcare facilities in and around the village added to the woes. There was no one who could lend him a vehicle to reach the hospital and because of not getting timely medical help, his mother passed away due to a heart attack. He was left grief-stricken and there was always a regret that Karimul felt- 'I could not find an ambulance; hence I could not save my Mother's life.' Since then, Karimul has not looked back.
Karimul, although poor, had decided from that day that he will not let another person die due to lack of ambulance facilities. He had launched 'motorcycle ambulance'- his mission of service and started ferrying people from village to the hospital which is located at a distance of 40-50 kms.
The next incident that had happened gave a boost to the services that Karimul was rendering. One of his co-workers collapsed in the field and the ambulance could not reach him. On his two-wheeler, Karimul tied the patient to his back, made him ride pillion and took him to Jalpaiguri Sadar hospital. The co-worker received medical attention and regained his health. After this incident, Karimul's bike ambulance became a full-fledged idea and service.
It has been more than 20 years that ambulance dada has been a lifeline for patients. Bravo! Karimul has ferried more than 5,500 people from different villages to the hospitals in Jalpaiguri. This service entered into the International Bharat World Record. And the list of services provided by Karimul goes on.
Speaking to Socio Story, ambulance-dada who is the brand ambassador of Jalpaiguri zilla parishad, said, "I also live in the below poverty line. Most of the people in the village are daily wage labourers and they struggle to eat, leave alone treatment. They need money to travel to the hospital to consult the doctor. Since there is a lack of facility in the village, I visit the labour lines where the tea workers live. I see a lot of sick people; from children to the old-aged. Due to lack of awareness, they believe in traditional remedies and most of the time, it does not work out. So I educate them on their illness and offer to take them to hospital."
"I have also trained myself on providing first aid to people in need and I conduct regular health camps in tribal areas. Sometimes, there are emergencies which need to be attended to. Hence, I converted the corner of my house to a small hospital. I provide first-aid to them and through calls, the city doctors give prescriptions. Through digital technology, I also offer tests for Sugar levels, BP, Hb levels, etc. If I have medicines, I give them for free. Now, I have also made provision for saline drips and for oxygen cylinders," added Karimul who is committed to serve humanity and whose entire family has joined his mission by volunteering their own time and services.
The story does not end here. Karimul (55) who received India Star Award 2017 is now constructing a hospital, with the funds he received, to provide free medical services to the people. He is also running a free self-defence and taekwondo training school for kids. During the lockdown period due to the pandemic, Karimul completed the sanitization drive in Dhalabari area. Since there were no people to carry dead bodies to the burial ground during the lockdown, Karimul helped the families to do their final rites. He also provided food to the old people of his village and other nearby villages.
"When one is giving service for the advancement of humanity, when one is working without money and without price, with no hope of earthly reward, there comes a real, genuine joy into the human heart," signs off Bike-Ambulance Dada.
Important : If you are making an impact in the world, Please send us your story at : manoj@sociostory.in and we will try to cover you.