Meet Kaushik Patel, a stem cell donor who saved the life of a 14-year old girl
Sept. 17, 2020, 4:41 p.m.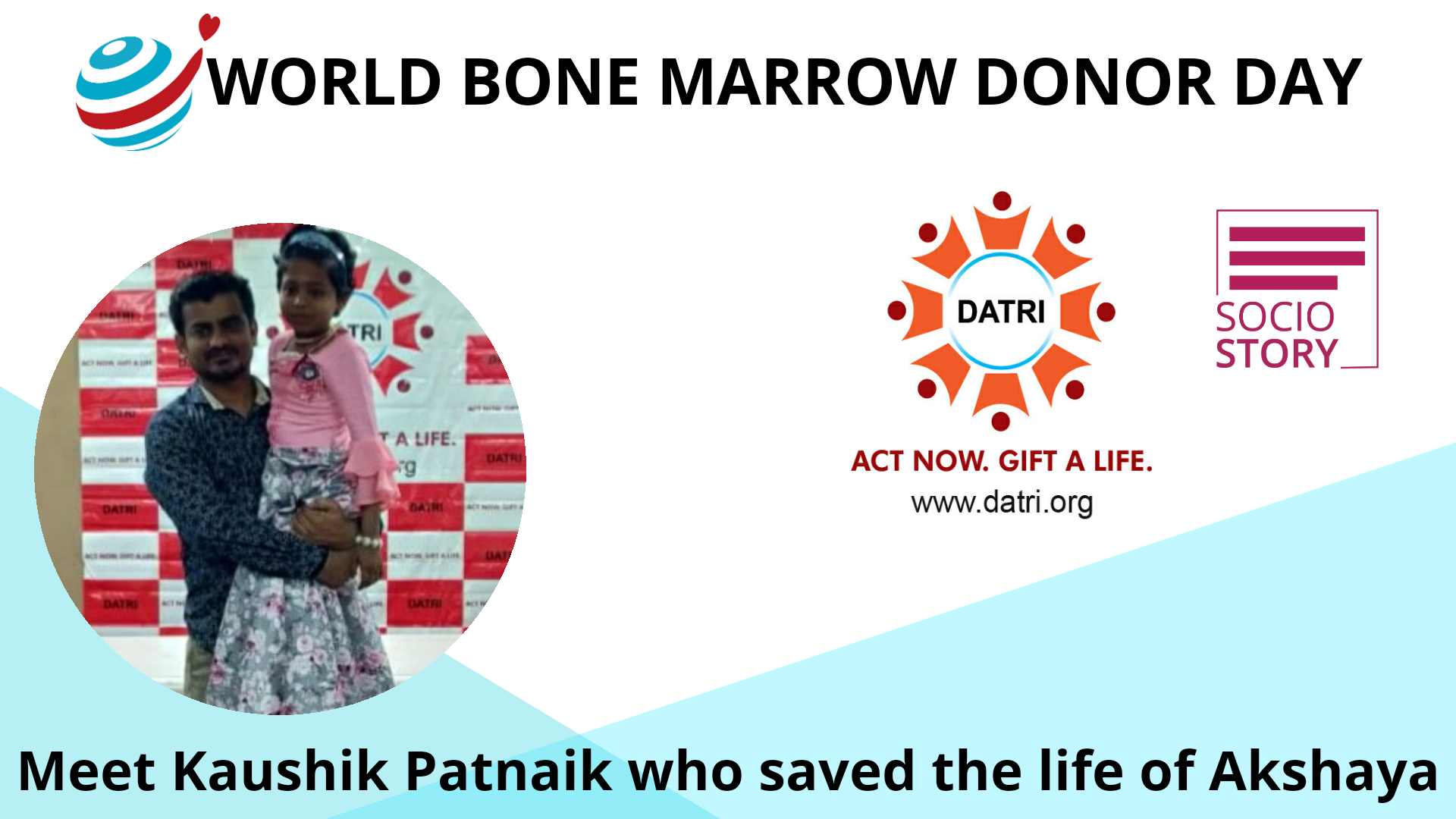 By:Reshma Jain
"If I can make a difference in one person's life, then that's success for me", says Kaushik Patel, a stem cell donor. To mark the World Marrow Donor Day (WMDD) which falls on September 19, Socio Story in collaboration with DATRI brings to you the real story of Kaushik, a stem cell donor from Gujarat and Akshaya, a recipient from Chennai.
When Kaushik registered with DATRI in a patient drive in the year 2016, little did he know that this registration would help in saving a life. He considers himself fortunate enough to have found a possible match for a 14-year old thalassemia patient in March 2017.
Due to the misconceptions surrounding stem cell donation in India, his family was a little sceptical and worried about his stem cell donation. However, after a set of brief conversations with the counsellor at DATRI, he was clear and confident to proceed for the stem cell donation.
Meanwhile, Kaushik's friend had also been a match to another patient and seeing him donating first, Kaushik was eagerly waiting to donate as soon as possible. His wait time had come to an end in September.
Akshaya (14 years), hailing from a small village in Tamil Nadu was suffering from Thalassemia major. Due to continuous blood transfusions, her ferritin levels fluctuated. Unfortunately, the requirement of Akshaya did not match with her parents and her younger brother for a stem cell transplant. One of the doctors from Apollo hospitals insisted Akshaya's parents to find a match through DATRI. It was after a few days, they found a potential donor.
The patient was ready for a bone marrow transplantation after they found the donor. However, Kaushik fell ill and was requested to do a master health check- up (a protocol followed before proceeding to the donation) in the following week. It was one of the days in October when Kaushik got his master health check-up done. He happened to cancel his Diwali vacation with his family as he felt that the little girl's life is the need of the hour rather than his vacation.
But life took a turn when Kaushik was diagnosed with Acute Appendicitis, meaning he had to undergo a surgery. But, his commitment to save a life was ineffable and recalling his thoughts on that day, Kaushik said, "My Donation should not be cancelled because of the surgery that I am undergoing, so let me complete the donation first." "While the doctors were arranging for my surgery, my thoughts revolved around the little girl's life and I was concerned about my donation. After the successful completion of the surgery, I recovered completely and went ahead with the Blood stem cell donation," adds Kaushik.
"Value of life is not in its duration but it is in Donation. It is not important how long you live, but how effectively you live," says Kaushik with a beaming smile.
After a year of the donation, when Kaushik met the 15-year-old Akshaya, their family was overwhelmed to see him for the first time. M Dhanasekaran, Akshaya's father said, "I do not have words to express my feelings. We have waited so long to meet this person whose selfless act has resulted in giving us the life of our daughter. Kaushik is now a part of our lives and prayers."
Important : If you are making an impact in the world, Please send us your story at : manoj@sociostory.in and we will try to cover you.