Meet Khushroo Poacha, a philanthropist from Nagpur who initiated 'Seva Kitchen' to provide free meals to patients and their kin
Aug. 16, 2020, 6:22 p.m.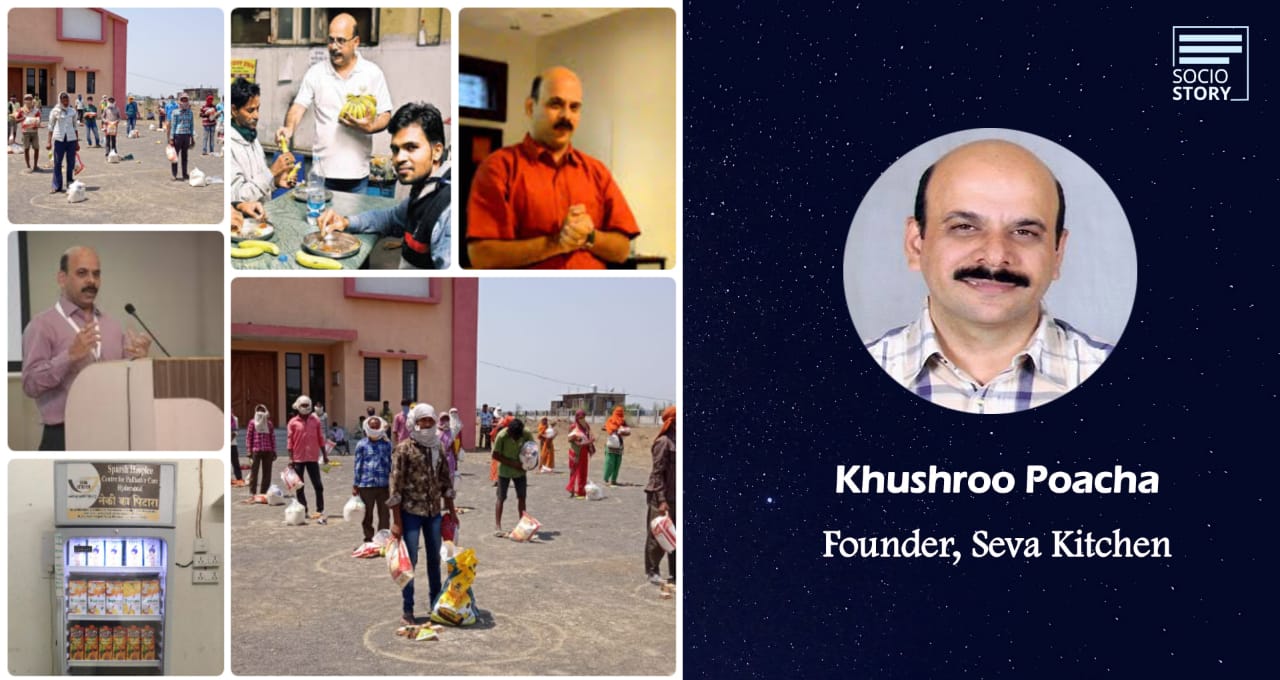 By:Reshma Jain
When food was being distributed to the brick kiln workers in Nagpur by the volunteers of 'Seva Kitchen' during the lockdown, they caught sight of a malnourished woman who was expecting a child. She was helpless and the volunteers immediately helped her in getting admitted to the hospital. After the baby was born, the parents named their child as 'Seva' because of the fact that the volunteers of 'Seva Kitchen' helped them in the need of the hour. This is just one of the examples of the voluntary services being rendered by Seva Kitchen.
So, what is Seva Kitchen? Let us find out the reason behind this movement which feeds thousands of hungry people. Run by Khushroo Poacha from Nagpur, this crowd sourcing initiative was started in 2014 when one incident touched him. Khushroo's mother was admitted in the Central India Institute of Medical Science (CIIMS) and during his visits to the hospital, his approach to life changed. He noticed that the relatives of patients struggled in getting proper food to feed themselves. He was deeply saddened when he saw the plight of poor people near the hospital thriving on a few plain rotis that were being made on a temporary chullah at the corner of the ground. He shared this incident with his Mother and she told him to do something about it. Thus, began the journey.
Poacha's mother passed away and since it was her last wish to serve the relatives of the poor patients admitted in the hospital, his idea changed into a full-fledged action. The Poacha family set up a separate kitchen to prepare meals every Sunday to be distributed at the CIIMS. Thus, comes the name Seva Kitchen and volunteers from his family, brother's family and friends extended their hand. From feeding tens to hundreds to thousands, the idea of Seva Kitchen evolved. Presently there are 21 Seva Kitchens in India which are spread across Nagpur, Hyderabad, Bengaluru, Moradabad, Mumbai, Ahmedabad, Haryana and Delhi. Over 3,000 fresh free hot meals are served every Sunday to families at hospitals through the volunteers of Seva Kitchen spread across the eight states.
While speaking to Poacha who is a Central Railway employee, he said, "The name 'Seva Kitchen', quite literally, draws on the traditional value of selfless giving - a desire to serve or doing Seva. Although we started off by making meals accessible to relatives of patients in hospital, the term 'Seva Kitchen' continues to cover a broader ambit of addressing hunger needs. Towards this guiding principle is the belief that every kitchen, in every town, village or city is a Seva Kitchen. We started with 25 meals and today, the numbers have gone beyond imagination."
"We also have other initiatives like Seva Tiffin, Milk Seva, Neki Ka Pitara, Jars of Kindness, etc." On being asked what is 'Neki Ka Pitara', Poacha who is the Nagpur Heroes Award Winner 2013, said it translates to 'Fridge of Kindness'. "This fridge of kindness has been installed in a few States by Seva Kitchen in hospitals, children's hospitals, cancer hospices, etc. Everything in the pitara is free for the needy patients and their relatives. Every pitara has a dedicated group of donors who keep the fridge stocked 365 days a year. The fridge is stocked with essentials like fruits, Amul Kool, Amul Lassi, Juices, Biscuits, Dryfruits, Chikkis, etc." Indeed, an amazing service.
Throwing light on the initiative 'Jar of Kindness', Poacha said, "When you make snacks, cookies and other yummies for your family, you can make a jar for Seva Kitchen. Your Jar of Kindness will then be shared with orphanages, old age homes and schools for under-privileged children."
Not only these initiatives, Seva Kitchen is also relentlessly working towards feeding the marginalized people during the pandemic. Khushroo has been at the frontlines of the Covid-19 pandemic, facilitating food and aid for thousands for families in need. In the last four months, he arranged thousands of grocery kits to be distributed across cities and villages.
Most of the coordination happens over WhatsApp groups, on their Facebook page, and via SMS. Volunteers who are interested in helping only have to call him up and register themselves. The volunteers are grouped according to areas and they make 5 to 20 meals each. They then distribute the meals themselves at the nearest hospital.

The initiatives by Poacha are run on passion and good intent. We do not collect money from anybody for the services. "Social service does not need riches. It starts with whatever you have. You only need passion to do good work. Go above and beyond. Rise from within," believes the social worker.
Important : If you are making an impact in the world, Please send us your story at : manoj@sociostory.in and we will try to cover you.