Meet 'Lady Singham' who has been making the Indore roads safer for commuters and pedestrians
March 7, 2022, 9:53 p.m.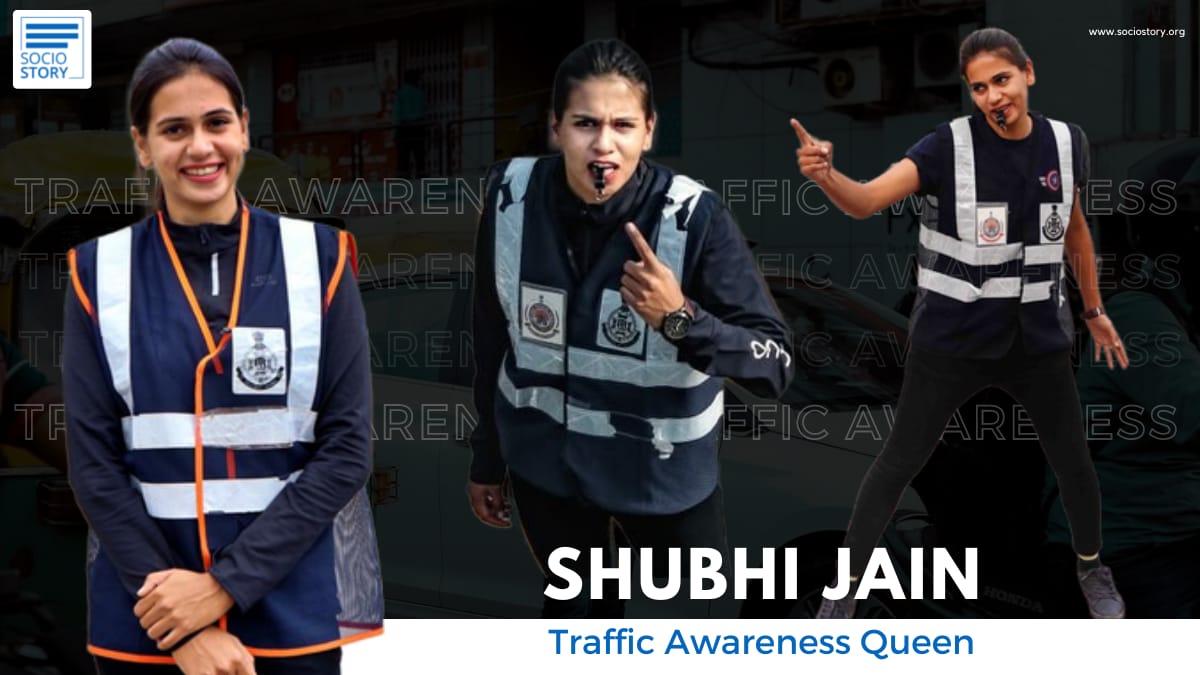 By:Reshma Jain
Be it finding direction in life or direction for traffic, people look upto this 26-year-old girl. Well, known as 'Lady Singham' or the 'Dancing Traffic Girl', this super talented young girl has gone a long way in inspiring people across the globe. She has recently been made the brand ambassador of 'Yatayat Prabhandan Mitra'- a traffic volunteering programme of the Indore traffic police.
Before I reveal the name and story of this brave go-getter, I would like to mention that women have left no stone unturned in striving to make this world a better place to live in. Yet, there is potential that is untapped and due to various reasons, the talent is not utilised. The International Women's Day campaign theme is 'Break the Bias' and what better than to narrate a story of Shubhi Jain who turns as a Radio Jockey in the morning, an entrepreneur by noon and a traffic warden by the evening. There were times when all the 3 roles were gender stereotyped to men. Kudos to people like Shubhi who have donned many caps and have proved to the world that women are equally capable.
As a child, Shubhi's aim was to become a police officer. However, destiny had different plans for her and she ended up pursuing an MBA from SIBM Pune. However, luck was in her favour and as part of the MBA programme, she had to apply for a social internship programme. In 2019, the Indore Police had started an initiative wherein they invited college students to volunteer for traffic management. Along with 1,800 volunteers, Shubhi volunteered for the Indore police and the internship lasted for a few days.
However, this internship was close to her heart as she could realise a part of her dream. "If not a police officer, I got an opportunity to experience the life of a police officer. I would not have asked for more. I was content in what I was doing even as destiny had different plans for me. I went back for my further education and again came back to Indore which reminded me of those wonderful days," she happily said.
Sharing her experiences, MBA graduate Shubhi said, "Traffic awareness is something that really needs attention. If each of us were aware and followed the traffic rules, the rate of accidents would definitely go down. Unfortunately, rules are taken for granted. While I volunteered in the evening, I noticed that people who were returning back from offices were usually in a hurry and did not pay heed to the instructions being given at the junctions. While a few of them never wore helmets or seat-belts, the others crossed signals. This led me to introspect on ideas that will encourage people to follow the rules."
Stating that unique styles of managing traffic made the Indore roads safer, Shubhi added, "Instead of always criticising people for not following rules, I started to appreciate the ones who diligently followed the rules. I greeted and wished them, folded my hands and conveyed my gratitude for obeying traffic rules. Soon, the commuters felt recognised when I gave them a salute and there was a connection that I could make with them. This reinforced them to adhere to rules and also encouraged others to follow suit. I also encouraged pedestrians to be careful while crossing roads."
Shubhi is also known for her actions in controlling the traffic at junctions. In a few videos on social media which have been viral, Shubhi is seen breaking into dance moves at the traffic signals to spread awareness on traffic regulations. When asked about her dance moves to manage traffic, Shubhi said that her moves are so fast and instant, that it feels like dance.
Even as she volunteers every day at Indore, Shubhi set up her enterprise 'Maatiwala' with a vision of 'Greener today for sustainable tomorrow'. Stating that volunteering has added a social element in her life that gives her utmost happiness and satisfaction, Shubhi concluded, "For all the young people out there, I would like to say that doing good for society need not be only through donation of money. Even if you can donate your time for a cause, it will take you to greater heights in creating an identity. Do things selflessly and with good intentions, you are bound to climb the ladder of success."