Meet Major PN Sirisha (Retd) who set an example for the women fraternity
Oct. 11, 2020, 4:09 p.m.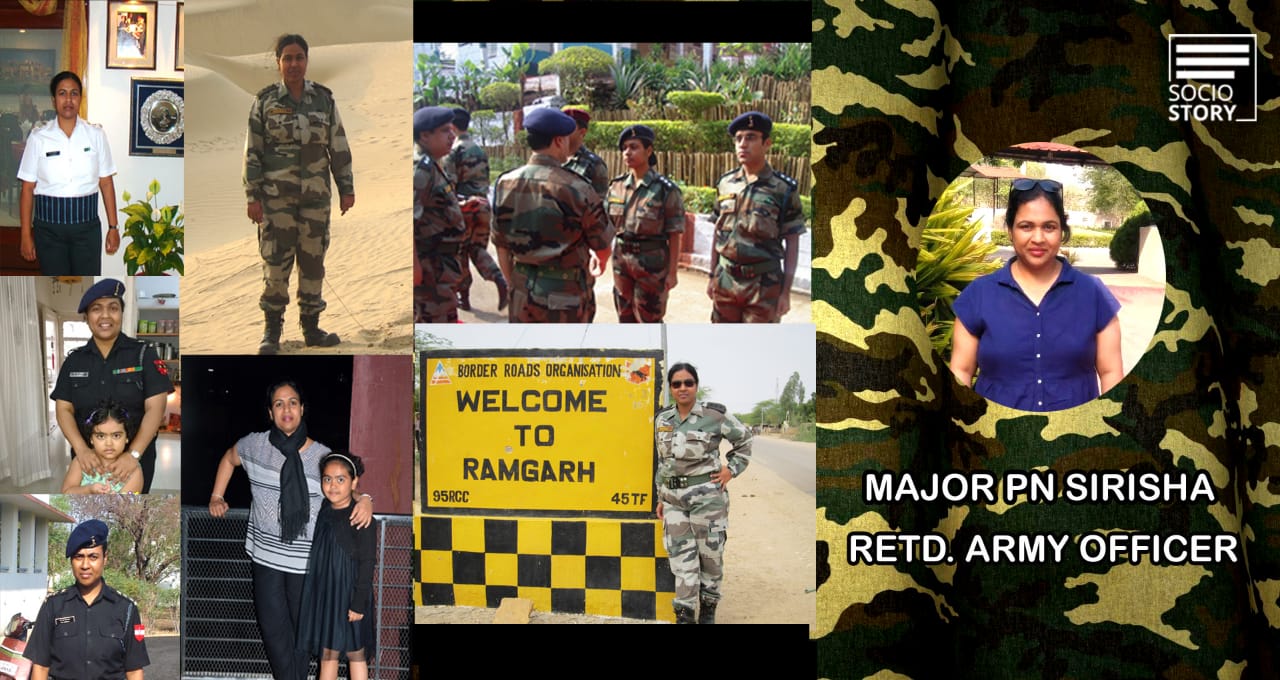 By:Reshma Jain
If I were to introduce Major PN Sirisha, a retired woman army officer, I would put a couple of terms together. Courage, Sacrifice, Commitment, Determination and Bravery are a few terms that would immediately come to mind. But there is a lot more to know about this one-woman army. In a conversation with Socio Story, Sirisha shares her journey from being a lovable daughter, a caring Mother to a daring army officer and a responsible citizen.
Army is not a profession, it is a way of life, says Sirisha. It teaches us to raise above the distinction of gender, cast, creed, religion or region.
Since Sirisha does not have a defence background, I was curious to ask on what made her select the Armed forces. Sirisha puts it this way, "Although I had no exposure to this profession, it was the feeling of patriotism that ignited the spirit to choose this field."
After having completed graduation, Sirisha, like most of us, started applying for jobs. She was selected to work in a private telecom firm in Goa. While she started working, little did she know that life would take a turn for the best. Having given a written examination six months ago, she received a call letter from the Service Selection Board (SSB) for an interview. Although happy and confused, she made up her mind to work for it and to give her best.
Sirisha then randomly approached an officer through an acquaintance for some guidance and started preparing from a single book which was recommended. Be it preparing while commuting to office or be it burning the midnight oil, Sirisha put her best foot forward.
"When I went for the interview, I learnt that people take coaching and appear multiple times to crack the interview. Probably I was destined to be there so I cracked it on the first go," said Sirisha with a beaming smile.
But as they say everything in life does not come easy, Sirisha got a temporary rejection for being overweight by 5 kgs and was given 21 days to reappear. She was determined to clear and she started working out every day in the little time available before and after her office hours. While reminiscing about her preparation days, Sirisha said, "I had a supportive roommate who would accompany me to the gym early morning and would make up for her sleep on the static cycle while I finished my regime. I followed a calorie deficit diet and gave my best shot to lose those extra kgs to clear my medicals."
Bravo! Sirisha was selected. She shares that joining the armed forces was one of the best decisions that she took. She underwent basic Military training at Officers Training Academy- Physical and psychological training including tactics, military history and weapon training. During the training process, one's physical and mental abilities are highly tested. All women cadets selected in SSB are trained at officers training academy at Chennai. The rigour of the training transforms all cadets, be it men or women into fit and smart looking officers. "We get an exposure to things and experiences which we would not have ever thought in our imaginations. It may be the runs, obstacle training, multiple sports activities, drills, firing, knowledge gaining of various subjects to include mil history, tactics, map reading, mil law etc," stated Sirisha adding that it was an experience with never ending memories.
On being asked how the family supported her, Sirisha proudly says that she was born in a family which celebrated the birth of a girl child. "They had traditional values and modern outlook. Both my parents were working and we (me and my sister) had to be independent at a very early age. My family always gave us the freedom to choose careers of our choice and supported us in our decisions. Later, it was with my Mother's support that I could resume my duties with my eight-month-old daughter then," added the retired army officer who hails from Kurnool and was brought up in Delhi.
Discussing the role of women in the Army, Sirisha, said, "During our training, we are taught that we are an officer before a lady. So, as individuals we start seeing things in a larger perspective. In addition, during our induction there was no permanent commission for women, however things have now changed. Women have pension and their career progression is being planned, giving a great career opportunity. Although women have some constraints, if we want equality, we should be ready for equal responsibility and should not expect privileges."
An officer is always expected to lead by example. Being a woman leading a complete team of men, Sirisha had to ensure that they had no apprehensions. "I had to prove myself every day not for others but for myself. I had to make sure that as a Mother, I had to organise and plan my day so that it did not hinder the execution of my duties."
Sharing her experiences during the J&K and Nagaland postings, Sirisha, said, "Both postings were field postings and gave me extensive experiences. Nagaland was my first posting where my professional grooming was done. It was a closed cantonment and my tenure there was close to 2.5 years. I had opportunities to travel to various areas of Northeast in the course of my duties. I had also served in Pune and Hyderabad."
"By the time I was posted to Jammu, I was a Mother of an 8-month-old daughter. So, the dynamics had changed totally in balancing my personal and professional life. Sometimes, the job requirements were such that I had to attend to my duties in odd hours leaving my girl behind. But maybe the children of working mothers start understanding very early that they have to be independent. My daughter has been very cooperative and there was not a single day when she would cry for me to stay back," expresses Major PN Sirisha (Retd) who received the Long Service Medal, J&K Operation Suraksha Award, Special Service Medal-Operation Raksha and Samanya Seva Medal, Nagaland.
However, the story does not end here. After having served in the Indian Armed forces for 10.5 years in Corps of Signals which handles communications in the Army, Sirisha plans to give back to society. "My transition from military to management has been great, along with learning new things and unlearning a few. I did take some time to get adjusted to the new work culture, but I enjoy my work. There is still a lot for me to comprehend and learn in the corporate world. However, in the long run I plan to be associated with some organisation which works for children's education," she concluded.
Important : If you are making an impact in the world, Please send us your story at : manoj@sociostory.in and we will try to cover you.