Meet Manish Jain who envisioned the employment opportunities for the LGBT community
Oct. 19, 2020, 8:11 p.m.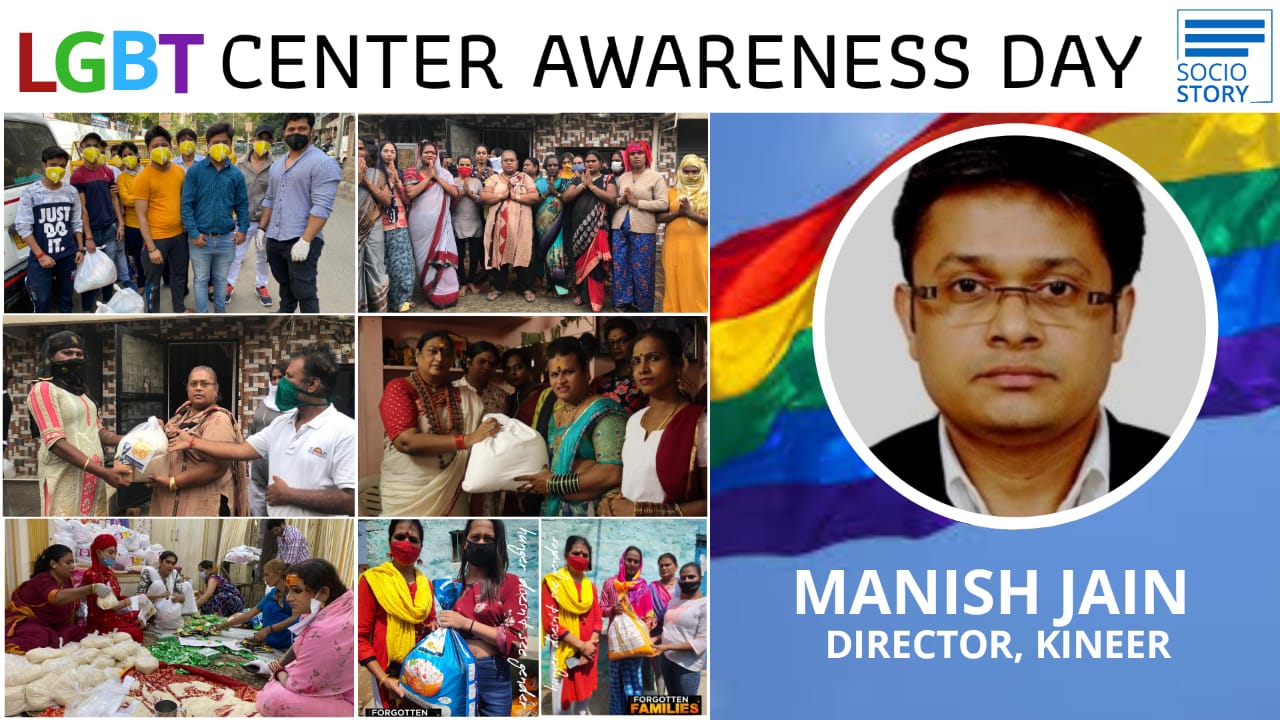 By:Reshma Jain
"One should have three bones in one's life – a wishbone – so that you may dream a dream, a back bone – so that you may have the strength to make that dream come true and a funny bone – to laugh at yourself and start again if you fail," quotes Manish Jain, Director and COO of Kineer.
These lines caught my attention and I felt the need to dig into more information. October 19 is observed as LGBT centre awareness day and Socio Story brings to you the story of a social enterprise -Kineer. Being intrigued by his work with the LGBT community, I asked him what made him take up this initiative?
Manish, a hotel management graduate, said that he could not bear the thought that this section of the society was left to fend for itself for apparently no fault of theirs. His professional journey took him to places where he could see the community fit better than anyone else and he could not wait for someone to make the beginning anymore. It had to be done.
During his tenure with a hospital, Manish noticed that he could have managed manpower expenses in a sustainable manner if people from the LGBT community were employed. "I had to assign male attendants for sponging male patients and female attendants for female patients. I would have managed the expenditure in a better way if I had one attendant who could sponge both male and female patients," he shared.
"At the corporate setups, we had to give a security escort with a driver for the night drop facility of female employees. This would make matters worse if both men came in sync with each other. I could see that a member of the Hijra community would be a best option as a driver or security escort. Another way of providing dignified employment was to create a Hijra bouncer team for female artists," added Manish who envisioned providing opportunities to the often forgotten community.
"The journey started with self-guilt, once I realised that this prejudice was a self-inflicted blindfold, I decided to open mine," shares Manish.
Kineer started with a vision of making a social enterprise that could sustain itself and was not dependent on grants or charity. The need for a bridge between the corporates and the LGBT community was the need of the hour and Manish proposed the idea to his management. On meeting Laxmi Narayan Tripathi, a transgender rights activist, she agreed to be a part of the project. The first thing she said was "Do something with water because my soul is like water''. We thought of a lot of names but then Laxmi came up with the name 'Kineer' which is a combination of 'Kinnar' and 'Neer'. And the company was born, says Manish.
Kineer water was the first project that the team embarked upon. They did this with a reverse integration model which means if they get any companies willing to purchase the water, only then they will initiate the factories. Luckily, the first client was from a Tata subsidiary – Vistara Airlines who placed the order with Kineer for the water. The first plant was initiated at Narela Delhi and now Kineer operates out of 5 plants in Delhi/NCR, Pune and Mumbai. The journey began in May 2018 and they have more than 28 community members onboarded.
Manish has been instrumental in breaking the stereotypes around the transgender community. He says that he is just a bridge between the two edges as both parties are eager to meet and work together but just the gap of misinformation makes them stay away. Later, Kineer also started to train people from LGBT community for skill development to tap employment opportunities.
"We try to spread awareness and sensitise companies on hiring people from the community. Things like gender neutral washrooms, sensitization of existing teams, point of contact and hand holding in management and a lot of other things need to be in place even before they hire from the community. Our efforts have led to almost 121 placements both internal and external. The sectors are varied from Hospitality to Telecom," stated Manish (43).
Adding that he wishes to see the community in all walks of life, Manish said, "After we ensure the hiring company is ready with the hardware and the software, we train the community members on the job description, the mission and vision of the company. This is done in conjunction with our partners Essar Foundation under their Rainbow project with no charges to the candidate or the client. The training ensures that the community members understand the role and are well equipped with the basic knowledge. Stereotyping in a certain job role or category would be again a start of an injustice saga."
While the Covid pandemic hit us hard, the transgender community is not to be left behind. The people who were already struggling to survive and were dependent on alms, skin trade, dancing in celebrations etc, were confined to homes for over six months. Laxmi Narayan Tripathi embarked on the journey of providing assistance to the community through Kineer services.
What started with precooked meals in a small household facility has now grown to helping the community pan India. Kineer has assisted more than 51,000 families till date and extended support not just to the LGBTQ community but also to PLHIV, sex workers, Senior citizens and the destitute.
"I dream of a future when we would not need to conduct diversity and inclusion sessions because it would be a way of life," concluded Manish.
Important : If you are making an impact in the world, Please send us your story at : manoj@sociostory.in and we will try to cover you.