Meet Manjari Sharma who is encouraging and empowering 'Farm Didi's' through her initiative
May 11, 2022, 12:18 p.m.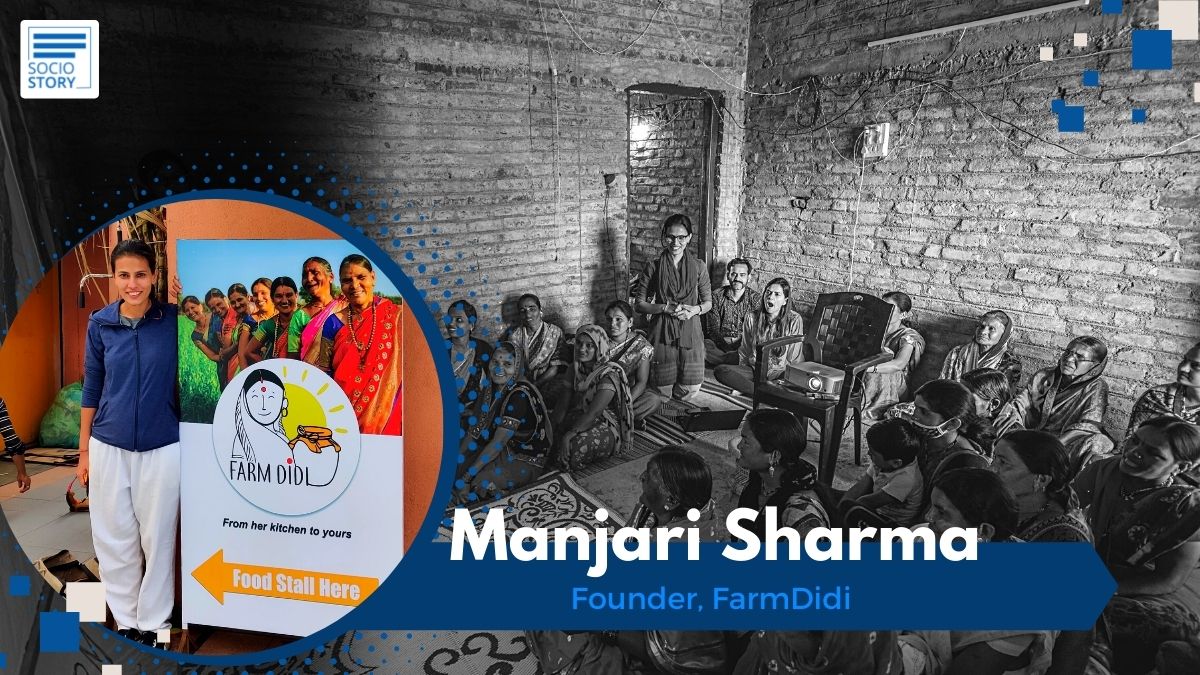 By: Reshma Jain
Way back in college in 2015, Manjari Sharma worked on a research paper competition 'Badh Chala Bihar' organized by CM Office in Bihar, where they had invited students across India to research on key development areas such as health, education, law and order, agriculture, and women empowerment. Her team from IIM Calcutta spent 15 days in remote villages of Bihar to evaluate the state of women empowerment. She saw the feminization of agriculture, where men moved to cities for work while women were key drivers of the rural economy. They would wake up early in the morning, fetch water, go to fields for work, raise cattle and most importantly take care of their families. And wherever Manjari went, they kept asking her; "Didi aur hum kya kar sakte hai, ghar ke liye?" Meaning what else can we do that can help us bring more income for our families?
Being a researcher and just a student, she used to get embarrassed with her answers. That stint was very special for her as she saw "The Real Working Women of India" in rural India multitasking and working hard. Though she joined management consulting post MBA and while she was helping CXOs in their business problems, the question raised by Didis "Aur hum kya kar sakte hai?" stayed with her. She also found that statistically when a woman earns money, she spends 90% of her income (as compared to 35% in case of man) on her family in terms of better education for kids, better shelter for family, better nutrition for family etc.
Being a woman herself, she felt her education and skills would rather be more meaningful and impactful for those Didis instead of CXOs, hence she started to work on building a scalable business model that could bring additional income for millions of Didis. She tried various models, one hypothesis was if loan can empower women, another was if a mobile app can help directly connect didis to HORECA buyers. After many pivots, she finally decided to focus on food and build a D2C platform as more than 70% of rural women are already into food processing / farming / marketing and there is a quite supportive system from government and on-ground institutions to promote food entrepreneurship.
That is when Manjari Sharma, the Founder and Chief Didi of FarmDidi, started a for-profit social enterprise with a two-fold aim to provide authentic, natural, and healthy food to consumers while empowering rural women. She holds an MBA from IIM Calcutta and has worked across the globe with CXOs of Fortune 500 companies in solving their business problems. In November 2020, she set up FarmDidi and now spends all her time in pursuit of her mission to provide healthy, natural and authentic food products to consumers by empowering one million rural women entrepreneurs across India.
Hailing from a small town called Bahadurgarh in Haryana, Manjari has grown up seeing her grandfather who has been very active in mentoring students and in helping the community. Her parents have always taught her to make a sincere choice when it comes to what you want to earn in your lifetime – whether it's money or hearts or respect. While she was doing her MBA, she came across companies like Amul, FabIndia, Jaypore, Lijjat Papad, Gramin Bank etc. who not only created sustainable and profitable businesses but also created mass impact. Their business models inspired her and she believed that FarmDidi would also be a special case in point like that one day.
"Our vision is two-fold, one is to provide healthy, natural, and authentic food for end consumers, and another is to empower 1 million rural women. Today, in rural India, farmers are mostly producers, not the food processors / manufacturers," said Manjari while speaking to Socio Story.
"We strongly feel that food processing can create as strong an impact as what the IT industry has done for India. Because of the presence of quality raw ingredients, abundant inexpensive labor, supportive government policies and cheaper real estate, rural India is best positioned to process and package food, while in this process end consumers would also get to eat healthy and fresh food, food which is less travelled thus sustainable as well. Today, we as end consumers end up eating packaged food, which is made of old refrigerated ingredients, travelling through multiple layers of middlemen with wastages at each part of the supply chain," she further added.
What FarmDidi is doing is basically, helping Farmer Didis become certified and compliant food processors / manufacturers through mobile tech, and providing them market linkages, thus helping them increase their income. It has been 10 months since they started operating. They have 400+ Partner Entrepreneur Didis from more than 6 clusters in Maharashtra covering Aurangabad, Raigad, Amravati, Pune, Solapur, Jalgaon, who are trained and compliant food manufacturers and selling their products. They are already seeing up to 3X increase in their income since they started working with them. The future generation of rural India is now witnessing successful businesswomen giving extra push to solve gender inequality.
Manjari also said, "We believe true empowerment comes from entrepreneurship and we are already seeing direct economic impact on our 50+partner SHGs (500+ rural women) and indirect impact on other rural women who are getting services from us. We have built a strong network and supply base in Maharashtra; we want to now expand to other states and get their Farmer Didis and their food onboarded with us. In future, you will find local food made by the most amazing and hardworking women of rural India on our platform."
"Farmer Didi of Kashmir to Farmer Didi of Kerala, Farmer Didi of Gujarat to Farmer Didi of Sikkim, everyone will be on our platform, you will find thousands of such stars making their name of their own with us. Our USP would be two-fold (1) Handmade food at scale – Farm Didi will be known for food that tastes best when handmade. For e.g., pickles, papads, ladoos etc. , they all taste best when handmade in small batches with love using farm-fresh ingredients. (2) Our mission driven brand – Our customers love our brand and the concept behind it, as they know each bottle of pickle they buy from us, is helping some rural women achieve higher income (plus they know which didi it is through our content and packaging)," concluded the young entrepreneur.