Meet Maya who aims to create a support system for women suffering from PCOS
Oct. 19, 2020, 12:42 p.m.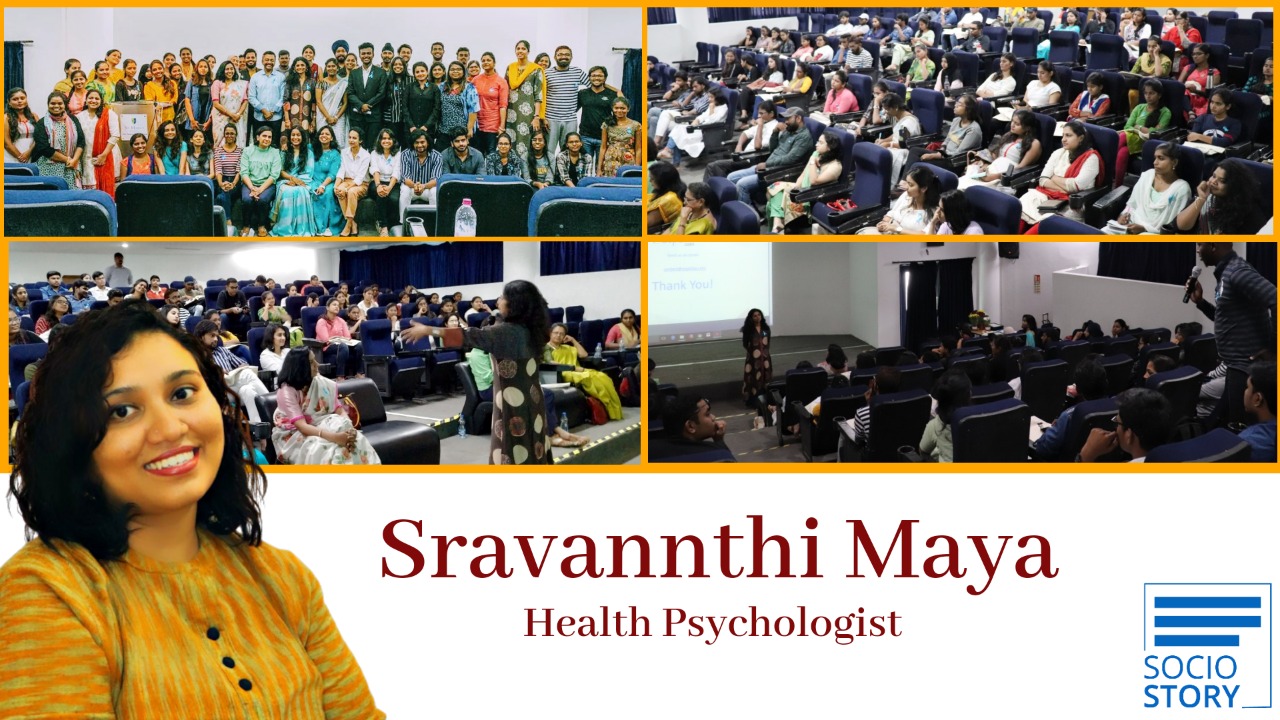 By:Reshma Jain
"We focus on something only when it hits closer home," expresses Sravannthi Maya, a health psychologist from Hyderabad. Having been diagnosed with PCOS herself, understanding the illness has taken quite some time. On being asked why, Maya shares that many women struggle to find their voice when it comes to gynaecological issues. And the sad part is Polycystic Ovary Syndrome (PCOS) is one of the most common occurring issues among young women. Socio Story in collaboration with Good Universe brings you the story of Maya who is now closely working to spread awareness on holistic health.
The stigma and taboo associated with women and gynaecological issues is still prevalent in the 21st century, unfortunately! "In 2014, when I consulted a gynaecologist, all she said to me was to take these contraceptive pills (based on my symptoms) and come back to me in three months. As soon as the Doctor said this, I was curious to get answers for a few questions I had in mind. I didn't even know why I was taking those pills. What would happen to me if I would take those pills? Neither did anybody say that contraceptive pills were being used for PCOS. All they said was to pop these pills three times a day, and then you will be fine," said Maya who completed her Integrated Masters in Health and Counselling Psychology.
"Initially, I found some differences, but I realized that my mood swings were constant. Bloating was a common issue and I could never focus on anything. I felt low for quite some time and being on the pill specifically caused pill-induced depression, which is very hard to diagnose and understand because you don't expect a pill to have such extreme side effects," added Maya who has pursued MPhil in Psycho-Oncology from Cancer Institute in Adyar, Chennai. Also, there is excessive body shaming due to PCOS which has an impact on the mental health of a woman. There are low mood swings, or higher ends where irritation, restlessness, crying spells, isolation are involved.
One of the primary reasons Maya decided to take up an initiative and be a part of the PCOD movement along with Good Universe is that she believes in health being a significant right for everybody and precisely more so for women. The initiative began with the aim to form a support group for women suffering with PCOD/PCOS and experts (dieticians, nutritionists, psychologists, gynaecologists) who can support their fellow beings right from the day of diagnosis and help healing their condition naturally, rather than using contraceptives or allopathic medications for a prolonged period. The goal is to have a repository of information where professionals and people are on the same platform.
Good Universe has organized various events including the menstrual health festival, menstrual hygiene kits distribution, etc, which aims to support women with PCOD/PCOS by providing psychological help, personal hygiene kits. "We believe in holistic care through yoga, the Aviva method, and through psychological support where a 360-degree approach is given to the woman so that not just her physical aspect, but also the mind, body and the soul are all in alignment to help her heal naturally and to live a comfortable and optimum life," stated Maya.
Adding that they recently collaborated with the locally known organizations during the pandemic, Maya added, "The idea behind this was to ensure that we can reach out and support women in the lower socio-economic strata or people who are unable to afford menstrual hygiene kits. We aim to do projects, research and intervention techniques in the same area to solve the problem at the root cause."
Women themselves are not aware of the initial symptoms and they take a lot of time to even recognize the changes that their bodies show. Since they are not optimistic, they fall into a blame of self- criticism, self-doubt, low self-esteem, reduced confidence levels, depression, anxiety attacks, reduced appetite and insufficient sleep.
Maya opines that to overcome PCOS, one must work on their lifestyle, mind and body to be able to reverse the disorder. "This is a condition that can be reversed and managed eventually with lifestyle, and psychological support, good eating and not having excessive stress in their body. The need of the hour is to bring a change in the mindset of people, mainly the perception and understanding toward a condition like PCOD," added Maya.
Speaking on the future plans, Maya, said that her major focus is on preventive and implementational healthcare initiatives, which would intervene at the prevention stage itself and make sure that it does not aggravate. "This is not something that should be a life limiting illness but this is just a condition that can be worked on, managed and reversed," concluded Maya who is in the last submission phase of her PhD in Psycho-Oncology.