Meet Mrs India Smrite Bhatia who defines Beauty with Purpose
June 5, 2020, 11:55 p.m.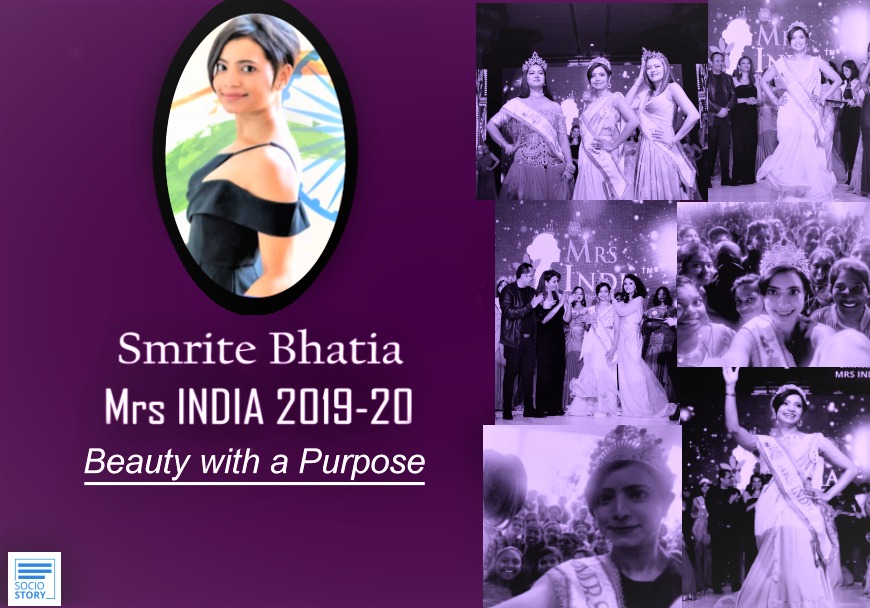 By: Reshma Jain
"The higher we are placed, the more humbly we should walk", goes an adage and if this should suit a person, then it perfectly defines Smrite Bhatia. Smrite from Visakhapatnam was crowned Covisionara Global Mrs India 2019-20.
But what makes the story of Smrite interesting is the fact that she believes in 'Beauty with Purpose'. Apart from the beauty pageants, she is very passionate about helping children discover their dreams and then help them live those dreams by building skills.
Smrite says, "When I get the opportunity to hear the dreams children have right out of school and then help them build skills that help them live their dreams, it makes me feel that life has a purpose and meaning to it. This is something that I love doing every single day and there is nothing that fascinates me more than living a dream, one that is nurtured everyday."
On being asked as to what inspired her to help children build their dreams, the young lady says that her parents were very passionate about bringing her up. She saw them pour everything into her and her sibling even at the cost of their own wants and their own needs. So, since childhood, Smrite had a goal in life- to bring in a difference in lives of people who were not able to fulfil their dream.
"It saddens me to see unfulfilled potential and when people give up before fulfilling their dreams. That's because their goal is the dream and when they face obstacles, they fall and are unwilling to rise. When one develop skills, they enjoy becoming better at it everyday and that starts making the journey as much fun as the goal one had dreamt. This is what I teach children; to enjoy the journey and every action that they are taking today because this is what will get us the result eventually," added Smrite who has also bagged titles like Mrs India Regency International, Mrs Andhra, Mrs Tech Diva, Mrs Talented etc.
Living a dream yourself is what attracts people to know how to live theirs and what could they do to live it. Smrite who has been a retail trainer for the last 15 years has worked with over 200 children every year. "Mapping their careers has been such a beautiful journey, the one I treasure most," says Smrite.
"Smrite has helped me in transforming my mistakes into valuable lessons. Her leadership has made me more productive and converted all my skills into strengths. She has an amazing ability to bring out the best in each individual," shares one of her student.
During the lockdown, Smrite had helped her team of 280 members return to their jobs more efficient post the lockdown. The company she works for has 280 employees working as retail staff members and during the lockdown for three months, she used this time by creating on online training sales module. This helped each of them engage and invest in their personal growth by teaching them relevant new skills for their job that helped the team members maintain their confidence and motivation. Keeping the team stimulated and helping them find new ways to learn essential skills has prepared them to return to work in a smoother way and open doors to new opportunities in the future.
When Smrite was asked the struggles that she faced, she cheerfully said, "I have been fortunate to learn from every set back. Every set back taught me something that I had either missed, over looked or not know. It gave me immense knowledge and perspective and it became the reason for my stronger roots."
Smrite will represent India at the Regency International Mrs World competitions to be held at Las Vegas, U.S.A. She hopes to carry forward the aspirations of a billion people and show the world the fantastic progress womanhood has made, not just in India but worldwide.
The future plans of Vizag's multi-talented beauty, Smrite, is to be able to reach out to children worldwide and help them discover their dreams and help them build skills that they could use to live their dreams.
"Start where you are with what you have in the direction you want to go. One thing will lead to another. Stay focused stay committed and most of all never ever give up on yourself and your dream," concludes Mrs India, Smrite Bhatia.
Important : If you are making an impact in the world, Please send us your story at : manoj@sociostory.in and we will try to cover you.